Paul McKinley: Hanuman
Friday 20 November – Saturday 19 December 2015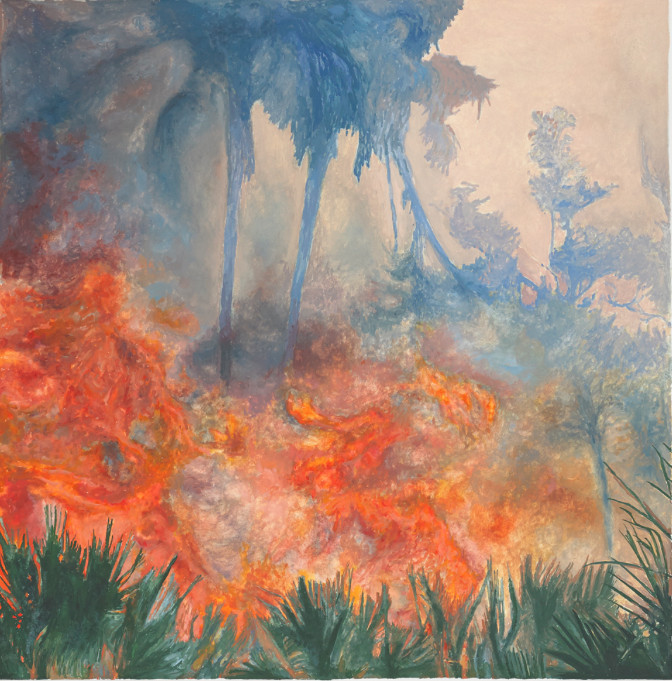 In this exhibition of recent works Paul McKinley refers to the history and folklore of Sri Lanka to inform his paintings. Hanuman details a period of Sri Lankan history, focusing on the last days of a civil war that ended in 2009. In the grassy verges and lush thickets, guerilla fighters – men and boys – lay hidden in bunkers enshrouded by dense foliage. They fought in the overgrown forests and ditches of the north Sri Lankan landscape. Hanuman is also the name of a central character of the Hindu epic Ramayana. McKinley observes and comments upon the manner in which an epic poem such as the Ramayana still has the ability to drive political action. In drawing a parallel between the two, McKinley seeks to emphasise dormant narratives that lie in the landscape and thus he presents us with a history of the area-twice told, through the violent conflict of 2009 and through the bitter feuds of the ancient Ramayana.
Through this series of paintings McKinley pursues an investigation into the phenomenon of 'dark tourism' in places where major trauma has occurred and the proximity of idyllic tourist trails to scenes of extreme violence. Though McKinley has focused on the idea of 'dark tourism' in the past, this is the first time that he has referenced a narrative that has elements of the fantastical, with universal, transcendental themes. Working from source material acquired by people visiting or living in the area he considers the development of images as they are created, passed on and re-purposed. In doing this he approaches the differences between recording and representing, documenting and describing.
Owing to the strong connections between the paintings and their narrative referents a special text has been commissioned by the gallery to accompany the exhibition. Literary journalist, former United Nations official and author of The Cage, Gordon Weiss has liaised with Paul McKinley to write an essay that further contextualises the work and illuminates the dark days of the Sri Lankan civil war.
Paul McKinley (b1973) Birmingham, England, graduated from Sheffield Hallam University in 1996. McKinley has exhibited widely in Ireland and abroad at art fairs such as Volta Basel in 2013. Recent solo exhibitions include Gacaca, RHA, Dublin 2014, Operation Turquoise, Kevin Kavanagh, Dublin, 2013 and Palisade, Third Space Gallery, Belfast, 2011. McKinley has also taken part in many group exhibitions including Periodical Review # 3, Pallas Projects, Dublin, 2013 and Interlude (Aspects of Irish landscape painting), The Douglas Hyde Gallery, Dublin, 2011. Mckinley was awarded the Credit Union Painting Prize in Claremorris Open 2015, an Arts Council Bursary in 2014 and The Nissan Art Project in 2007. His work is held in many important public collections including the OPW and AIB as well private collections in Ireland and across Europe. 
Friday 20 November – Saturday 19 December 2015
Chancery Lane
Dublin 8
Telephone: +353 1 475 9514
Opening hours / start times:
Tuesday to Saturday 11am – 5pm
Admission / price: Free