Paul McKinley: Canada
Thursday 6 January – Saturday 29 January 2011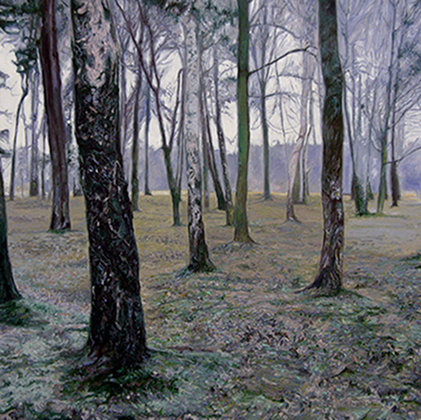 Fergus Feehily in conversation with Paul McKinley on Saturday 8th January at 12.00 pm
In 'Canada', Paul McKinley's exhibition of new work explores the notion of landscape and how it is mediated over time, i.e. History.
His previous work concerned itself with the public parkscape and personal experiences of it. The images for these new paintings and drawings are also taken of a public space but unlike his previous work, these are taken from public sources such as the internet and literature. With the exception of two pieces, the images used have been taken from recent photographs of the site.
McKinley is interested in the concept of dark tourism and making work based on vicarious memory. Rather than comment on the obvious story behind the site, McKinley is more concerned with the nature of the public's desire to visit and how we process what happened there.
Paul McKinley was awarded the Nissan Art Project in 2007 which resulted in a solo show Farewell Chestnut Avenue at the RHA Gallagher Gallery that year. Recent exhibitions include Under the Bluebells (solo) at the LAB, Dublin in 2009, and group shows, Delicias de la Crisis, Oonagh Young Gallery, Dublin, 2009, Winter Salon, Temple Bar Gallery, Dublin, 2008, and Thirty Two Thousand Years Later, Pallas Contemporary Projects, Dublin, 2007.
Image: Paul McKinley: Escape 2, oil on canvas, 70 x 70 cm, 2010
Thursday 6 January – Saturday 29 January 2011
Chancery Lane
Dublin 8
Telephone: +353 1 475 9514
Opening hours / start times:
Tuesday to Saturday 11am – 5pm
Admission / price: Free