Patrick Scott
Wednesday 12 February – Saturday 1 March 2014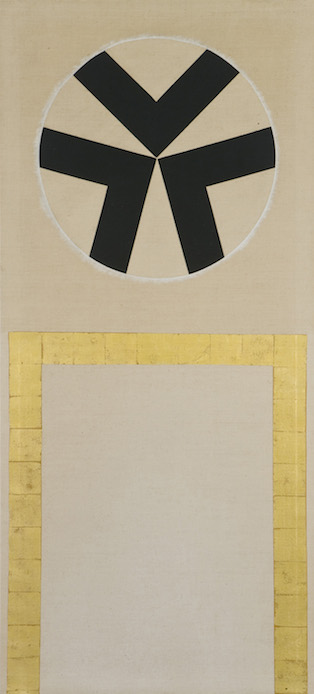 Taylor Galleries is delighted to present an exhibition of prints, paintings and works on paper by renowned Irish artist Patrick Scott from 13 February to 1 March 2014. The show includes rarely-seen works from the early part of Scott's career alongside more recent carborundum prints and coincides with the major two-part retrospective exhibition, Patrick Scott: Image Space Light, that runs at VISUAL Carlow and the Irish Museum of Modern Art, Dublin from 12 February and 16 February respectively.
Born in Kilbrittain, Co. Cork in 1921, Patrick Scott studied Architecture at University College Dublin from 1939 and worked for the Dublin-based architectural practice Scott Tallon Walker from 1945 to 1960. While still in college he became involved with the White Stag Group and began exhibiting with them. For many years he combined his work as an architect with painting, only deciding to focus on painting full-time after he represented Ireland at the Venice Biennale in 1960.
Scott's earliest work, from the 1940s, consists of formally divided landscapes depicting imaginary birds and simplified compositions of familiar scenes painted with thin layers of transparent pigment. Later work was inspired by the bogs of the Midlands and in the early 1960s he discovered the technique of painting on unprimed canvas which continues to characterise his work to the present day. Throughout his career his work has been influenced by his early training and practice as an architect, the angular lines and reductive forms of high modernist architecture reappearing on canvas to describe the natural world with an analytical precision. His paintings, drawings and prints are uncompromisingly abstract, distilling the artist's environment into two dimensions with an austerity that is balanced by his frequent use of gold, silver and palladium leaf against subtle geometric tempera shapes and raw canvas, most notably in his meditative series of Gold Paintings dating from 1964 onwards.
In addition to his own work Scott carried out numerous design commissions while working for Signa Design Consultancy in the 1950s and 60s. He designed CIÉ's iconic orange and black rolling stock (inspired by the colouring of his pet cat) as well as carpets, Christmas cards, record sleeves and posters. He has also completed numerous tapestry commissions of his own for Bank of Ireland, Trinity College Dublin and the European Parliament. One of his most enduring contributions to modern Irish architecture is the beautiful mosaic work in Busáras and he also designed the iconic ROSC motif.
Patrick Scott won the National Award at the Guggenheim International Exhibition, New York in 1960 and received the Irish American Cultural Institute's O'Malley Art Award in 2004. A founder member of Aosdána, he was conferred with the title of Saoi and presented with a gold torc, the symbol of the office, in 2007. An Honorary Member of the RHA, his work is held in numerous private collections in Ireland and abroad, as well as the public collections of the Museum of Modern Art, New York; Irish Museum of Modern Art (IMMA), Dublin; the Gulf Oil Corporation, Pittsburg, USA; Dublin City Gallery The Hugh Lane; and the Ulster Museum, Belfast. The Douglas Hyde Gallery, Dublin held a major retrospective of his work in 1981 and an important survey exhibition of his work took place at Dublin City Gallery The Hugh Lane in 2002.
Image: Patrick Scott: Goldpainting 47, 1968, gold leaf & tempera on unprimed canvas, 182 x 82cm copy
Wednesday 12 February – Saturday 1 March 2014
16 Kildare Street, Dublin 2
Telephone: +353 1 676 6055
Opening hours / start times:
Monday 10:30 - 17:30
Tuesday 10:30 - 17:30
Wednesday 10:30 - 17:30
Thursday 10:30 - 17:30
Friday 10:30 - 17:30
Saturday 11:00 - 15:00
Admission / price: Free