Patrick Jolley: The Door Ajar
Thursday 1 October 2015 – Saturday 6 February 2016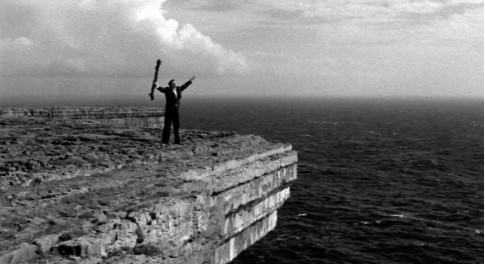 On August 14th 1937 the French poet, Antonin Artaud arrived in Ireland. He had with him a walking stick he claimed to be St Patrick's staff. His declared intention was to return this item to its rightful keepers.
Six weeks later he was arrested while trying to gain entrance to a religious house. No other records of his journey remain except for an unpaid lodgings bill and some postcards sent from Galway.
On loan from to the Crawford Art Gallery from the Patrick Jolley Estate, The Door Ajar uses an assembly of Artaud's writings as the structure of a possible account of that lost time. The intensity of Artaud's words, part statement of belief and part mad incantation, resonate in the isolation of the Irish landscape. The film follows the path of a man set on attaining true visionary power at any cost.  
85 minutes. Feb 2011
B/W super16/super8.
Thursday 1 October 2015 – Saturday 6 February 2016
Emmet Place
Cork
Telephone: +353 21 4805042
Opening hours / start times:
Monday 10:00 - 17:00
Tuesday 10:00 - 17:00
Wednesday 10:00 - 17:00
Thursday 10:00 - 20:00
Friday 10:00 - 17:00
Saturday 10:00 - 17:00
Admission / price: Free