Patricia Hurl: Irish Gothic
Friday 10 February – Sunday 21 May 2023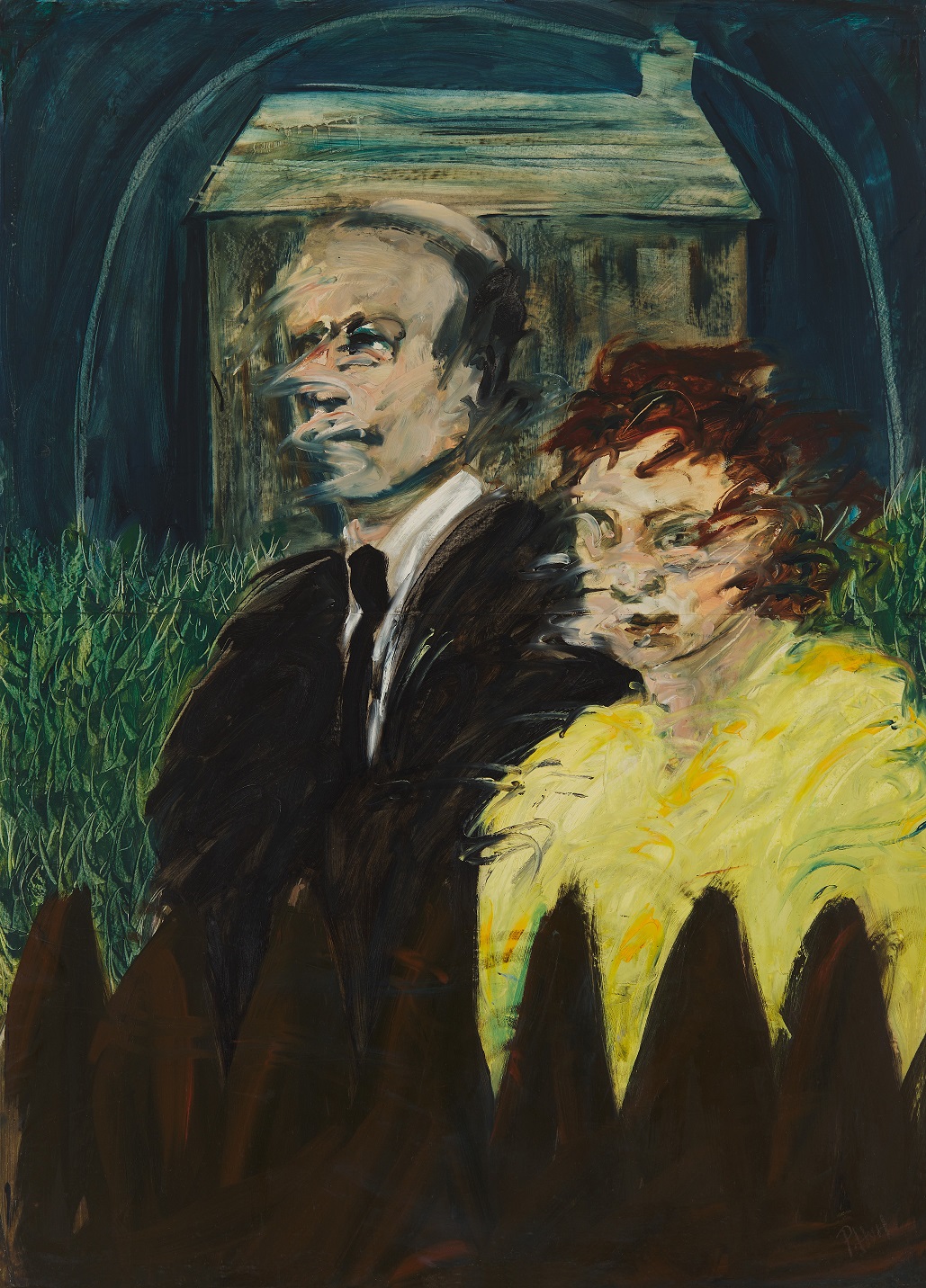 ――― In venue ―――
An Artist Talk with Patricia Hurl takes place at 5.30pm on Thursday 9 February, moderated by art historian, writer, and curator Catherine Marshall. As tickets are limited this must be booked separately, please click here to book.
IMMA is delighted to present Irish Gothic, a major retrospective opening on Friday 10 February 2023 by one of Ireland's most accomplished and respected artists, Patricia Hurl. Greatly admired by fellow artists, but overlooked for decades by the prevailing art system, this is Hurl's first significant exhibition, presenting work spanning over 40 years of the artist's career.
Hurl's work traverses the disciplines of painting, multi-media and collaborative art practice. Her oeuvre is by nature political and, since the 1980s, her work has explored loss, pain, frustration and loneliness. Originally from Dublin, and a former member of Temple Bar Galleries and Studios, Hurl often works in a collaborative way, most recently with filmmaker Therry Rudin. Hurl and Rudin have established a number of community–based programmes, including Damer House Gallery and Silver Barn Studios in Tipperary. Hurl is also part of the NaCailleacha collective made up of women visual artists, filmmakers and musicians from across Europe whose concerns embrace the processes of aging, personal loss, loneliness and stereotypes of the older woman as witch or hag.
The exhibition at IMMA includes more than 80 works, many of which have never been on public display. Developing over the course of 40 years, the work's primary subject matter is the lived experiences of women. Using painting, performance, film, textiles and her own body, Hurl explores the hardship faced by mothers, sisters and friends: women warriors affected by horrific acts and often powerless to ease the suffering of loved ones. The catalyst for recent works such as The Warrior Series was media coverage surrounding the treatment of women internationally, and closer to home, in political events such as the Belfast rape trial of 2018. Also on view will be a number of early works in which Hurl draws on her own experience to explore the suburban home as an imperfect ideal, including sketchbooks, diaries, and magazine and newspaper cuttings that are a central part of her practice.
Commenting on the exhibition, Annie Fletcher, IMMA Director said:
We are delighted to have initiated a Museum scale retrospective of the work of Patricia Hurl. This is exactly the kind of exhibition IMMA should be programming – not only bringing world class international practice to Ireland, but mobilising all of the Museum's resources to research and exhibit what is an outstanding Irish painting practice. This artist's work has never before been seen in such a comprehensive exhibition. It is very interesting to look at Hurl's deft painterly style and read it against contemporaneous painting practices like Luc Tuymans' or Marlene Dumas': there is a certain haunting simplicity in the gesture of each stoke and an understanding of the gestural power which fills each canvas. Hurl's subject matter is both highly personal, speaking to her lived experience and perspective, and also an excoriating and deeply felt portrayal of what it is and was to live as a woman in Ireland from the 1980s onward.
Patricia Hurl was born in Dublin and was a lecturer in Fine Art Painting at the Dublin Institute of Technology for over 20 years.  She studied at the National College of Art and Design, graduating in 1975, and at Dun Laoghaire School of Art and Design, until 1984. In 1984 she won the Norah McGuinness award for painting. Hurl's work was recently included in The Narrow Gate of the Here and Now: IMMA 30 Years of the Global Contemporary: Queer Embodiment; IMMA, Dublin 2021 – 2022; Elliptical Affinities: Irish Women Artists and the Politics of the Body, 1984 to the present, Highlanes Gallery, Drogheda, Co Louth and Limerick City Art Gallery, 2019 – 2020. Hurl has exhibited in selected group and solo shows and has represented Ireland in symposiums in Atlanta USA, Caversham, S.A. and Zaragossa, Spain. She was a contributor to The Great Book of Ireland. Her work is included in the recent publication Art and Architecture of Ireland Volume V: Twentieth Century, Royal Irish Academy, 2015. Her work is represented in private and public collections including IMMA; The Arts Council / An Chomhairle Ealaíon; The Highlanes Gallery and the Collection of University of Limerick.
Image: Patricia Hurl: Irish Gothic (Living Room), oil on paper, 123 x 90 cm; photo: Denis Mortell Photography; image copyright the artist
Friday 10 February – Sunday 21 May 2023
Royal Hospital, Kilmainham
Dublin 8
Telephone: +353 1 612 9900
Opening hours / start times:
Tuesday 11:30 - 17:30
Wednesday 11:30 - 17:30
Thursday 11:30 - 17:30
Friday 11:30 - 17:30
Saturday 10:00 - 17:30
Sunday 12:00 - 17:30
Admission / price: Free
Bank Holidays open 12:00 – 17:30.