Patricia Burns: Sea Road Paintings
Friday 8 April – Saturday 14 May 2022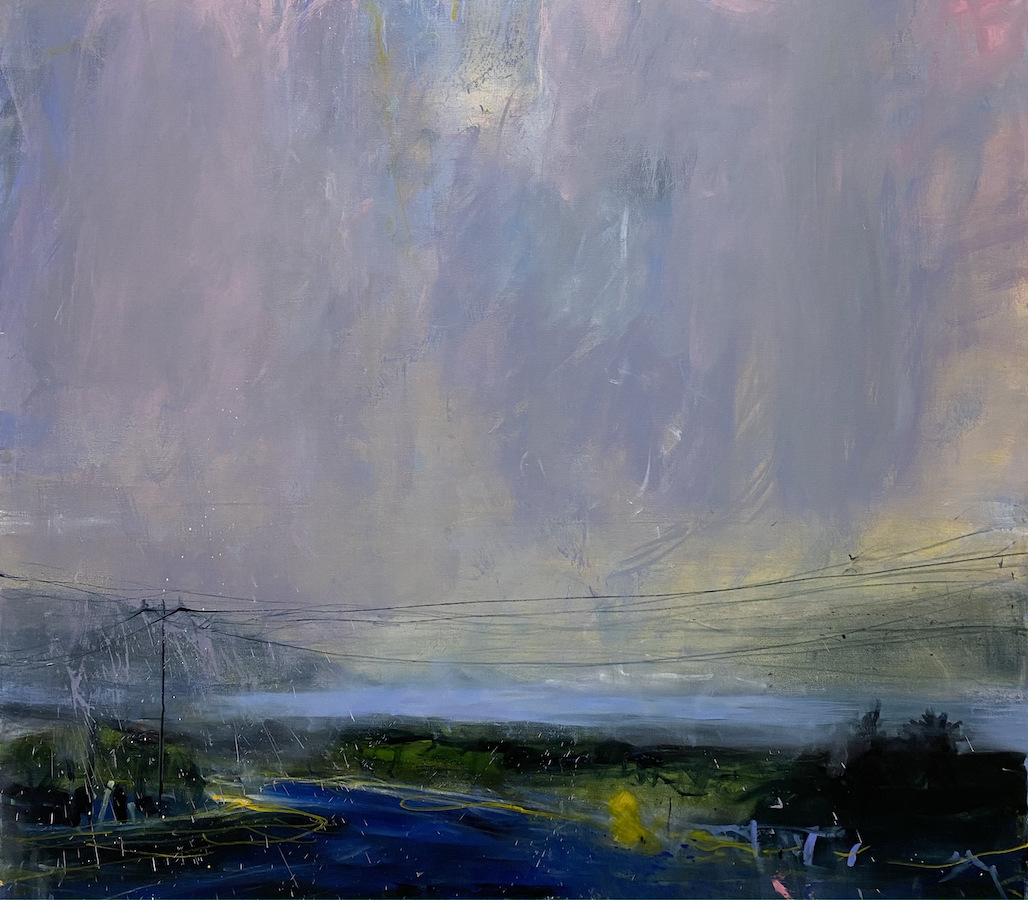 Sea Road Paintings sees Patricia Burns return to a familiar place, to create paintings that are simultaneously similar to and completely unlike her previous series.
Over the past two decades, she has made numerous trips to Ballycastle, spending short, intensive periods of time living and working in the expansive landscape of the North Mayo coast.
During earlier visits she made work there that intimately explored her sense of connectedness to and displacement from other, far-away, places to which she belonged: the Dublin suburb of her childhood and the roads to the east of Cork city that made up her daily commute. The tensions inherent in her relationship to place have become characteristic of her work.
Sea Road Paintings sees her claim a similarly distinct location – Ballycastle's wild hinterland, the 'back the way road' to Belmullet, and the glinting sea beyond – as her own.
In summer 2021, relieved of the physical and psychological restrictions imposed by travel limits and distances, Burns headed back to Mayo with a longing for its vast skies and low horizons.
A quote by painter and colour theorist, George Seurat 'Let's go and get drunk on light again – it has the power to console', perfectly encapsulates the kind of heady yearning to immerse herself in another place and capture something of its spirit has resulted in this new body of work.
Lighter, looser, and free from the claustrophobic constrictions of the urban environment, the Sea Road Paintings provide a panoramic journey through the landscape, with road signs, fence posts, telegraph poles glimpsed briefly on the way, while also pointing to something beyond itself and a possible destination: the distant glimmering ocean, a sliver of blue between sea and sky, and the potential for adventure, escape, and renewal that it holds.
Born in Dublin, Patricia Burns studied Fine Art at Dublin Institute of Technology and Crawford College of Art + Design, Cork.
Solo exhibitions of her work have been held at Taylor Galleries, Dublin (2019, 2016, 2014); the Lavit Gallery, Cork (2019); Garter Lane Arts Centre, Waterford (2012); Triskel Arts Centre, Cork (2011); Vanguard Gallery, Cork (2008); and the Ashford Gallery, Royal Hibernian Academy, Dublin (2007).
In 2013 she received the ESB Silver Medal for her painting in the RHA Annual Exhibition, followed by the Whyte's Award in 2015.
She has also exhibited in the Summer Exhibition at London's Royal Academy on several occasions.
Burns' work is represented in corporate and private collections throughout Ireland and in the public collections of AIB Group, AXA Insurance, Ballinglen Arts Foundation, NUI Galway, and the OPW / State Art Collection, amongst others. She lives and works in Cork.
Image: Patricia Burns, 'Northern Sky II', 2021, oil on canvas, 102 x 152 cm
Friday 8 April – Saturday 14 May 2022
16 Kildare Street, Dublin 2
Telephone: +353 1 676 6055
Opening hours / start times:
Monday 10:30 - 17:30
Tuesday 10:30 - 17:30
Wednesday 10:30 - 17:30
Thursday 10:30 - 17:30
Friday 10:30 - 17:30
Saturday 11:00 - 15:00
Admission / price: Free