Patricia Burns: November Paintings
Friday 5 September – Saturday 20 September 2014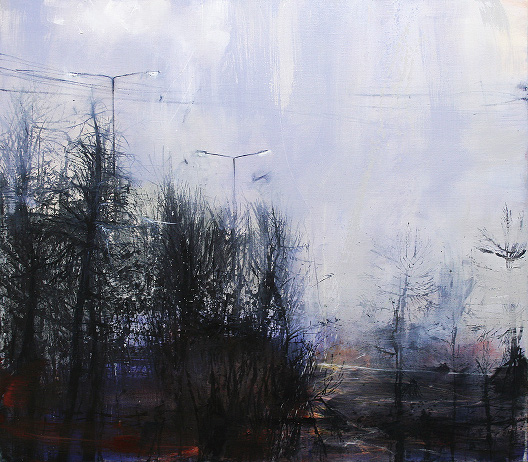 Opening Reception Thursday 4 September, 6 – 8pm
Taylor Galleries is delighted to present November Paintings, Patricia Burns' first solo exhibition with the gallery.
Work on the paintings in the exhibition began in November last year and they were made through the following winter months. The journey on the Dublin to Cork road is an expedition the artist has been making constantly during the last 12 years and some of the paintings are linked to this route. All of the work is connected to thoughts of leaving a place over and over again.
Patricia Burns is interested in the hidden narrative in overlooked or changing parts of the built landscape. Her paintings often focus on specific places, most notably the in-between spaces of suburbs and ring-roads. Tomas McCarthy has said of her work that it "speaks to us from the twilight zone of remembrance and exile. Her haunting images are a technical triumph. The subject matter and the handling of it is unique and highly disciplined. Anyone who sees her work will be impressed by its uncompromising vision, its certainty of home-comings, its prodigious promise of a definition of home that transcends geography and crosses generations."
Born in Dublin, Burns studied Fine Art at Dublin Institute of Technology and Crawford College of Art + Design, Cork. Recent solo shows include Hinterland – The Glen Paintings, Garter Lane Arts Centre, Waterford (2012) and Triskel Arts Centre, Cork (2011); Northside, Vanguard Gallery, Cork (2008); and Ashford Gallery, Royal Hibernian Academy, Dublin (2007). She has shown regularly in the RHA Annual Exhibition as an invited artist and has also exhibited in the Summer Exhibition at London's Royal Academy on several occasions. Her work is represented in corporate and private collections throughout Ireland and in the public collections of AIB Group, AXA Insurance, Ballinglen Arts Foundation, NUI Galway, and the OPW / State Art Collection, amongst others. Patricia Burns lives and works in Cork city.
The exhibition will be open from 5 to 10pm on Friday 19 September as part of Culture Night 2014.
Friday 5 September – Saturday 20 September 2014
16 Kildare Street, Dublin 2
Telephone: +353 1 676 6055
Opening hours / start times:
Monday 10:30 - 17:30
Tuesday 10:30 - 17:30
Wednesday 10:30 - 17:30
Thursday 10:30 - 17:30
Friday 10:30 - 17:30
Saturday 11:00 - 15:00
Admission / price: Free