Patricia Burns: Dublin Paintings
Friday 1 April – Saturday 23 April 2016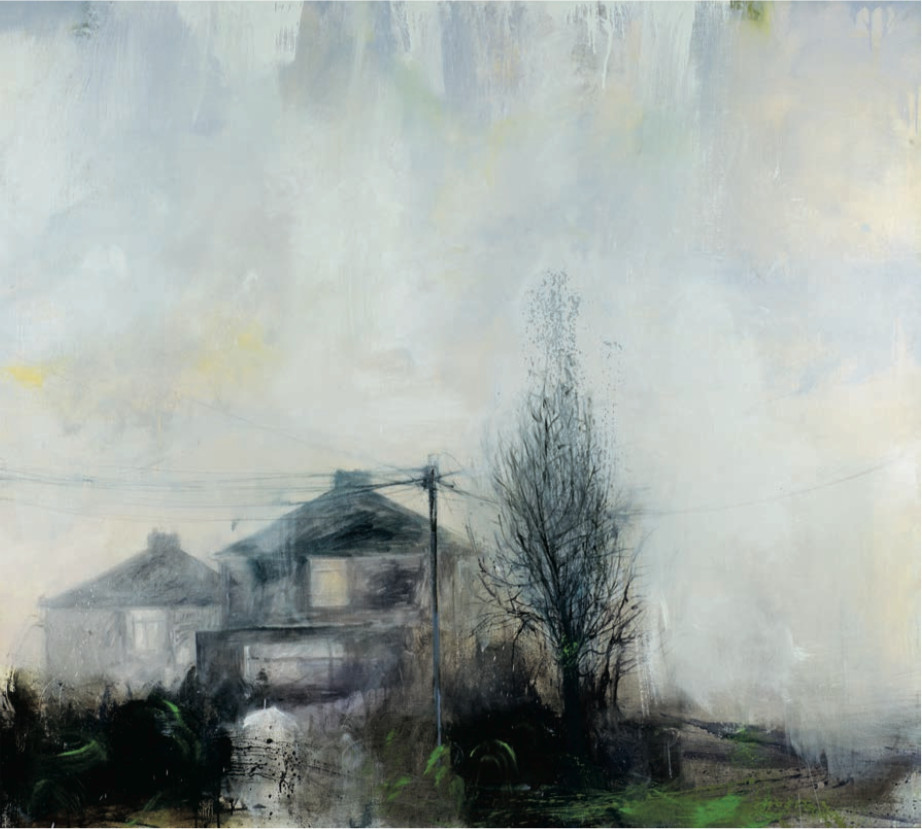 This exhibition, Burns' second with the gallery, is accompanied by an artist's talk which will take place at 1pm on Thursday 14 April 2016.
When we recognise a painting as creating a place we are also noting a morphology of the prior spatiality of the blank canvas. All the possibilities for creating space are open from the start but the painter makes choices that modulate and define the specific space (place) of the finished work. It is the aspect of space construction that seems a natural starting point when reflecting on these paintings… The unity of the canvases is also built on a disjoint and a disorienting effect. Past the bounds of each frame we have to re-orientate ourselves in each new space, which is at the same time a part of the same general space. We cannot offer a 'tour' through these paintings due to the break between canvases, though we can identify separate places. We should enjoy this disorienting effect, this break in narrative, this re- positioning, as it allows paintings of places to provide material for the spectator's own narratives.
– extract from "Patricia Burns' Dublin Paintings", by John Thompson, PhD candidate @ UCC
This new body of work is essentially about childhood and a life-long association with a place that ended with the recent dismantling and selling of the artist's family home of some forty years. Painted from memory, almost conjured up from fragments in Burns' mind, the pictures settle on particular times in a day, in a season and in a place. All the paintings depict scenes viewed from her childhood home itself, the garden and the handful of surrounding roads that contain decades of memory.
Born in Dublin, Patricia Burns studied Fine Art at Dublin Institute of Technology and Crawford College of Art + Design, Cork. Recent solo shows include November Paintings, Taylor Galleries, Dublin (2014); Hinterland – The Glen Paintings, Garter Lane Arts Centre, Waterford (2012) and Triskel Arts Centre, Cork (2011); Northside, Vanguard Gallery, Cork (2008); and Ashford Gallery, Royal Hibernian Academy, Dublin (2007). She has shown regularly in the RHA Annual Exhibition and in 2015 was the recipient of the Whyte's Award for her painting Hinterland #9. She has also exhibited in the Summer Exhibition at London's Royal Academy on several occasions. Burns' work is represented in corporate and private collections throughout Ireland and in the public collections of AIB Group, AXA Insurance, Ballinglen Arts Foundation, NUI Galway, and the OPW / State Art Collection, amongst others. She lives and works in Cork city.
Artist's Talk 1pm, Thursday 14 April. No booking required. All welcome.
Friday 1 April – Saturday 23 April 2016
16 Kildare Street, Dublin 2
Telephone: +353 1 676 6055
Opening hours / start times:
Monday 10:30 - 17:30
Tuesday 10:30 - 17:30
Wednesday 10:30 - 17:30
Thursday 10:30 - 17:30
Friday 10:30 - 17:30
Saturday 11:00 - 15:00
Admission / price: Free