Partisan Social Club: Talk to the Land
Saturday 29 October 2022 – Saturday 4 February 2023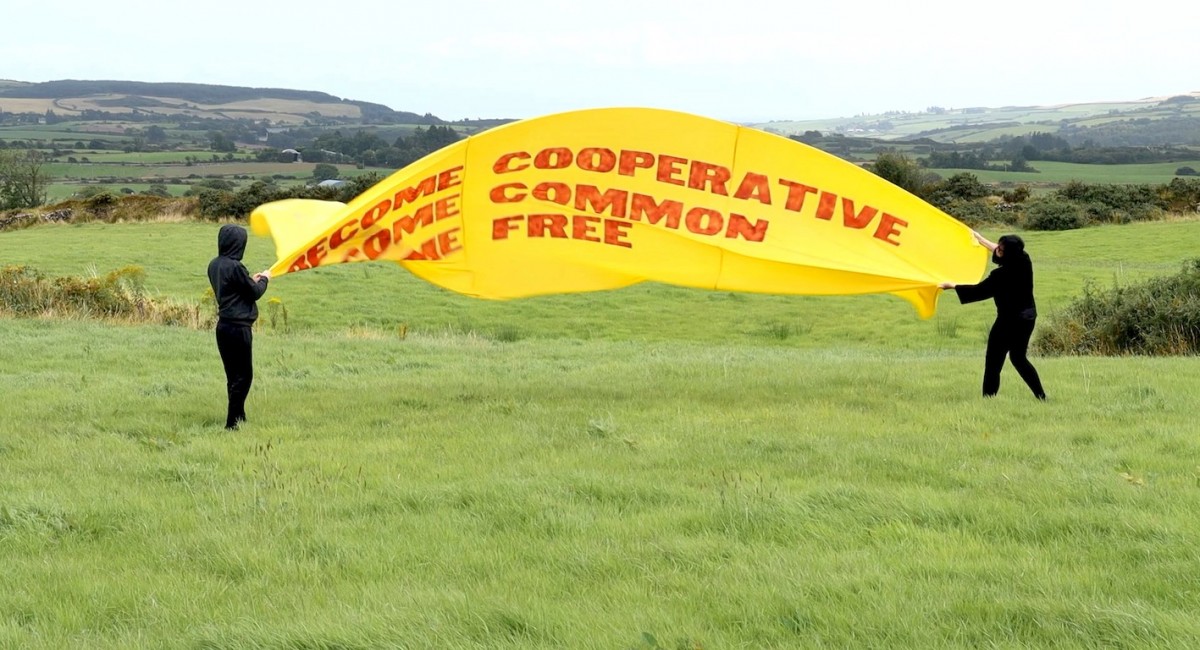 ――― In venue ―――
Partisan Social Club is an evolving collective led by the artists Mel Jordan and Andy Hewitt. They assemble members via and for projects related to histories, theories, and activities of commoning. Their language-based works—often produced through participatory processes—take the form of posters, scarves, banners, videos, and architectural structures, and are presented in exhibitions and as printed matter.
This exhibition explores three aspects of commoning: landlordism; how to practice a culture-led reclaiming of cities; and utopian settlements in South-West Ireland. It features newly commissioned works alongside earlier works. The focus throughout is on land use questions informed by historical and contemporary critiques of capitalism—specifically management, ownership, and extraction in urban and rural areas in European societies.
Partisan Social Club examines alternative modes of community building arising from cooperative proposals and experiments advanced by the eighteenth-century Irish, Cork-based philosopher William Thompson. The Irish politician James Connolly, in his 1910 book Labour in Irish History, called Thompson the first Irish socialist. The presentation investigates how Thompson's writings might influence and shape practical strategies responding to today's economic and ecological issues, and how land can serve as an actor or an event within existing arrangements of humans and nonhumans under capitalism.
Partisan Social Club does not represent a history of the commons, or a historical model of community building in the pre-capitalistic period. Rather, they activate ideas surrounding horizontal structures, mutual exchange, resource sharing, and collectivity. This forms the basis of their notion of "re-commoning," which considers how to reimagine social relationships beyond privatization and austerity.
Saturday 29 October 2022 – Saturday 4 February 2023
The Old Yacht Club
Cobh, Co. Cork
Telephone: +353 21 481 3790
Opening hours / start times:
Wednesday – Saturday, 11:00 – 16:00
Admission / price: Free