Owen Boss: Intersection
Thursday 12 September – Monday 4 November 2019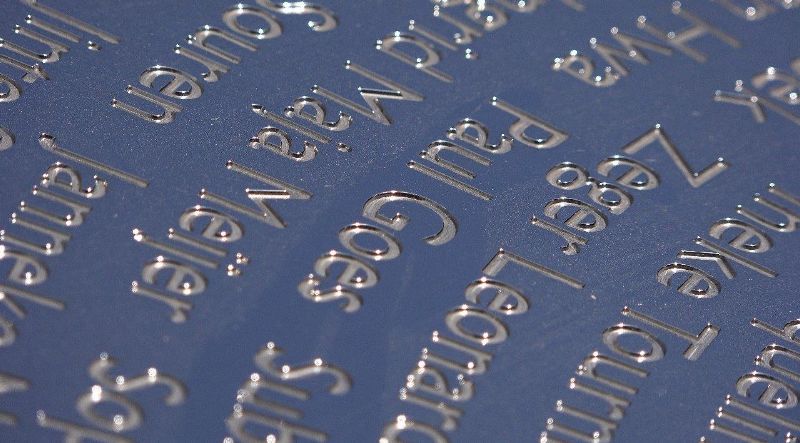 Intersection is a visual art work by ANU with lead artist Owen Boss. A friend of Owen Boss, Paul Goes, his wife Shuba Jaya and their daughter Kaela were travelling home from Amsterdam to Kuala Lumpar on the 17th July 2014. Their last Facebook social media post was an image of their 21 month old daughter in Amsterdam airport prior to travelling.  Their plane, Malaysia Airlines Flight 17 (MH17) was shot down over East Ukraine.
The wreckage fell 6 miles to earth and all 283 passengers and 15 crew perished. Russia and Ukraine blamed each other for the incident and it was concluded by the Dutch Safety Board in 2015 that the airliner was downed by a surface-to air missile launched from pro-Russian controlled territory in Ukraine.
Because  Flight 17 fell in a war zone, control of the wreckage was chaotic, and the usual sanitized photos typically released by aviation safety officials were replaced by thousands of images distributed across the internet. Intersection is a glimpse at the life of one man and his family, a personal friend of the artist. How do we remember, celebrate and commemorate when objects, materials and documentation sit at the centre of controversy?  Read more
Panel discussion presented in association with Dublin Festival of History, Thursday, 10 October 2019 2pm The LAB Gallery.
Click here for more information and to register your free place
Owen Boss is a visual artist based in Dublin. ​Exhibitions include ​Beyond These Rooms ​(Tate Exchange at Tate Liverpool 2019), ​That Was Us ​(Oonagh Young Gallery), Falling out of Standing (Dingle International Film Festival 2019, Light Moves Festival, Damer House Gallery and Highlanes Gallery 2017. ​A Yellow Rose​, ​(the Free Mason's Grand Lodge 2012), Contemporary Art and the Moving Image ​(2011), ​Life with Edits, ​(the Joinery Dublin 2011), Testimonial Live​, (Project Art Centre for Project Brand New 2010), ​Testimonial ​(2010)​,​Potential of Vacancy ​(2010), ​Projector​, Four Gallery (2009), ​Camera Obscura​, Lighthouse Cinema (2009), ​Punctum​, Project Art Centre for Project Brand New (2008), ​Tumbledowntown, ​Hotel Ballymun (2007). Design work includes ​The Same ​(2016) with Corcadorca Theatre Company, written by Enda Walsh. Other collaborative work includes ​Rock Paper Scissors ​(2008), ​Xspired (2006) and ​Tumbledowntown ​(2005). Owen has been a recipient of a number of awards including an Arts Council Visual Art Bursary (2017), a Project award, Artist in the Community Scheme Project Realisation Award (2015, 2012, 2008), an Arts Council Participation Bursary (2008), Artist in the Community Scheme Research and Development Grant (2006) and a Breaking Ground Local Artist Commission (2005).
In 2009 he co-founded ANU Productions with Louise Lowe. More about the company: ANU are a multidisciplinary company,​ cross-pollinating theatre, visual art and dance. Building a reputation for creating transformative experiences in unusual locations, they continue to challenge theatrical conventions by blurring the lines between immersive and site-specific practice. They place the audience at the very centre of the experience to create autonomous and meaningful exchanges with them. Their aesthetic represents the independent and the experimental, creating a new kind of multi-disciplinary model – a daring new hybrid art at the forefront of Ireland's cultural landscape.
Thursday 12 September – Monday 4 November 2019
Foley Street, Dublin 1
Telephone: +353 1 222 7850
Opening hours / start times:
Monday to Saturday 10am – 6pm. We are currently closed on Sundays.
Admission / price: Free