Orla Whelan: I Don't Need Anything From Here (magic-carpet-painting)
Friday 18 November 2022 – Sunday 29 January 2023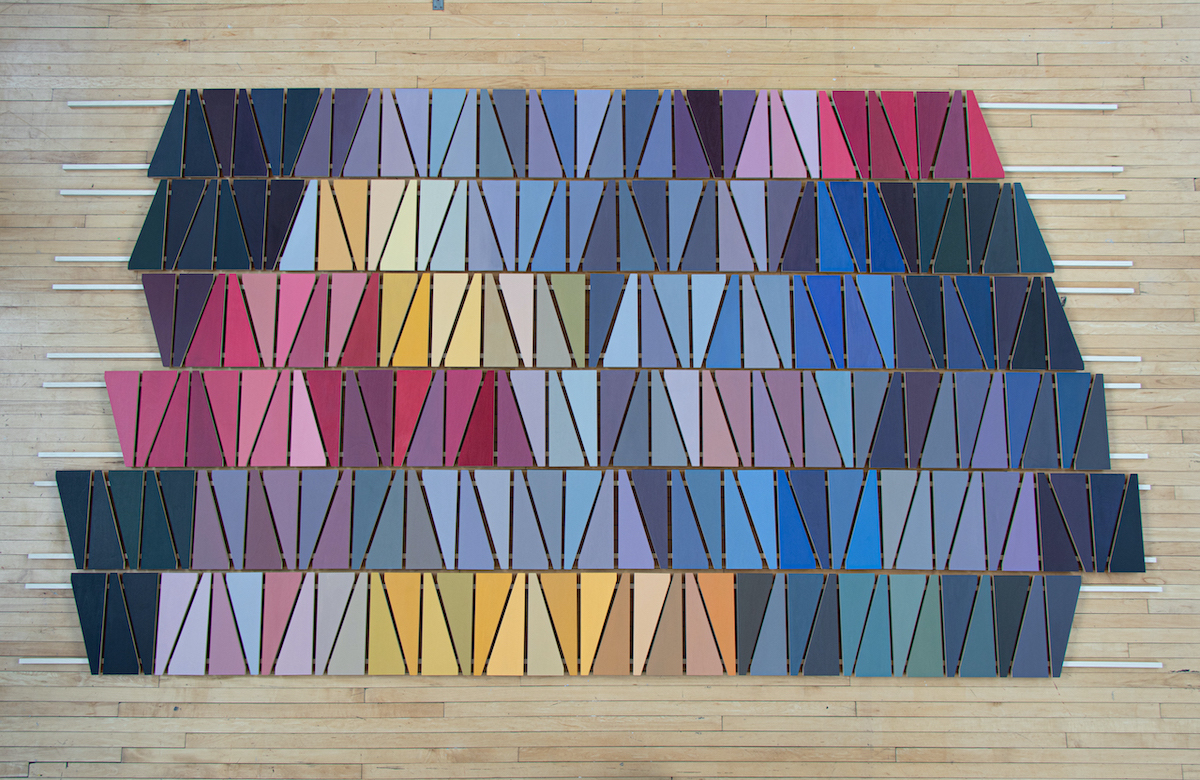 I Don't Need Anything From Here (magic-carpet-painting) is a temporary, site-responsive artwork created for the unique space of the atrium at the RHA
This large, floor-based painting consists of over two hundred hand-painted wooden wedges, combined to form a colourful ground covering. The individual wooden wedge shape, based on the usually unseen corner wedge found on the reverse of a traditional stretched canvas, speaks to the history and materiality of painting, and functions for the artist as a vehicle to transport colour into a space.
I Don't Need Anything From Here (magic-carpet-painting) is a contemporary, expanded, landscape painting masquerading as a mythological object, that invites the viewer on a metaphysical journey.
As a literary trope, a magic carpet is used to defy the laws of time and space, enabling characters to perform huge geographical leaps in an instant. By assuming the hybrid form of a magic carpet and a painting – both forms known for their transcendent capacities, this magic-carpet-painting invokes the potential of colour to transcend its immediate environment.
Employing a tonal palette, it conjures up a vague sense of the Irish geological landscape, offering a chromatic collage of our familiar earthly place, edged by the blackness of the cosmos beyond. This incongruous object explores the potential of colour to convey something of the complex relationship between ourselves and the world around us, creating a visual dialogue between artwork, institution, subject and space.
With the possibility of physical ascension provided by the adjacent staircase, I Don't Need Anything from Here (magic-carpet-painting) at the RHA atrium, offers the viewer a point of metaphysical departure, an imaginary stepping off point. The title, borrowed form the final text in the book 'The World Goes On' by László Krasznahorkai, speaks of a leave-taking, a bidding farewell, in which the one departing takes stock of all that is here on earth and in the heavens, all the beauty, mystery, joy, heartbreak and despair, and with unwavering clarity, leaves it all behind… 'because I've looked into what's coming and I don't need anything from here.'
Orla Whelan is an Irish visual artist whose practice is rooted in painting. In 2021 she took part in Dubliners – the 6th Biennial of Painting in Zagreb, Croatia, in association with Pallas Projects. Recent solo projects include Matter Mammal Oil Soar, an experimental book exploring the relationship between art writing, authorship and painting which was launched at the Dublin Art Book Fair at Temple Bar Gallery & Studios in 2021; A More Immortal Atlas – s solo exhibition at Rathfarnham Castle OPW, Dublin (2020); A Falling of the Bright – a site specific commission for Facebook Artist in Residence Programme at Grand Canal Dock, Dublin (2019) and Chaos Bewitched, which won the inaugural Merrion Plinth Award, by the Merrion Hotel, Dublin (2019).
Her practice is supported by The Arts Council of Ireland with a Visual Art Bursary in 2022 and 2021. Her work is held in the collections of The Arts Council of Ireland, The OPW State Art Collection, Trinity College Dublin, The Merrion Hotel and private collections worldwide. Orla is founder and director of AtHomeStudios – a collective of visual artists working from studios based in their own homes, and the art publishing project Whale Dust. She lives in and works in Dublin.
Image: Orla Whelan, I Don't Need Anything From Here (magic-carpet-painting), 2022, acrylic paint on plywood, 480 x 260 x 4 cm, courtesy the artist
Friday 18 November 2022 – Sunday 29 January 2023
15 Ely Place, Dublin 2
Telephone: +353 1 661 2558
Opening hours / start times:
Monday 11:00 - 17:00
Tuesday 11:00 - 17:00
Wednesday 11:00 - 19:00
Thursday 11:00 - 19:00
Friday 11:00 - 19:00
Saturday 11:00 - 19:00
Sunday 14:00 - 17:00
Admission / price: Free