Orla Mc Hardy: For the Hills
Saturday 21 March – Saturday 25 April 2015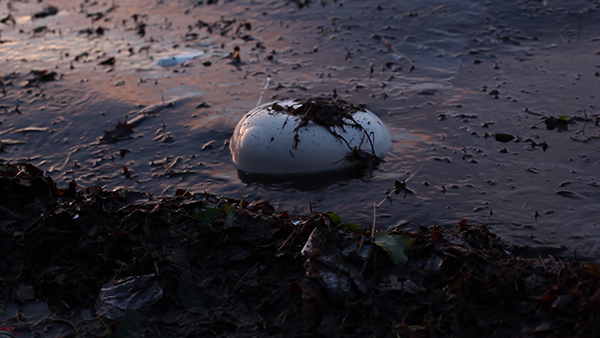 Artist's conversation with Orla Mc Hardy and curator Eilís Lavelle Saturday 18 April at 3pm
For the Hills is a solo exhibition of new work by Orla Mc Hardy. The selection has been made from a larger body of work made in 2013-2015 and includes; HD digital projections, 2D animations embedded into objects, found objects, and sculptural and sound installations.
Originally from Donegal Town, the artist returned home, allowing the place to function as a backdrop and generator to create a suite of new films and installations. In the process of trying to make sense of a place at once known and strange, Mc Hardy's work looks closely at what was once familiar. The work explores themes that include the passage of time, specifics of place and language, memory and emotional connection and disconnection.
Undertaking the task of creating an impossible archive Mc Hardy's work involves on-going personal attempt at grasping meaning. Mc Hardy is interested in creating 'language like' as opposed to directly linguistic work that attempts to decode her hometown to discover how a place writes itself. Her creative process prioritises the act of looking and the resulting work has an intrinsic poetic sensibility. The landscape, hedges, fields, and ditches become steadfast observers while times change and fortunes and people come and go. The work has been made intentionally modular, allowing different configurations of the work to be shown together, where separate artworks become like words in a sentence. By walking through and looking at the disparate works, viewers can intuitively 'read' and formulate their own meaning from the work.
The work made for this exhibition has been generously supported by a Film Project Award from The Arts Council / An Chomhairle Ealaíon.
Biography
Originally from Donegal Town Orla Mc Hardy is currently based in Dublin and Richmond, Virginia. Her work spans across traditional single channel films made for broadcast to site-specific gallery installation pieces. She has exhibited internationally and her films have been screened at many international film festivals. She is currently the Assistant Professor of Animation Virginia Commonwealth University Monroe Park Campus, Richmond, VA. She has a MFA from the Dept. Film, Video, New Media & Animation at The School of the Art Institute of Chicago and a BA in Animation from the National Film School, IADT, Dublin. www.orlamchardy.com
Donegal Curatorial Residency 2015
This exhibition is part of a yearlong programme of events curated by Eilís Lavelle. Supported by The Arts Council of Ireland / An Chomhairle Ealaíon, Curator in Residence award in partnership with Donegal County Council, Regional Cultural Centre, Letterkenny and Glebe House & Gallery, Churchill (Derek Hill Collection, OPW).
Saturday 21 March – Saturday 25 April 2015
Port Road, Letterkenny
Co. Donegal
Telephone: +353 74 912 9186
Opening hours / start times:
Monday closed • Tuesday 11:00 - 17:00 • Wednesday 11:00 - 17:00 • Thursday 11:00 - 20:00 • Friday 11:00 - 17:00 • Saturday 13:00 - 17:00 • Sunday closed Admission is free