Orla de Brí: Flux
Friday 24 April – Saturday 16 May 2015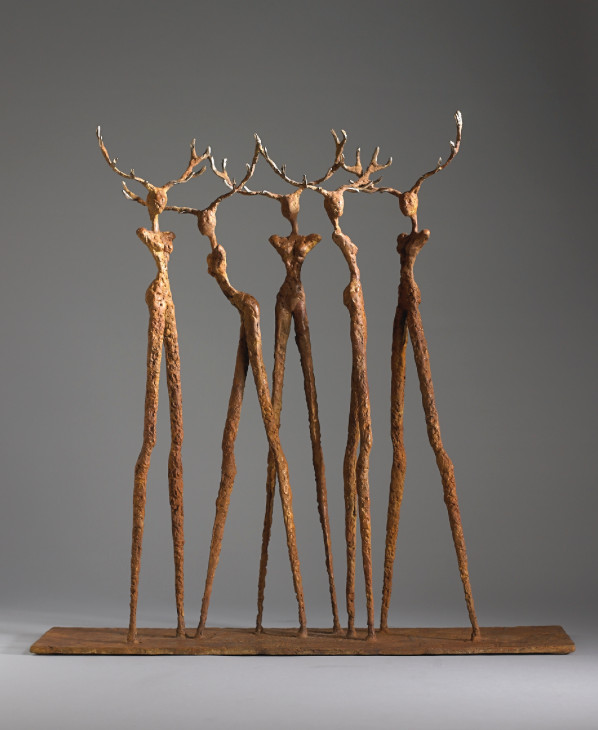 "All is flux, nothing stays still" – Plato
Solomon Fine Art is delighted to host a solo exhibition of new work by the renowned Irish sculptor Orla de Brí.
Flux celebrates fluidity of form and nature as a source of energy and stability. Orla de Brí works with each piece as it changes and melds into something entirely other. She catches her figures and objects as they are in the process of merging with branches, antlers or drops of water, indicating a desire for change, a conscious and dynamic evolution.
Working with bronze, Corten steel and a variety of patinas, Orla creates a series of stunning work that considers how we relate to our surroundings and how we adapt and change as a result. Among the many pieces on exhibit, we are introduced to the two monumental figures of the 'She Stag', both standing at over two and a half metres tall, with a vast antler spread and in polished bronze and welded steel, the She Stags take centre stage. He / she represents changinging gender roles and is the embodiment of 'no gender'; an interpretation of the combined best traits of both man and woman.
Orla de Brí has been working from her studio in Co. Meath for the last 20 years.  She is very much a hands-on sculptor, enjoying every aspect of the work; from the concept of the first drawing right through to the varied and sometimes challenging physical processes of casting and welding.  Her unique, elegantly stylized figures and objects in a variety of materials (including bronze, steel, stone and fibreglass) are familiar to many.  She has had six major solo shows and has completed over twenty public sculptures including work for the Bank of Ireland, Aer Rianta, Dublin City University and the Office of Public Works. She is also in many significant private collections both nationally and internationally.
Friday 24 April – Saturday 16 May 2015
Balfe Street, Dublin 2
Telephone: +353 86 814 2380
Opening hours / start times:
Tuesday 10:00 - 17:30
Wednesday 10:00 - 17:30
Thursday 10:00 - 17:30
Friday 10:00 - 17:30
Saturday 11:00 - 16:00
Admission / price: Free