Online and Offline: Curatorial and Artistic Responses to a Transitioning Internet
Thursday 20 June 2013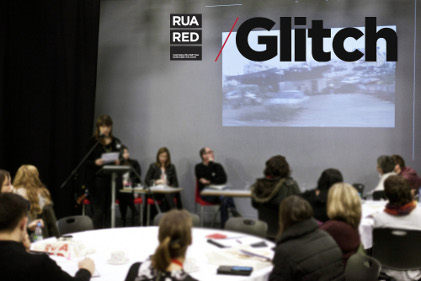 This symposium offers an in-depth dialogue between leading curators whose practice engages with the Internet as a site for cultural production. Drawing upon personal and practical experiences, the panellists bring together critical and creative investigations of new media and curatorial practices. The Internet represents an emerging space – the terms of which are constantly being negotiated – and in a short time has become a powerful platform for innovation, politics, economic growth and creative practice. The panellists represent a broad cross-section of curators whose distinct interests and models of practice use information technologies not only as a medium and tool, but also as an integral part of the curatorial process [1]. Speculating upon the interrelationship between online culture, digital technologies and curatorial practice, speakers will discuss how the role of curator and artist is transitioning, not only with the growth of digital technologies, but also through the offline factors that continue to affect how the Internet as a creative platform is developed.
[1] KRYSA, J. (ed.) 2006. Curating Immateriality: the Work of the Curator in the Age of Network Systems: Autonomedia.
This event will be streamed live on basic.fm
PANELLISTS
Nicholas O' Brien – Independent curator & artist
Suzy O' Hara – CRUMB/University of Sunderland
MariaLaura Ghidini – CRUMB/University of Sunderland
Melanie Bühler – Independent curator/Lunch-Bytes.com
RYBN.org – Independent curator & artist
Bani Brusadin – Independent curator /The Influencers/Center of Contemporary Culture of Barcelona
Sarah Cook – CRUMB/University of Sunderland
Beryl Graham – CRUMB/University of Sunderland
Nora O' Murchú – Curator of Run Computer, Run/Post Doctoral researcher at CRUMB/University of Sunderland
BOOKING INFO
June 20th 10 am – 4 pm
€25 / €20 (students/unwaged)
To book call Rua Red on: 01 451 5860 or email: info@ruared.ie
Drink and refreshments provided.
Thursday 20 June 2013
South Dublin Arts Centre
Tallaght, Dublin 24
Telephone: +353 1 451 5860
Opening hours / start times:
Monday 10:00 - 18:00
Tuesday 10:00 - 18:00
Wednesday 10:00 - 18:00
Thursday 10:00 - 18:00
Friday 10:00 - 18:00
Saturday 10:00 - 18:00
Admission / price: €25 / €20 (students/unwaged)