One Here Now: the Brian O'Doherty / Patrick Ireland Project
Friday 28 September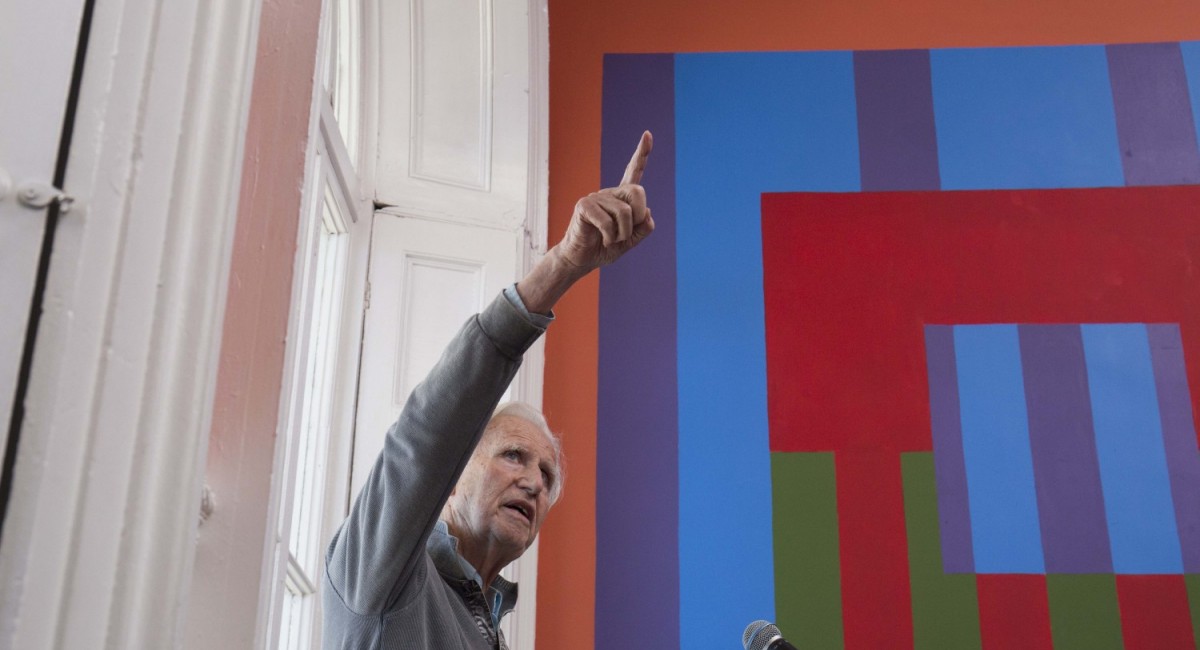 ――― In venue ―――
September Talks • Friday 28 September
10am – 4pm: Talks at THE CRAWFORD ART GALLERY & SIRIUS ARTS CENTRE
4.30pm: Launch of Dear… Selected Letters from Brian O'Doherty 1970s-2018, edited by Brenda Moore-McCann, Sirius Arts Centre.
Talks will take place at both Sirius Arts Centre and the Crawford Art Gallery. Limited seating, booking essential for this daylong event. Ticket price includes a light lunch at Crawford Art Gallery plus coach from Crawford Art Gallery to Sirius Arts Centre.
SCHEDULE:
Friday 28 September
10am: Register THE CRAWFORD ART GALLERY
Followed by: This Visible Speaking:  Ekphrasis; Visual Art Through Multiple Disciplines (in the context of Brian O'Doherty / Patrick Ireland's One Here Now). Speakers include artist Stephen Vitiello, composer Mel Mercier, visual artist Alanna O'Kelly and choreographer Liz Roche. Chaired by Dr. Declan Long, critic and lecturer.
Stephen Vitiello is an electronic musician and media artist. CD releases have been published by New Albion, Sub Rosa, 12k, Room 40 and Farpoint Recordings. His sound installations and multi-channel works are in the permanent collections of the Museum of Modern Art, the Whitney Museum and the Museum of Contemporary Art, Lyon. Exhibitions include a site-specific work for NYC's High Line, "Soundings: A Contemporary Score," at the Museum of Modern Art; the 2002 Whitney Biennial; and the 2006 Biennial of Sydney. Vitiello is based in Richmond, VA where he is a professor of Kinetic Imaging at Virginia Commonwealth University.
Alanna O'Kelly's career as an artist has not followed any set pattern; indeed she has sometimes confounded the expectations of critics as she switches from one medium to another while still maintaining a passionate intensity in her work. O'Kelly is probably best known as a performance artist, although her art has ranged from the relatively conventional sculptures of her student days in the mid-seventies, through to slide installations, video and film. Post-graduate studies at the Slade School of Art in London brought her into contact with contemporary feminist politics, and like her contemporaries Geraldine O'Reilly, Pauline Cummins and Alice Maher, she now brings to her work firstly a sense of what it is to be a woman and secondly her training as an artist. Like many women artists in America she has been drawn to the use of natural rather than synthetic materials, and has used materials such as wool and flax, not so much for their decorative or textural qualities as for their effectiveness as metaphors for the position of women in society.
Mel Mercier is Professor and Chair of Performing Arts at the Irish World Academy of Music and Dance, University of Limerick, founder of the Irish Gamelan Orchestra and director of the traditional percussion ensemble PULSUS. An internationally renowned, award-winning composer and performer, he has collaborated as a traditional percussionist with composer Mícheál Ó Súilleabháin for 40 years, and throughout the 1980s he performed in Europe and the USA with John Cage and the Merce Cunningham Dance Company. Mel has created music for theatre in Ireland and internationally for twenty years. He works regularly with Deborah Warner and Fiona Shaw, and with Cork theatre company, Corcadorca.
Liz Roche's choreographies for Liz Roche Company have been performed at prestigious festivals and venues throughout Ireland and internationally since 1999, including Baryshnikov Arts Centre New York, Brisbane Powerhouse and Festival de La Nouvelle Danse Uzes. She has been commissioned by National Ballet of China, Scottish Dance Theatre, Maiden Voyage and CoisCéim Dance Theatre. Liz was Choreographer-in-Residence at Irish World Academy at University of Limerick 2009 – 2012, recipient of Peter Darrell Choreographic Award and selected for Modul Dance. She has choreographed extensively in opera and theatre, most notably for The Abbey Theatre, the Gate Theatre, Landmark Productions, Wexford Festival Opera, Rossini Opera Festival Pesaro and Opera Ireland.
Declan Long is a lecturer in modern and contemporary art at the National College of Art and Design, Dublin where he is Co-Director (with Francis Halsall) of the MA Art in the Contemporary World. He frequently appears on Arena on RTÉ Radio 1, discussing and reviewing contemporary art. His criticism is regularly published in Artforum and Source Photographic Review.In 2013 Long was a member of the judging panel for the Turner Prize. He is also a board member of the Douglas Hyde Gallery, Dublin.
12.35pm: Light lunch at CRAWFORD ART GALLERY (for ticket holders)
1.30pm: Coach to SIRIUS ARTS CENTRE (for ticket holders)
2.15pm: SIRIUS ARTS CENTRE
Brian O'Doherty: Persona and Fictions. Speakers include Georgina Jackson, director of the Douglas Hyde Gallery, Ciaran Benson, writer and professor of  Psychology, Head of Collections at IMMA, Christina Kennedy and artist Robert Ballagh. Chaired by writer and critic Caoimhín Mac Giolla Léith.
Georgina Jackson is Director of the Douglas Hyde Gallery in Dublin. From 2013 until 2017 she was Director of Exhibitions & Programmes at Mercer Union in Toronto. Georgina has previously held roles as the Exhibitions Curator at Dublin City Gallery The Hugh Lane, a Project Curator at the Irish Museum of Modern Art, and was a curator-in-residence at the Mattress Factory Art Museum, Pittsburgh. A graduate of the History of Art Department in Trinity College, she completed her PhD in curatorial practice at the Graduate School of Creative Arts and Media, Dublin, in 2012.
Ciarán Benson is Professor Emeritus of Psychology in University College Dublin. His interests include the cultural-historical psychology of self and identity, psychology and philosophy of the visual arts, and psychological dimensions of society and social/cultural policy. His books include The Cultural Psychology of Self: Place Morality and Art in Human Worlds (London/New York, Routledge, 2001) and The Absorbed Self: Pragmatism, Psychology and Aesthetic Experience (London, Harvester Wheatsheaf, 1993). He was founding chair of the Irish Film Institute and of the City Arts Centre Dublin, Chair of An Chomhairle Ealaíon/The Arts Council (1993-98), and is currently chair of Poetry Ireland, The Grangegorman Public Art Working Group, and the Irish Museums Trust.
Christina Kennedy has been the Senior Curator, Head of Collections, at the Irish Museum of Modern Art, Dublin since 2008.  Prior to that she was Head of Exhibitions at Dublin City Gallery the Hugh Lane (DCGHL). She has curated and co-curated many exhibitions, edited publications and contributed texts to numerous catalogues, notably: Beyond the White Cube: A Retrospective of Brian O'Doherty/Patrick Ireland, DCGHL, 2006; The Studio, co-curated with Jens Hoffmann, DCGHL, 2007;  Tacita Dean, DCGHL, 2007;  The Burial of Patrick Ireland, IMMA, 2008;  The Moderns: The Arts in Ireland from 1900s – 1970s, IMMA, 2010-2011,  Postwar American Art: the Novak/O'Doherty Collection, IMMA 2010;  Hello Sam by Brian O'Doherty, National Gallery of Ireland as part of Dublin Contemporary, 2011; Changing States: Contemporary Irish Art & Francis Bacon's Studio, Bozar Centre for Fine Arts, Brussels, co-curator, 2013, Art as Argument : Brian O'Doherty and the Novak O'Doherty Collection, Kunstmuseum Bayreuth, 2013. Patrick Scott: Image, Space, Light, IMMA 2014; Lucian Freud Project at IMMA 2016-2021, Lead Curator.
Robert Ballagh is a painter and designer from Dublin. His painting style was strongly influenced by pop art and his is particularly well known for his hyperealistic renderings of well-known Irish literary, historical or establishment figures. Ballagh represented Ireland at the 1969 Biennale de Paris. Among the theatre sets he has designed are sets for Riverdance, , I'll Go On, Gate Theatre (1985), Samuel Beckett's Endgame (1991) and Oscar Wilde's Salomé (1998). He has also designed over 70 Irish postage stamps and the last series of Irish banknotes, "Series C", before the introduction of the euro. Ballagh's paintings are held in several public collections of Irish painting including the National Gallery of Ireland, the Hugh Lane Gallery, the Ulster Museum, Trinity College Dublin, and Nuremberg's Albrecht Dürer House.
Caoimhín Mac Giolla Léith is a critic and associate professor in the School of Irish, Celtic Studies and Folklore at University College Dublin.  In addition to his writings on literature in the Irish language, both medieval and modern, he has published widely on contemporary art. Recent publications include essays on the work of Lutz Bacher, Nairy Baghramian, Barbara Bloom, Bill Lynch and Philippe Vandenberg.  He is a contributor to Afterall, Artforum, Frieze, Mousse and Parkett. He has curated exhibitions in Dublin, London, Amsterdam and New York and was a juror for the 2005 Turner Prize.
4pm Closing remarks
4.30pm Launch of Dear…Selected Letters from Brian O'Doherty 1970s-2018, edited by Brenda Moore-McCann. Opening remarks by Professor Eoin O'Brien.
***PLEASE NOTE: THE DAY WILL BEGIN AT 10AM AT THE CRAWFORD ART GALLERY, CORK AND THEN MOVE TO SIRIUS ARTS CENTRE, COBH.***
In partnership with the Crawford Art Gallery and CIT Crawford College of Art and Design.
Kindly supported by the Arts Council of Ireland, the Department of Culture Heritage and the Arts, Cork County Council and Colourtrend.
One Here Now: the Brian O'Doherty / Patrick Ireland Project patron: Michael D. Higgins, President of Ireland.
Friday 28 September
Crawford + Sirius
Cork city and
Cobh, Co. Cork
Crawford Art Gallery
Emmet Place
Cork

Sirius Arts Centre
The Old Yacht Club
Cobh, Co. Cork