Oliver Comerford: the longest road    
Thursday 3 September – Saturday 3 October 2015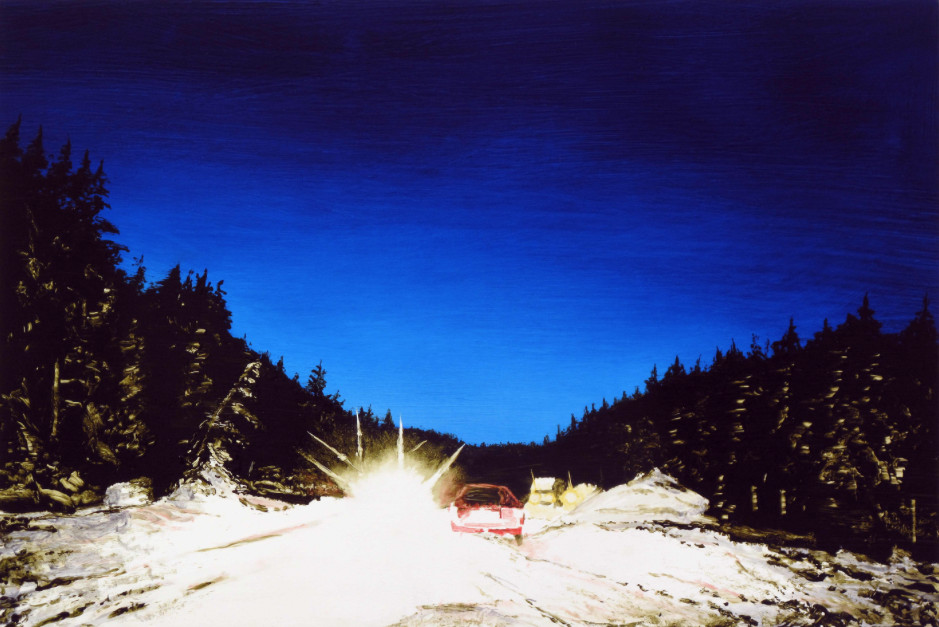 The open road, as a trope, brings with it a plethora of cultural associations; the road movie and art historical movements such as the American Sublime as well novels and photographs centering on a fleeting and transient experience of Place. the longest road comprises an exhibition of recent paintings by Oliver Comerford in which the open road and the surrounding landscape furnishes a meditation on the points of intersection between photography, film and painting.
These small-scale paintings are fundamentally autobiographical in the sense that Comerford tends only to paint places that he himself has passed through and this serves to heighten the associative value of the work. Personal experience forms part of the narrative as the source material consists of many thousand photographs, indicating the significance of encountering such scenes first hand. These photographs are edited and distilled through the medium of paint evoking a sense of placelessness, yet despite this ambiguity the paintings retain a level of familiarity and resonance.   
– Ingrid Lyons is an artist and writer based in Dublin
Oliver Comerford (b. 1967) lives and works in Dublin. Comerford recieved a BA from the National College of Art and Design in 1990, and an MA from Chelsea College of Arts in 1997. Recent exhibitions include Facing North, John Martin Gallery, London, (2012), Last (group exhibition), Douglas Hyde Gallery, 2012, True Romance, Kevin Kavanagh, Dublin (2009).
His work is held in numerous public and private collections, including The Devonshire Collection at Chatsworth House, the Irish Museum of Modern Art and Dublin City Gallery, The Hugh Lane.
Image: Oliver Comerford: the longest road, oil on panel, 31x46cm, 2015
Thursday 3 September – Saturday 3 October 2015
Chancery Lane
Dublin 8
Telephone: +353 1 475 9514
Opening hours / start times:
Tuesday to Saturday 11am – 5pm
Admission / price: Free