NSF Graduate Residency Presentation Night
via Zoom, Thursday 26 May 2022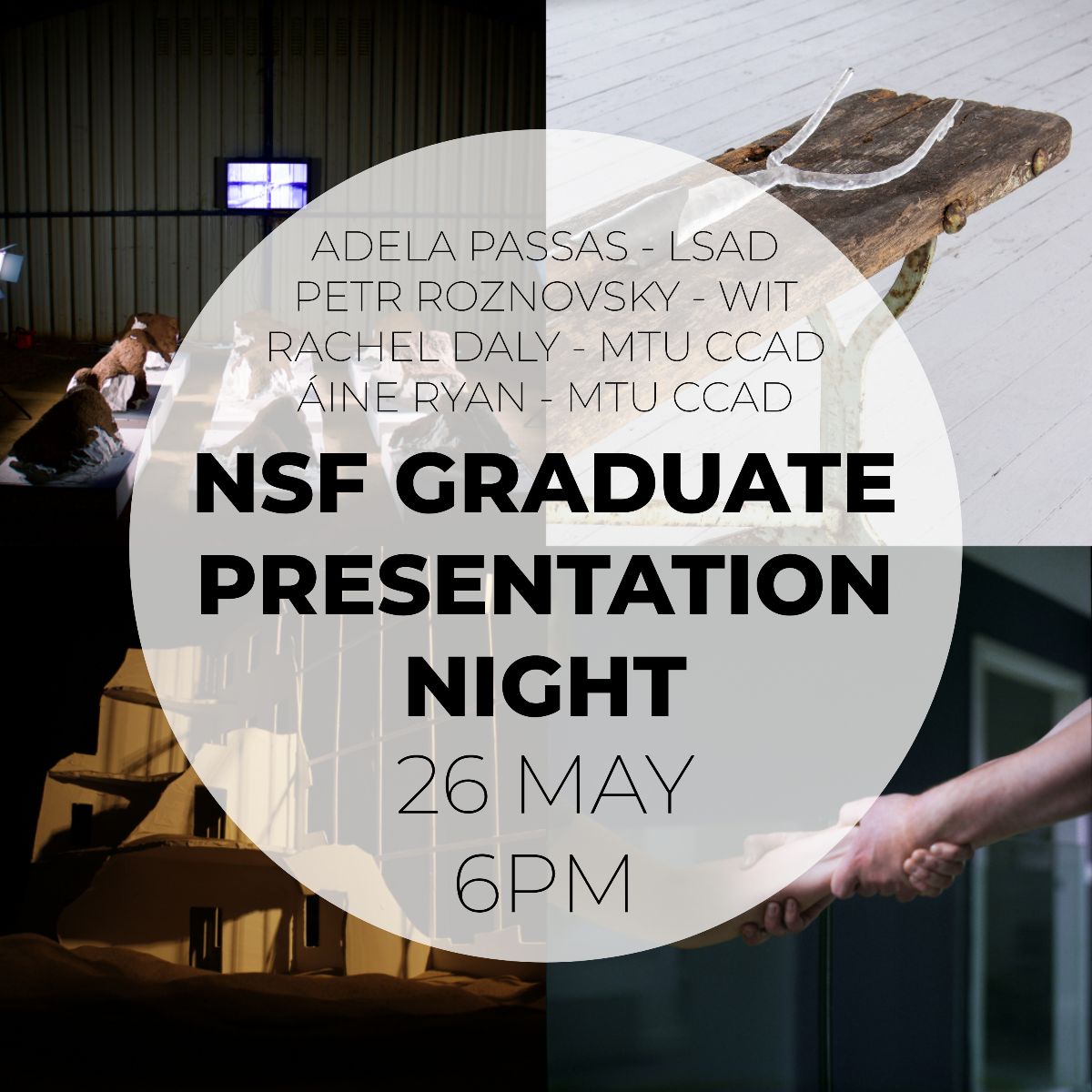 ――― Online only ―――
The NSF is delighted to announce the National Sculpture Factory's Graduate Residency Presentation Night with the recipients of the 2021 Graduate Residency Awards from MTU Crawford College of Art & Design, Limerick School of Art and Design, and Waterford Institute of Technology.
Adela Passas – LSAD
Sculpture & Combined Media Graduate Residency Award 2021
My current studio practice combines media and processes such as drawing, writing, photography, video, sound and object making which largely resolves in site specific installations.
Through this I explore Michel Foucault's concept of the heterotopia, or 'other worlds' that mirror our own in order to comment on societal structures and functions of our reality. Drawing from religion, consumerism and marketing, the narrative of my heterotopic installations lies somewhere between reality and fiction.
By performing hypothetical realities within a space, my work aims to comment on our present, whilst asking "what if?" in an attempt to deal with an uncertain future.
Áine Ryan – MTU CCAD
Contemporary Applied Art Award 2021
By looking to my past and my rural upbringing, I explore the complex ties that bind us to past generations, traditions and the physical landscape. My interaction with materials and objects of the rural landscape become creative catalysts stirring memories as they move through my hands.
More recent research has evolved to investigate the role of the feminine within the contemporary rural landscape. By using glass, I aim to highlight the fragile connections that exist to our past and cultural heritage. On the other hand, it's the durability of glass that also illustrates how strongly these connections are felt by those raised on the land. Universal themes of identity, belonging, and place can be found within my work – my sites of memory.
Rachel Daly – MTU CCAD
Fine Art Award 2021
The work explores discomfort and artificiality within intimate spaces through the combined elements of photography, film, and installation. The work investigates unease and the darker side of relationships through photographic, musical, and cinematic tropes.
Our interior lives are rooted to the spaces we live in, places of private psychologies of desire and anxiety. Challenging the traditional idea of home as a secure space, this work ruptures these aspirations and highlights the friction between surface appearance and underlying tension. Themes of love and abuse are considered through the lens, voice, and perspective of a female.
Through bodily gesture, the constructed images depict intimate scenes of figures teetering on the verge of dysfunctional moments.
Petr Roznovsky – WIT
Fine Art Award 2021
My work is based on images and sculptures of abandoned architecture and landscapes.
I take inspiration from memories of my home city for most of my work, which used to have many abandoned buildings and very desolate landscape, as coal mines were being built around it 50 years ago and the landscape keeps changing. As a kid I used to explore these places. It was interesting to see how quickly everything transforms when people become absent and nature starts taking over. After losing my own home as an adult, I see abandoned buildings differently. I see them as individuals; as people, who are lost and alone. Some of them still carry pieces of their "former self", but they are beyond the point of getting back to normal. All the people, who cared, are gone.
We hope you'll join us via Zoom on Thursday 26th May at 6PM to watch our four residency recipients present their artistic practices.
Book your spot through Eventbrite
Since its inception, the National Sculpture Factory's primary objective has been to support the talents of artists, at all stages of their careers in exploring and developing their practice of art-making in all their forms of expression and production.
To this end, we have developed a very successful core programmatic strategy which creates the time and space for young artists to professionalise their practice straight out of college in a supportive and productive environment.
Residency awards include free studio rental for 3-6 months with some material stipends; technical and administrative support; curatorial and peer support; mentorship and free access to a number of our educational & technical workshops/lectures.
This year, we have given 4 graduate residency awards to 3 art colleges; MTU Crawford College of Art & Design; Limerick School of Art & Design and SETU Waterford Institute of Technology.
These presentations will take place on Zoom, so we recommend downloading/updating your app ahead of time to prevent delays in joining the webinar. There will be time allocated at the end of the presentation for Q+A with our online audience.
via Zoom, Thursday 26 May 2022
Albert Road, Cork City
Telephone: +353 21 4314353
Admission / price: Free