The Amulet Exhibition Tour
Friday 1 August – Friday 29 August 2014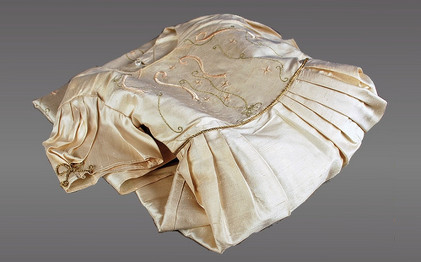 Opening Reception Friday 1 August at 6pm
The Amulet Exhibition Tour: Exploring the Hidden World of Infant Loss with Artist Marie Brett
The Amulet Exhibition Tour opens at Galway Arts Centre on 1 August 2014. Particular to infant loss, this poetic artwork links photographs of family amulets together with bereaved parents' whispered stories describing their amulet's meaning. The exhibition stems from The Amulet project (2009-2013), a collaboration between artist Marie Brett, bereaved parents, and three hospital sites: Cork University Maternity Hospital, University Maternity Hospital Limerick, and Waterford Regional Hospital. Intimate and universally relatable, you'll feel and think differently about loss after seeing this show.
Panel Discussion
Date: Friday 1 August 2014
Time: 4pm
Venue: Árus na Gael, 45 Dominick Street Lower, Galway
The artist Marie Brett will join bereaved parents with curators Maeve Mulrennan and Margaret Flannery; Dr. Jenny Butler of UCC Folklore & Ethnology Department; Jane Whiriskey, Assistant Director of Midwifery at Galway University Hospitals; Anne McKeown, Bereavement Liaison Officer at Galway University Hospitals; and Dr. Sarah-Anne Buckley of NUIG History Department in a discussion chaired by Ann O'Connor from The Arts Council
To enable viewing of the artwork prior to the panel discussion, the exhibition will be open on Friday 1 August from 2pm – 4pm at Galway Arts Centre.
This event is free and all are welcome. Refreshments will be served.
For further details and to book a place please contact Galway Arts Centre: 091 565 886 | info@galwayartscentre.ie
Image: David Booth
Friday 1 August – Friday 29 August 2014
47 Dominick Street
Galway
Telephone: + 353 91 565 886
Opening hours / start times:
Monday 10:00 - 17:30
Tuesday 10:00 - 17:30
Wednesday 10:00 - 17:30
Thursday 10:00 - 17:30
Friday 10:00 - 17:00
Saturday 10:00 - 14:00
Admission / price: Free