Now and Everything in Between
Friday 1 August – Friday 29 August 2014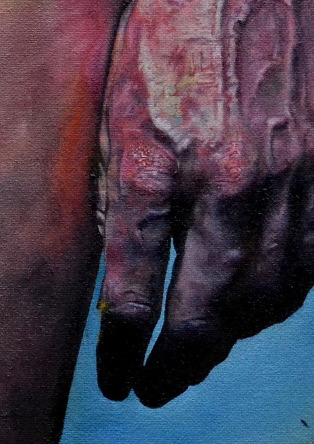 Opening Reception Friday 1 August at 6pm
The exhibition focuses on the figure and has new works by David Booth, Nicki Cheevers, Fiona Finnegan, Paraic Leahy, Paul MacCormaic and Eleanor McCaughey. The exhibition is curated by Nexus Arts, a curatorial collective4 based in Co. Louth. Nexus were awarded the Curator-in-residenc award by the Arts Council last year and this year received a touring and dissemination award to bring this exhibition to Galway.The exhibition was previously shown in Droichead Arts Centre.
In recent times, the curatorial team of Nexus Arts has facilitated 'The Sleep Concert' by a renowned sonic adventurer, a large scale mural by a media shy Italian, a retrospective exhibition by an anarchist punk and a bespoke upside down bouncy castle by a young up and coming artist. Yet this exhibition, based on the human figure and seemingly a simple idea, has been the most challenging for them as a team. Where does one start with the human figure? Its representation in the history of art is a complex one. Memory, life, death, time, fact and fiction; it is all there and it is all part of the human condition. Painting, performance, sculpture and drawing. Where does one start, where does one end? After numerous late nights and many a cul de sac, Nexus came to a single point:
How much of you is defined by other people?
Now & Everything in Between showcases work by six artists who ask this question, and provide possible answers, idea in varying ways: the vulnerability in David Booth's work; the seemingly simple photographs of Nicki Cheevers; the brooding quality of Fiona Finnegan's paintings; the humorous but astute paintings of Paul MacCormaic; the morphed portraits of Paraic Leahy and the fragile doll portraits of Eleanor Mc Caughey.
NeXus Arts is very excited by these artists as we believe their work opens up the opportunity to delve into and explore the nooks and crannies of the human condition from a different angle.
This exhibition runs alongside 'The Amulet' by Marie Brett in Gallery 2 until August 29th. Nicki Cheevers will give a talk on the exhibition on Saturday 2nd August at 1pm.
www.nexusarts.eu
Image: David Booth
Friday 1 August – Friday 29 August 2014
47 Dominick Street
Galway
Telephone: + 353 91 565 886
Opening hours / start times:
Monday 10:00 - 17:30
Tuesday 10:00 - 17:30
Wednesday 10:00 - 17:30
Thursday 10:00 - 17:30
Friday 10:00 - 17:00
Saturday 10:00 - 14:00
Admission / price: Free