Norah McGuinness: Illustrations to The Stories of Red Hanrahan
Thursday 15 March – Thursday 26 April 2012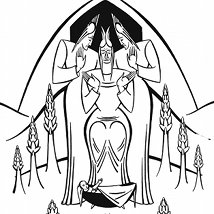 Opening Reception Thursday 15 March, 5:30pm – 7pm
Roscommon Arts Centre is delighted to present Norah McGuinness: Illustrations to the Stories of Red Hanrahan. This small exhibition of McGuinness' illustrations to William Butler Yeats' The Stories of Red Hanrahan and the Secret Rose (1905) will mark one of the very few times that these works have been exhibited publicly in many years. The suite of drawings has recently undergone some moderate conservation work, a project which was made possible under the Heritage Council Grants Programme and is brought to Roscommon Arts Centre in collaboration with The Model, Sligo.
Born in Derry in 1903, Norah studied at the Dublin Metropolitan School of Art, and later in Paris under the Cubist, André Lhote (1885 – 1962). McGuinness' family did not approve of her decision to become an artist and so she utilised her creative talents as a means of supporting her fine art career by branching out into illustration, theatre design and window dressing.
McGuinness was a student when she first met W.B. Yeats (1865 – 1939) in 1920s Dublin, and was just 22 when she designed a Drama League production of his play 'The Only Jealousy of Emer'. Yeats was so impressed with Norah's work that he later invited her to illustrate his version of Stories of Red Hanrahan and the Secret Rose (1905) which he planned to republish in 1927. Yeats based the main character largely on the Gaelic poet, Eoghan Ruadh O'Suilleabhain (1748 – 1784), but chose to change the name to Hanrahan in order to create an imaginary hero, who was a wandering farm worker and rural hedge schoolmaster.
Yeats himself had a clear idea that the book was to be decorated with Byzantine-style illustrations, as he attributed great importance to the influence of Byzantium in Ireland. So much so, he prefaced the 1927 edition of the book with his poem 'Sailing to Byzantium'.
Overall, McGuinness' collaboration with Yeats was a success, yet, it is evident from their correspondence that Yeats had a very clear vision of how the book should be decorated and McGuinness was somewhat restricted by his ideas. Although Yeats was very pleased with the final illustrations, contemporary critics found their Byzantine 'modernism' disturbing. McGuinness' collaboration with Yeats shows us how image and text relationships, particularly during the Irish Cultural Revival, became transformed into one mode of Irish modernism. By obtaining this commission, McGuinness had not only proven that her modernist drawing style was suitable for Ireland's most esteemed poet, but she was also guaranteed that the publication would be widely distributed.
Roscommon Arts Centre, together with The Model is delighted to present this exhibition. The project marks another successful collaboration between the two organisations in a partnership which began with the exhibition Portraits of John Butler Yeats in 2007 and continued last year with The Tain by Louis leBrocquy. The exhibition continues at Roscommon Arts Centre until 26th April. The gallery is open during centre opening hours and all are welcome.
Thursday 15 March – Thursday 26 April 2012
Circular Road
Roscommon Town
Telephone: +353 90 6625824
Opening hours / start times:
Tuesday – Friday 10am – 5pm; Saturday 2pm - 5pm, on performance days only
Admission / price: Free