noon
Friday 15 September – Sunday 19 November 2017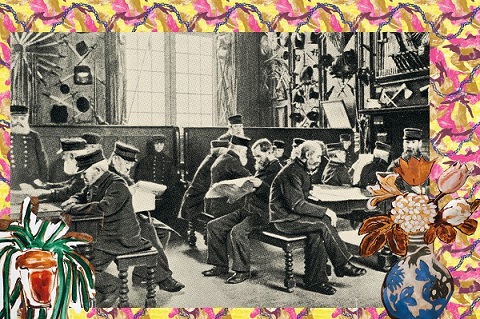 The Project Spaces presents noon, an amalgam of heritage and contemporary influences reflecting the IMMA/RHK site and its various domestic functions. Inhabited since 1684, the Royal Hospital's previous occupants were veterans, whilst these days it's residential artists.
noon features a newly commissioned wallpaper by Edward Clydesdale Thomson in response to a sample of original RHK flocked wallpaper which is on view in The Old Man's House, in the West Ground Gallery and which would have once decorated the walls around this building. Inspired by the military history of Kilmainham Thomson has referenced the timeline of IMMA's establishment in the early '90s when fashion trends of camouflage were popular, as were brightly coloured floral patterns. Expanding the remit of the Project Spaces the wallpaper will also find a permanent home in one of the three onsite residency apartments where it has been permanently installed in the entrance to the living quarters.
noon has a relax and collapse area to support reflection and dialogue ranging from the playful to the more contemplative. A flexible, welcoming, free space, adaptable as a stage or seating, with the highest point providing a window seat looking out to the studios and residency. Painted arrangements by Sonia Shiel take on an irreverent functionality as potential support to whatever resting position may require a soft supportive touch. Not quite a cushion, not quite a painting, the three dimensional works conjure references to a luncheon and the RHK gardens. Rivane Neuenschwander's flip clock edition for IMMA hangs on the wall, caught in a constant state it permits us to let time stand still, let it be noon.
The history of the RHK tells us that noon was ritually a time for resting and lunch for the soldiers. We invite you to come in and enjoy this space, browse information on the RHK/IMMA site and programming, see research and process documentation about the commissioned wallpaper and wider museum programming or just grab a cushion and chill-out.
As part of the activation of this space noon will host events which will incorporate talks, workshops, still life drawing sessions, life drawing classes, reading troupes and maybe even a day to bring a packed lunch!
Check-in on IMMA's website for confirmed activities.
#noonatimma
Activation
Drawing Fast & Slow @ noon
Drop-in Drawing with IMMA Resident Artists Laura Fitzgerald and Stephen Dunne
12 – 2pm on Friday 22 September in the Project Spaces
Interested in doing some drawing? We would like you to join us in The Project Spaces at noon on Friday 22 September when current IMMA residents Laura Fitzgerald and Stephan Dunne will host a drop-in drawing session in response to noon. The session will approach drawing from different perspectives using the element of time as a starting point.
A short introduction to both artists' practices and some techniques proposed to experiment with will be discussed at the start of the session. Feel free to come along whenever you like. Stay for 10 minutes or 2 hours. Suitable for everyone from beginners to accomplished artists. Materials are provided or bring your own sketchbook or ipad, please note that only dry materials are permitted in the space.
No booking required, but space is limited, will operate on a first come first served basis.
Image: noon montage / with Edward Clydesdale Thomson, Sonia Sheil and Veterans in the Dining Hall / IMMA / RHK / photograph by R.Flanagan
Friday 15 September – Sunday 19 November 2017
Royal Hospital, Kilmainham
Dublin 8
Telephone: +353 1 612 9900
Opening hours / start times:
Tuesday 11:30 - 17:30
Wednesday 11:30 - 17:30
Thursday 11:30 - 17:30
Friday 11:30 - 17:30
Saturday 10:00 - 17:30
Sunday 12:00 - 17:30
Admission / price: Free
Bank Holidays open 12:00 – 17:30.