Noel Bowler: Making Space
Thursday 1 September – Sunday 30 October 2011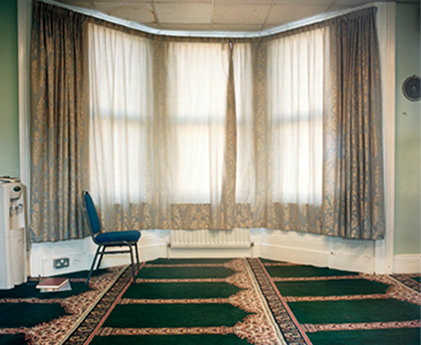 Official opening and publication launch: Thursday September 8th, 6.30pm
Making Space is a timely exploration of the expansion and development of Islam in contemporary Ireland. Taken over the course of three years, the exhibition records the adaptive reuse of spaces for the purpose of prayer by diverse Muslim communities across Ireland.
Bowler reveals the quiet transformation of everyday spaces in urban, residential and rural locations. He records how private homes, warehouses, office spaces, and industrial units are being turned into spaces for prayer, providing a unique record of a major, though not widely acknowledged, change in Ireland's built environment. There is a calmness and informality in Bowler's portraits of these spaces. Devoid of any distinction or ornamentation apart from the ubiquitous prayer rugs, the photographs reveal a central quality of Islamic faith – that during sallah (prayer) there is nothing between one's self and the divine.
Bowler's work is a timely counterpoint to contemporary global culture's paranoia concerning the spread of Islam. With a subtle, spare aesthetic, Bowler's photographs are straightforward and without ostentation. They testify to the simple ways in which spiritual life can develop within ordinary, everyday settings.
A limited-edition photobook with an essay by Colin Graham accompanies the exhibition. Signed, numbered copies are available in the Gallery Bookshop at €25.
Associated Events:
Thursday September 8th, 6.30pm: official opening and publication launch
Wednesday September 14th: Noel Bowler, Summayah Kenna and Colin Graham discuss the work, chaired by Tanya Kiang (curator)
Friday September 23rd: Culture Night – free tours until 11pm
Wednesday September 28th at 1.15pm: Artist's Talk
Free guided tours are available throughout the run of the exhibition
About the artist: Born in Dublin in 1978, Noel Bowler studied photography at Sallynoggin College, Dublin and received a B.A. in Documentary Photography from the University of Wales Newport in 2003. In 2010 he joined the MFA Photography programme at the University of Ulster, Belfast. In 2005 he was the recipient of the Gallery of Photography's Artist Award for his work 'The Joy'.
In 2008, he received the Dun Laoghaire Rathdown Per Cent for Art Award. His work has been exhibited both nationally and internationally, and is included in public and private collections in Ireland and abroad.
Thursday 1 September – Sunday 30 October 2011
Meeting House Square
Temple Bar, Dublin 2
Telephone: +353 1 6714654
Opening hours / start times:
Tuesday - Saturday 11am - 5pm. Mondays by appointment for education, artists archiving and training. Closed Sundays
Admission / price: Free