Nickie Hayden: Sanctuary
Sunday 8 November – Sunday 13 December 2020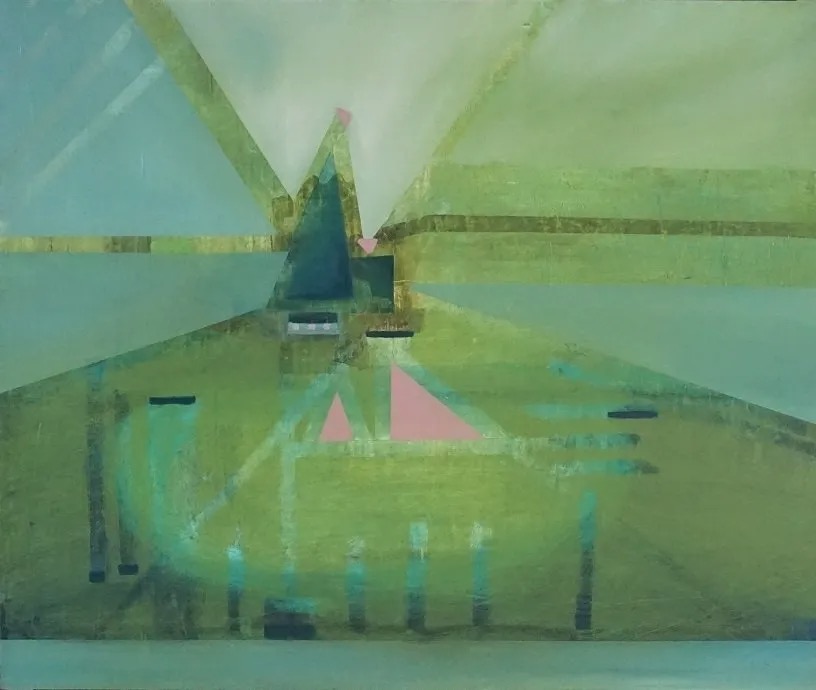 ――― Reopened ―――
A solo exhibition by the artist Nickie Hayden, a member of our Associate Gallery Artist (AGA) group at the Olivier Cornet Gallery.
Online Launch of the exhibition: Sunday 8 November in our 3D Virtual Space (which will be activated then). A special online event, including poetry reading, will take place the following week, details to be announced soon.
Availability of the show: Tuesdays to Sundays at the gallery from 1st December 2020 (or as soon as Covid Level 5 measures have been lifted). The show is also available in our 3D Virtual Space from 8 November onwards. Images of the work are also available on the exhibition's page, see link at the end of this announcement.
The exhibition will run at the gallery until 13 December.
Nickie Hayden's solo show features a series of new oil paintings, an installation and a haiku wheel. See the artist's statement below for more details. The exhibition also includes a series of limited-edition screen-prints by Catherine Ann Cullen,  Theo Dorgan, Rachael Hegarty, Paula Meehan and Peter Money.  The paper is Somerset, satin soft white, 300 mgs, acid free. Editioned by the artist Robert Russell in a limited edition of 20 each, numbered and signed by their authors. Priced at 50 Euro each (unframed), this is a great opportunity to acquire a poem by some of Ireland's foremost poets. Please note the proceeds from the sale of Peter Money's poem (on which the exhibition is based) will go to immigrants poets in need of support.
"My work brings together various elements within an exhibition space, creating a linked series of works using different media that invites the audience to interact and respond on an emotional level. I often invite other artists to respond and contribute elements to the exhibition that will further develop the narrative.
This exhibition and installation is a response to a poem written by the American poet Peter Money, who was taught by Allen Ginsberg. I was introduced to Money while working towards a previous exhibition that was run in the James Joyce Centre. In Peter Money's work, I found an echo of something that I was very familiar with. The poem I am responding to is called 'To The Lady in Pink Standing On Top The Bridge'. This poem describes a girl wearing a pink dress on Brooklyn Bridge. It looks as though she may jump from the bridge, and there is a person in a taxi watching this unfold. It is up to the reader to decide whether the girl decides to jump or not, and this forms the basis of the idea for my exhibition. In my interpretation she does not jump, and so the pink dress represents her sanctuary. It is this sanctuary, nourishment and inner strength that I have represented in this new body of work.
There are several elements to this project. I have made a pink tent to echo the girl's pink dress. The tent shape is geometric and strong, representing a safer and sturdier place for inner strength to evolve. The tent walls are made from Perspex filled with pink sea salt crystals, allowing the light to filter through. Crystals are known to represent grounding and strength and have a magical feel about them. I have attached collected poems within the tent on translucent paper that are in turn effected by the light. My aim is for this to feel incredibly peaceful to the audience.
Poets Theo Dorgan, Rachael Hegarty, Catherine Ann Cullen and Paula Meehan have contributed poems for this that connect with the idea of sanctuary, and I have worked with the Saol Project, a woman's group in Dublin's inner city, and they have written and contributed Haiku to the project.
Another part of the project is a Haiku wheel, an element that I have previously used in other projects. I have enlisted the help of Haiku expert Toyomi Iwawaki-Riebel, a lecturer of Japanese Studies at the University of Erlangen-Nurnberg. She has collected Haiku from poets and philosophers from all over the world. These collected Haiku have also been inspired by Money's poem and they introduce a different perspective to the project."
– Nickie Hayden
A selection of the paintings featuring in the show can be seen on
https://www.oliviercornetgallery.com/sanctuary-a-solo-show-by-nickie-hayden-at-olivier-cornet-gallery
Image: Nickie Hayden, Olive can glow, oil on board, 50 x 60cm
Sunday 8 November – Sunday 13 December 2020
3 Great Denmark Street
(beside Belvedere College)
Dublin 1
Telephone: +353 87 2887261
Opening hours / start times:
Tues to Fri: 11am to 6pm (till 8pm on Thursdays) • Sat & Sun: 12 noon to 5pm • Closed on Mondays (or viewing by appointment only)
Admission / price: Free