Nick Jarman: Formerly Wildlife
Saturday 15 October – Saturday 12 November 2016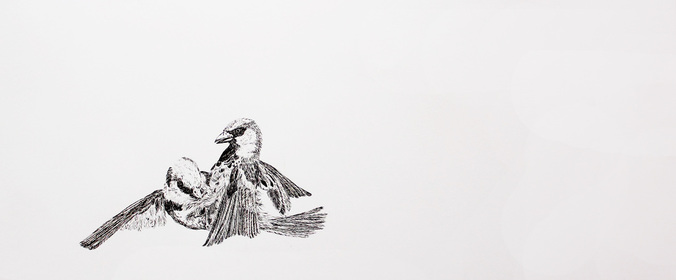 Nick Jarman's work has always been nature based with a growing interest in how the natural world adapts to built environment. This body of work takes a look at local animals and birds; domesticated, imported and native, photographed in the South East of Ireland and drawn with a dip or nib pen and ink on Fabriano paper.
The idea for the work in Formerly Wildlife stems from the connections we share and the way we take away, change, adjust or re-arrange the environment to suit our needs somehow providing accommodation and sustenance for many adaptable species; they find nest holes in walls, feed from our discarded excess and survive our steel concrete and tarmac dominance. Most of these works are based on photographs taken in and around Wexford, several from the Irish wildlife sanctuary. The drawings are observational studies of animals with whom we share our environment. The human connection in the subject matter is expressed by subtle suggestions of human/machine made objects: the Nubian goat rescued from slaughter as a billy goat that was of little use to the goat cheese producer; the chicken rescued from a battery farm, passed its sell by date and in need of a hand knitted jumper while the feathers are growing back.
Nick Jarman is an English born artist working in multiple media, ranging from drawing, painting to sculptural works. He moved to Ireland in 2004 and graduated from the Wexford Campus of Arts & Design (IT Carlow) with a BA (Hons) in Fine Art in 2012. Stemming from his graduation show, he was awarded a solo exhibition in the Pig Yard Gallery, Wexford in 2013.
Image: Nick Jarman: Adam and Steve, 2016, dip ink on Fabriano paper
Saturday 15 October – Saturday 12 November 2016
Cornmarket
Wexford
Telephone: +353 53 9123764
Opening hours / start times:
Tuesday to Saturday 10am – 5pm
Admission / price: Free