Niamh O'Malley: handle
Friday 6 September – Monday 28 October 2019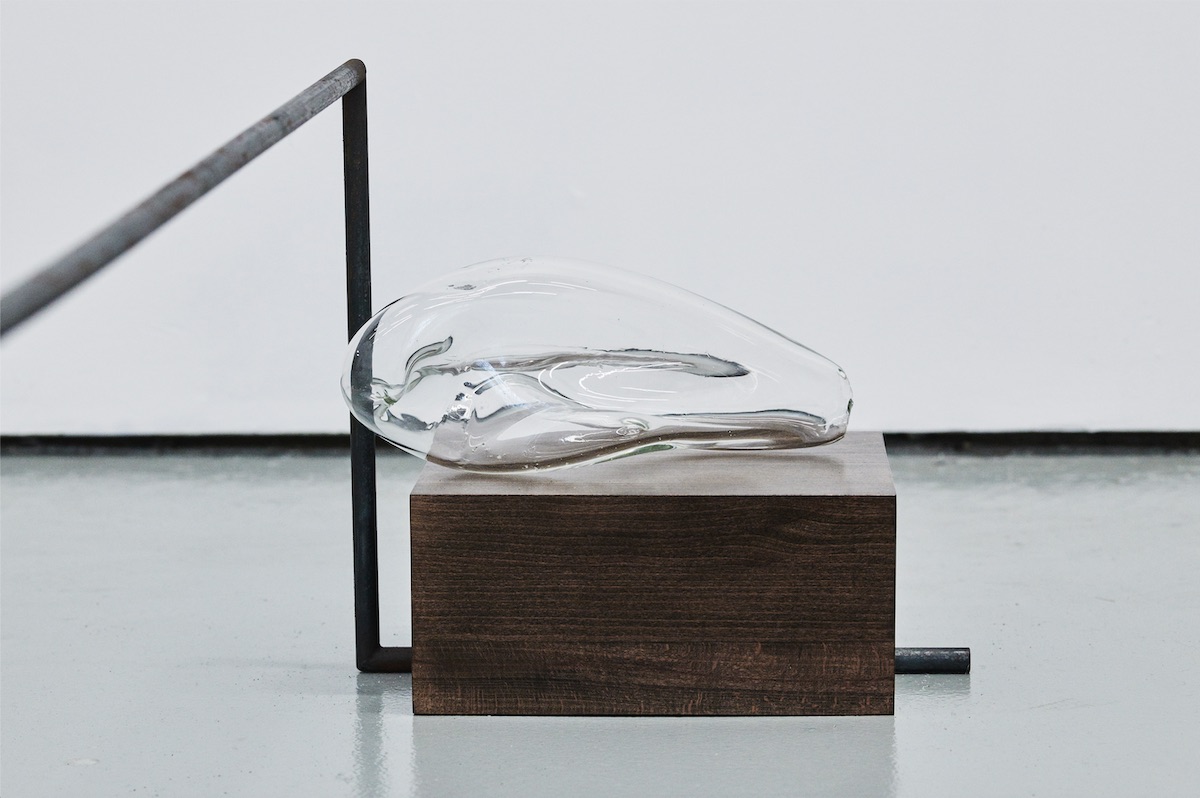 Niamh O'Malley's exhibition, handle, consists of a large body of newly commissioned and recent work. The exhibition focuses on sculpture, and along with wood and glass, the artist uses steel as a visible component for the first time. Its structural capacity and strength allows her to create vertical and horizontal lines within the gallery space. O'Malley is interested in the challenges of locating and positioning the viewer and occupying the volume of this very large room.
There is a silent, moving image component to the exhibition, exhibited on a large LED screen. This very bright, flickering, display system, more often used for advertising, requires distance for legibility. The landscape footage, originally captured on an iPhone camera, has been edited by screen recording the movement of the artists finger swiping through the 'live' images on the phone. Any slippage or shift in tempo also registers. The results are fidgety and distracting – even a little violent within what is otherwise a deliberately static exhibition.
A constant within O'Malley's work has been an effort to grasp a still, to fix a moment into a surface. She is
hoping to activate a particular type of attention and silence. From polished wooden handles and sanded slivers of glass to stretched lines of steel, currently there is a compulsion in her work to make something still and to make something solid. "Perhaps this comes out of anxiety, a sense of a too-fast changing, unreliable world. I'm not sure what it means to be absorbed and to scrutinise, to give attention to making, handling and touch in these circumstances, but that is what I find myself doing." Niamh O'Malley
Born Co Mayo, Ireland, 1975, Niamh O'Malley currently lives and works in Dublin, Ireland. O'Malley has made numerous solo exhibitions in recent years including Lismore Castle Arts, 2019, Grazer Kunstverein, 2018, Bluecoat Liverpool, 2015/16, Douglas Hyde Gallery, Dublin, 2017 & 2015, a five venue solo show called The Mayo Collaborative, Ireland, 2013, Garden, Project Arts Centre, Dublin, 2013, Ha Gamle Prestegard, Norway, 2012, Model, Green on Red Gallery, Dublin, Ireland, 2011, Island, Centre Culturel Montehermoso, Vitoria-Gasteiz, Spain, 2010, Frame, Glass, Black, Centre Culturel Irlandais, Paris, France, 2010, Echo, Gaain Gallery, Seoul, Korea, 2010, No Distance, Void, Derry, Northern Ireland, 2009. A selection of group exhibitions include The National Gallery of Ireland, Berwick Film & Media Arts Festival, CAG, Vancouver, KARST, Plymouth, eva International, Biennale of Visual Art, Limerick, Eli & Edy, the Broad Museum, Michigan, Kilkenny Arts Festival, Galleria Civica di Modena, White Box, New York, Irish Museum of
Modern Art & Kunstverein Ludwigsburg, Germany.
Image: Niamh O'Malley, Untitled (barrier), detail, mild steel, polished beech, blown glass, 3250 x 40 x 40 cm; photography Ros Kavanagh; image courtesy the artist
Friday 6 September – Monday 28 October 2019
15 Ely Place, Dublin 2
Telephone: +353 1 661 2558
Opening hours / start times:
Monday 11:00 - 17:00
Tuesday 11:00 - 17:00
Wednesday 11:00 - 19:00
Thursday 11:00 - 19:00
Friday 11:00 - 19:00
Saturday 11:00 - 19:00
Sunday 14:00 - 17:00
Admission / price: Free