Niamh McGuinne: Wilgefortis
Friday 21 April – Tuesday 9 May 2017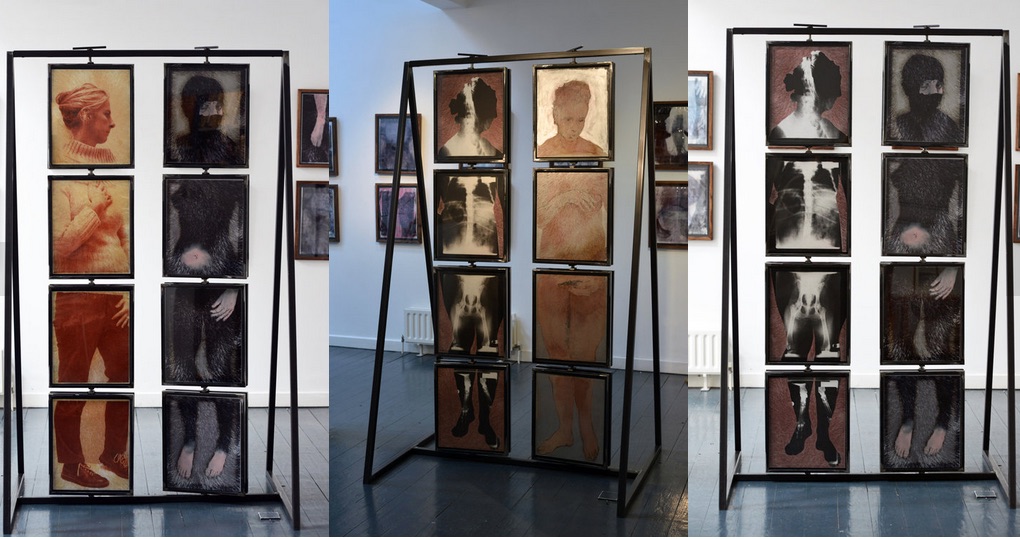 Graphic Studio Gallery is delighted to present Wilgefortis, an exhibition of new work by Niamh McGuinne, presented alongside a selection of Graphic Studio editions by Alice Maher.
The portrayal of hair is a fascinating theme; it is an interesting connector between the inner and outer selves; it has been used as a symbol of attractiveness and desire. Not only viewed as a symbol of idealised femininity, it can also represent the un-sanitised reality of strong female identity often supplemented with mythical and fairy tale references. In some cultures hair itself is imbued with a quasi-religious significance.
In the 14th century a religious 'cult' surrounding the veneration of female bearded saints surfaced in medieval Europe. The main protagonist was known as St. Wilgefortis of Portugal possibly translating as 'strong virgin' or 'holy face'. The legend recounts the story of a Catholic girl of nobility whose father had promised her marriage to a pagan. To avoid the marriage she prayed that she would become ugly and 'miraculously' grew a beard. Refusal to eat as a form of protest is one of the few controls one has over one's body. The body, as a consequence, stimulates the growth of lanugo or downy hair all over as it attempts to protect itself from deprivation. Anorexia mirabilis is a condition which refers almost exclusively to women of the Middle Ages who would starve themselves in the name of God. The miracle of St. Wilgefortis might be explained by this phenomenon and in 1969 her status of sainthood was revoked.
Attitudes to hairiness in women changed in later millennia. Hairiness was seen as monstrous and beastly and the opposite of their saintly medieval sisters. In the sixteenth century Antonietta Gonzales exhibited the symptoms of congenital hypertrichosis lanuginosa: much of her body, including her face, was covered with hair. Rather than being compared to men or saints, these individuals are invariably grouped with animals, mythical beasts and monsters, Antonietta being equated in various accounts to a monkey or dog. Nowadays any visible body hair on a woman is considered socially unacceptable. Hairiness or hirsutism is seen as a medical problem that is addressed by hormonal as well as cosmetic treatments. Issues surrounding control of our body, our image, our profile are all expected to fit a certain pattern. Once we overstep that line we are seen to be inviting comment, ridicule and even violence.
In the collaborative drawing game known as the exquisite corpse or picture consequences, the artist draws a section of a body, masks it and passes on to the next artist who in turn contributes a section. The resulting figure has unusual juxtapositions and distortions. Using this as a playful device, Wilgefortis allows the viewer to compose and impose notions of what is right and wrong. It plays on the interchange between the identities of hairy women + monster + beast and how we absorb these connotations.
Niamh McGuinne, was born in 1967, she studied Art History and Archaeology at UCD, before completing her MA in conservation in Newcastle-Upon-Tyne, UK.  She is Senior Paper Conservator at the National Gallery of Ireland, since 1999, and a member of Graphic Studio Dublin since 2010.  Her background in conservation has influenced her approach to ideas of permanence, timelessness and the notion of perfection.  Her practice involves an adapted method of sublimation/thermal-transfer printing together with etching, screen-printing and stencil resist techniques, printing on paper, metal and films.
A discussion around the Graphic Studio Archive, with Niamh McGuinne, sparked the idea of presenting her new work, alongside Graphic Studio editions, by one of her key influencers, Alice Maher – one of Ireland's most loved and influential contemporary artists. The show, may lead to further exhibitions at the Gallery, that combine artists, and their influencers that have worked at Graphic Studio. 

'Artist + Influencer – WILGEFORTIS' continues to 9 May 2017.
Friday 21 April – Tuesday 9 May 2017
off Cope Street
Temple Bar, Dublin 2
Telephone: +353 1 679 8021
Opening hours / start times:
Monday 10:00 - 17:30
Tuesday 10:00 - 17:30
Wednesday 10:00 - 17:30
Thursday 10:00 - 17:30
Friday 10:00 - 17:30
Saturday 11:00 - 17:00
Admission / price: Free
Through the Arch off Cope Street (behind the Central Bank)