Niamh McCann: Just Left Of Copernicus (The Pastoral)
Thursday 1 September – Friday 21 October 2016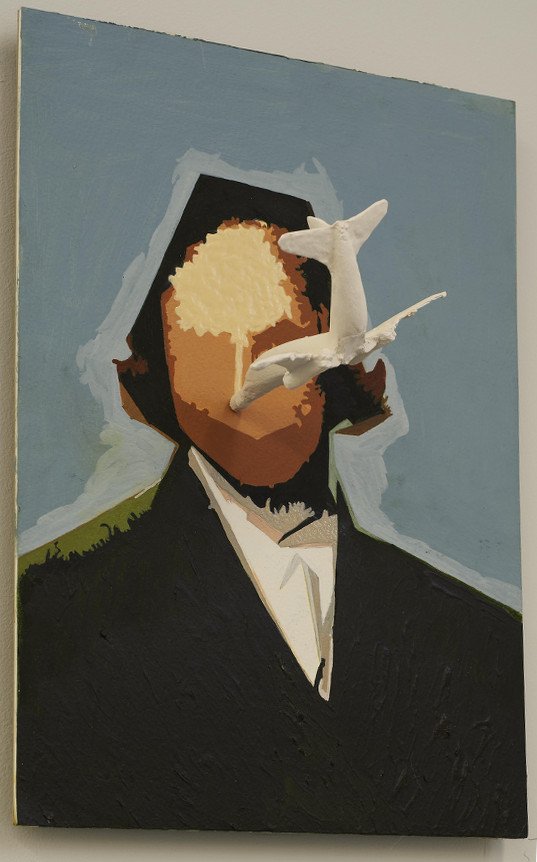 Just left of Copernicus (The Pastoral) is the third and final manifestation of Niamh McCann's touring exhibition Just Left of Copernicus produced by Solstice Arts Centre.  Each of its previous manifestations, at both Visual, Carlow (Roof of the Story) and Limerick City Gallery of Art (A Prologue) were individual to each space. McCann collaborated with architects Jack Byrne and Séamus Bairead to develop the large scale structure/object Copernicus for Now. This aspiring structure/object is made of industrially produced cardboard tubes and plywood. A section of background landscape in the infamous photograph of Armstrong on the moon, as well as ideas contained within B Fuller's 'Spaceship Earth', are amongst references for the work. Copernicus for Now is both object and event, a crater-like landscape for visitors to occupy and events to take place.
The interchange and flow of fact and fiction, and the overlapping layers of history and fable within the work of German architect Hans Poelzig is of particular interest to McCann. Poelzig is perhaps best known for his design and build of the Poelzig Building (IG Farben building), Frankfurt Germany, a site of dramatic historic 20th century importance. Poelzig was also a painter and scenographer of the influential silent horror The Golem: How He Came Into the World (1920).
BUILDING STORIES: EXPLORING THE PROCESS
Thurs 01 September, 6.30 p.m.
A behind-the-scenes glimpse into how architects Jack Byrne and Seamus Bairead worked with artist Niamh McCann to translate her ideas into a built structure, from initial inspiration through design and making processes.
Followed by OPENING AND CATALOGUE LAUNCH
Associated Events
DER GOLEM, WIE ER IN DIE WELT KAM (Film 1920)
Fri 16 September, 8:00 pm
Silent / Cert: CLUB / 84 mins / Dir: Paul Wegener
Screened in the main theatre for Culture Night, The Golem is a classic silent horror film inspired by ancient Jewish legend, written by Henrik Galeen (Nosferatu playwright), and Paul Wegener Director and actor of Der Golem.
Admission free
BUILDING STORIES: EARLY YEARS WORKSHOPS
15 / 22 / 29 Sept & 06 Oct 11am-12pm
A series of workshops for young children (aged 3yrs – 5yrs) exploring buildings and the stories they create. Sessions will include den-making, construction play and story-telling. For more information and bookings contact erin.kennyr@solsticeartscentre.ie.
BUILDING STORIES: EXPLORING ARCHITECTURE AND SPACE WORKSHOP
Acclaimed actor Gina Moxley leads a one-day workshop for teens which hopes to create new narratives & stories by exploring architectural space and our relationship to it. This workshop is aimed at breaking down boundaries between exhibitions and the audiences and would be perfect for members of youth dance or drama schools. For information on dates and bookings contact erin.kennyr@solsticeartscentre.ie.
Just left of Copernicus touring exhibition is produced by Solstice, Navan and made possible through funding from the Arts Council Dissemination and Touring award.
Building Stories programme is produced Visual, Carlow and supported by the Arts Council of Ireland's Engaging with Architecture Award
Thursday 1 September – Friday 21 October 2016
Navan, County Meath
Telephone: +353 46 9092300
Opening hours / start times:
Tuesday 11:00 - 16:00
Wednesday 11:00 - 16:00
Thursday 11:00 - 16:00
Friday 11:00 - 16:00
Saturday 11:00 - 16:00
Admission / price: As per event