Niamh McCann: Furtive Tears
Thursday 4 October 2018 – Sunday 6 January 2019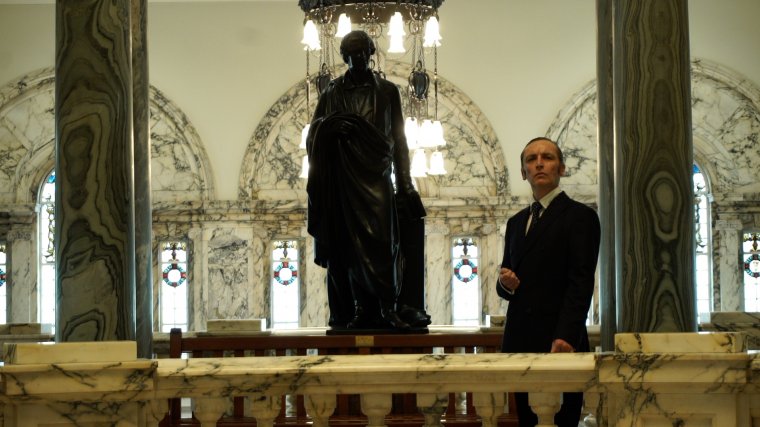 Join us at 5pm for a conversation between Michael Dempsey, Head of Exhibitions, and artist Niamh McCann, in advance of the opening of Furtive Tears that evening.
Dublin City Gallery The Hugh Lane is pleased to present Furtive Tears – an exhibition by Irish artist Niamh McCann that explores the dynamic relationship between the audience, object and modes of display.
Furtive Tears brings together the mythologies of Sir Edward Carson, the Irish unionist politician and barrister with Hans Poelzig, the German architect, painter and set designer. McCann reveals how the interplay of fact and fiction bring the remnants of the past into the present and the things of the present into the future.
Furtive Tears is an installation in four galleries and is a composite of mixed materials that appropriate utopian ideas of fluid relationships between Art / Architecture / Design in early modernism. McCann exhibits assemblages and interventions as well as a newly commissioned video-work Furtive Tears, Salomé's Lament. A backdrop or film set of a kind, each individual element is autonomous yet presented as one whole.
A fully illustrated catalogue is in production. In advance of publication, PDFs of the catalogue texts will be available on our website.
Niamh McCann is an Irish artist living and working in Dublin.Recent solo exhibitions include: La Perruque (Protest Song) at MAC Belfast and Just Left of Copernicus in Visual Carlow.The artist is the recipient of various Arts Council of Ireland awards, and fellowhships at Cemeti Arthouse, Indonesia; HIAP, International Artists' Residency, Cable Factory, Helsinki, Finland, URRA Artist Residency, Argentina, Leitrim Sculpture Centre, Ireland; and of Perspective and EV+A exhibition awards. Her work is represented in the collections; Irish Museum of Modern Art, the OPW, Limerick City Gallery, Swansea City Council, The London Institute, Hiscox Collection, London.
Image: Niamh McCann, Furtive Tears, Salomé's Lament, Single Channel Video with Multi Channel audio, 2018
Thursday 4 October 2018 – Sunday 6 January 2019
Parnell Square North
Dublin 1
Telephone: + 353 1 222 5550
Opening hours / start times:
Tuesday 10.00 - 18:00
Wednesday 10.00 - 18:00
Thursday 10.00 - 18:00
Friday 10.00 - 17:00
Saturday 10.00 - 17:00
Sunday 11.00 - 17:00
Admission / price: Free