Níamh McCann: Furtive Tears # Pass
Friday 22 September – Monday 16 October 2017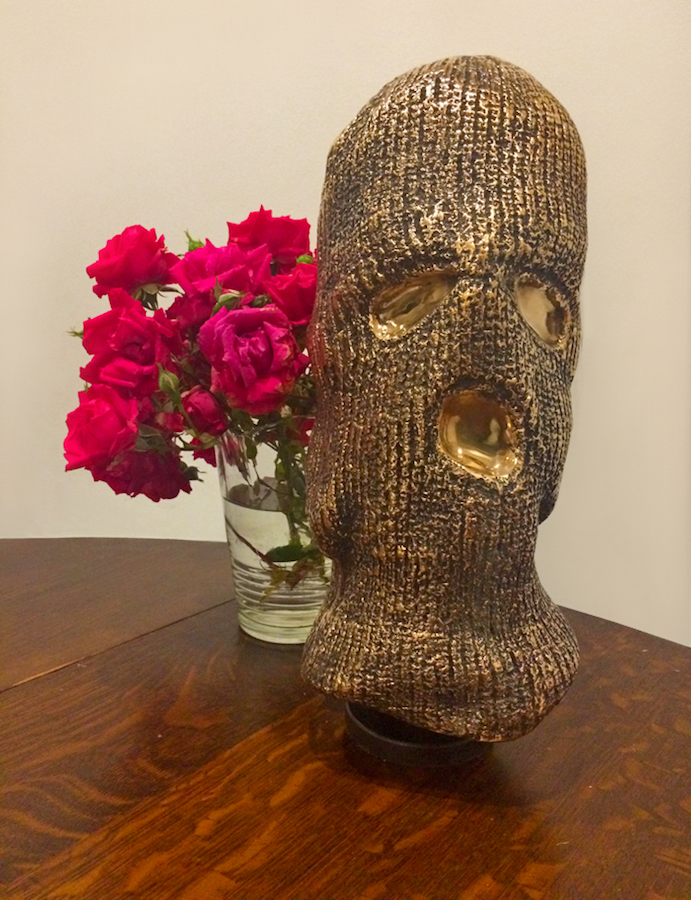 NCAD Gallery Culture Night 2017, Friday 22 September, 5 – 9:45pm. Furtive Tears # Pass | Níamh McCann with Chris Fite-Wassilak & Seán Kennedy
For Culture Night 2017, Friday 22 September at 5pm the NCAD Gallery presents the Furtive Tears # Pass, a solo exhibition of new work by artist Níamh McCann and exhibition event. The NCAD Gallery is delighted to welcome writer and critic, Chris Fite-Wassilak who will make a presentation in response to McCann's exhibition, followed by a performance of Una Furtiva Lagrima by tenor and theatre-maker Seán Kennedy. The event is scheduled to start at 5pm sharp, followed by the exhibition opening view of Furtive Tears # Pass at 6pm. The NCAD Gallery is open until 9.45pm for Culture Night 2017. All welcome, no booking necessary.
As an artist, McCann's work places the viewer within a matrix of thematic contexts from the built environment to fictional scenarios and historical coincidences. Her visioning is made manifest in works of drawing, painting and multi-medium sculptures which are often presented as part of a larger installation work and are often site-responsive.
In May 2016, the School of Fine Art, National College of Art and Design, Dublin (NCAD) awarded McCann the inaugural NCAD Fine Art Studio Residency 2016/2017. Níamh was based in the Annex building, postgraduate hub at the NCAD until September 2017 making significant contributions to the MFA Fine Art programme and as a member of the College community. As part of this exhibition presentation and in particular relating to its institutional context, writer and critic Chris Fite-Wassilak, invited by the artist and commissioned by the Gallery, has written an adjoining essay in response to this iteration of McCann's work at this time.
Níamh McCann is an Irish artist living and working in Dublin. McCann's interest is in the interweaving of fact and fiction, the overlapping layers of history and fable that are contained within the cultural and physical structures we construct. Her works draw together different reference points which are distilled into a kind of sculptural poetry. Engaging with landscape, she balances a portrayal of the view as subject with a primary concern in the culturally constructed. Exploring how we are both subject to and maker of our landscape; a complex relationship of circularity. The pivotal role of the built (the architectural trope) and the mediated environment is central to these explorations.
McCann is particularly interested in the parallax between location, both cultural and geographic, and assumed commonalities and common histories; most particularly as evidenced in the interplay of visual culture and histories and the created environment. Disparate influences are united by the idealism they represented in their original incarnations and the ways in which, over time, they have become overlaid with overlapping layers of narrative, history and fable. The artist's exploration of these themes takes the form of concise built objects in multi-mediums, often presented within larger installations and site-responsive pieces. Within all works, from drawings, wall drawings to larger scale pieces she is centrally concerned with the physicality and placement of viewer relative to object, to context and to site.
Since 2013, alongside with other exhibition occasions Niamh McCann has been working on large-scale projects and commissions for interior and exterior exhibition at Limerick City Gallery of Art, VISUAL Carlow and MAC Belfast. Group exhibitions include; Future Perfect, Rubicon-Projects Brussels, Belgium, Changing States: Contemporary Art and Francis Bacon's Studio, BOZAR, Belgium, Time Out of Mind: Works from the IMMA Collection, Twenty at the Irish Museum of Modern Art; In Other Words at Lewis Glucksman Gallery, Cork; this little bag of dreams, Catherine Clark Gallery, San Francisco, and Without-Boundaries, Wäinö Attonen, Museum of Art, Finland.
McCann is the recipient of various prestigious Arts Council of Ireland awards, and fellowships at Cemeti Arthouse, Indonesia; HIAP, International Artists' Residency, Cable Factory, Helsinki, Finland, URRA Artist Residency, Argentina, Leitrim Sculpture Centre, Ireland; and of Perspective and EV+A exhibition awards
. Her work is represented in the collections; Irish Museum of Modern Art, the OPW, Limerick City Gallery, Swansea City Council, The London Institute, Hiscox Collection, London. Níamh McCann is represented by the Green On Red Gallery, Dublin. Please find more information about the artist here.
Chris Fite-Wassilak is a writer and critic based in London, he is contributor to Art Monthly, Art Papers, ArtReview, frieze, Tate Etc. and others. Please find further information and texts by Chris Fite-Wassilak here.
Seán Kennedy is a performer, theatre maker and classically trained singer from Dublin. Seán makes work that blends live music and opera with his own experience of trauma and pain, aiming to be raw, intimate and affecting. He began studying vocal technique at the DIT Conservatory of Music in 2008, and in 2012 won the gold medal for the Tenor Solo at the National Feis Ceoil. He has since performed in the United States, the Netherlands, Denmark and Romania as a soloist in touring productions. Most recently, he sung the voice of the poet Yeats in The Woods and Grandma, at Smock Alley Theatre in February 2017. Seán debuted as a theatre maker in 2015 with boy, a piece about love and domestic violence, presented at the Dublin Fringe 2015, and again at the Theatreszene Festival Cologne in May 2016. He was Live Collision's artist in residance for 2017.
Friday 22 September – Monday 16 October 2017
100 Thomas Street
Dublin 8
Telephone: +353 1 6364200
Opening hours / start times:
1pm - 5pm, Monday – Friday
Admission / price: Free