Niamh Barry: Light on Earth
from 30 November 2018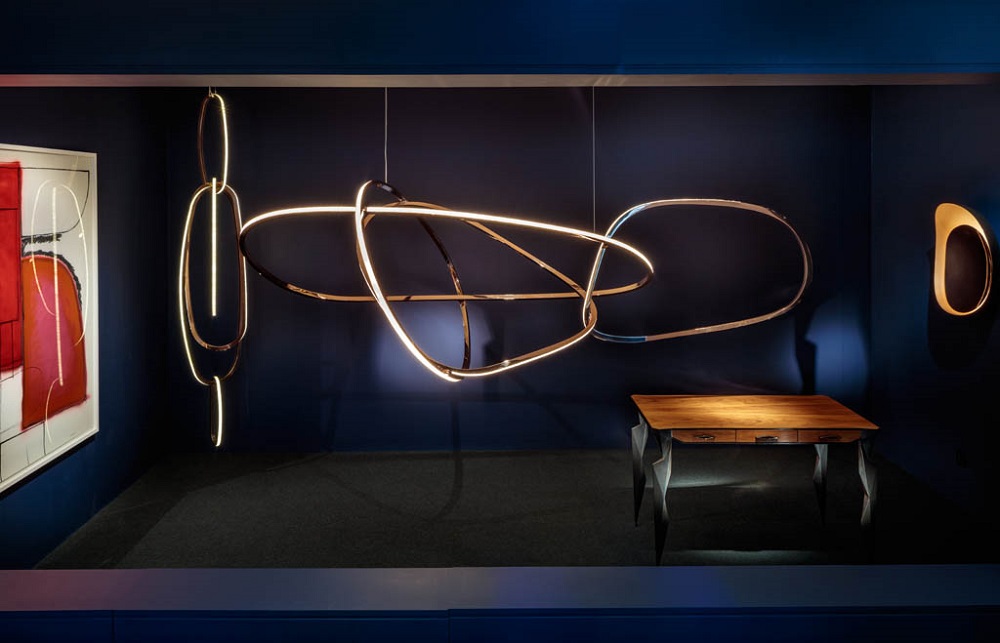 This exhibition celebrates the sculptural lighting of internationally renowned Irish artist Niamh Barry.
'I aspire to make work that transcends utility. I strive for simplicity and perfection, relying almost wholly on visual balance, movement and proportion'
– Niamh Barry 2018
For the past 20 years artist and designer Niamh Barry has transformed the boundaries of sculptural lighting, focusing on balance, movement and line. Her name is synonymous with lighting design and sculptural lighting both nationally and internationally.
Barry's signature works are ceiling-suspended and free standing sculptural forms, which dominate the surrounding space. They are composed of interlocking bronze or stainless steel forms, in which are embedded tiny hand-cut strips of LEDs.
The exhibition coincides with a significant donation into the National Museum of Ireland collections of the prototype of Barry's Fouette series. This exhibition examines the story of Niamh's work, the diversity of the pieces and her dynamic style.  After exhibiting in London, San Francisco and New York The National Museum of Ireland are delighted to present the Niamh Barry Light on Earth exhibition. This exhibition runs for the duration of 2019, and will coincide with a number of themed events throughout the year.
Location: Niamh Barry Light on Earth is located in the Four Centuries of Furnishings Gallery
Image:
from 30 November 2018
Collins Barracks
Benburb Street, Dublin 7
Telephone: +353 1 6777444
Opening hours / start times:
Monday 13:00 - 17:00
Tuesday 10:00 - 17:00
Wednesday 10:00 - 17:00
Thursday 10:00 - 17:00
Friday 10:00 - 17:00
Saturday 10:00 - 17:00
Sunday 13:00 - 17:00
Admission / price: Free