Niall de Buitléar: Push and Pull
Friday 19 January – Sunday 11 February 2018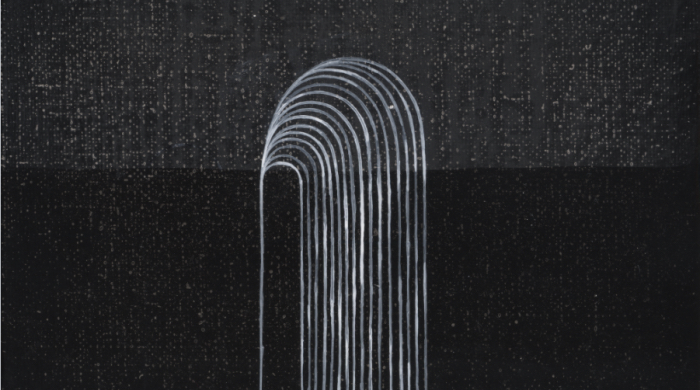 RHA Ashford Gallery – Hennessy Programme
Niall de Buitléar presents Push and Pull,  a new body of work for the RHA Ashford Gallery. The work in this exhibition employs an abstract vocabulary that is articulated through the layering and accumulation of simple forms that in their multiplicity become more complex structures.
Drawing is central to the artist's practice and de Buitléar is interested in how drawing can ow into other media. There is a back and forth dialogue between the two-dimensional and three-dimensional, the handmade and the digital. The artist also takes inspiration from ideas relating to music. The paintings in Push and Pull are in uenced by the writings of musician David Byrne, in his book How Music Works, 2012, where Byrne describes his collaborations with musician Brian Eno and the band Talking Heads, 1975-1991 and their attempts to structure music using layered textures rather than following the conventional western musical structures, to create a composition that is "multilayered and non-hierarchal; it has no centre or focal point."
De Buitléar's paintings begin with the circle. He composes this circle into multiples that are then arranged geometrically and become the main framework for layered, linear, black and white works that continuously explore ideas of tex- ture, rhythm, structure, tone, and movement.
Irish Times writer Aidan Dunne has described the work as "…built from intricate concentric patterns [that] are geometric but also suggestive of organic processes. They equate to the world outside: complex and orderly but also contingent and unpredictable. Their handmade precision makes them visually fascinating. You could quite happily live with any one of them and never tire of it."
ASHFORD IN CONVERSATION SERIES: Niall de Buitléar
5.30pm, Wednesday 7 February
RHA Friends Room
The RHA Ashford Gallery Programme is Sponsored by Hennessy.
Image: Niall de Buitléar, Looming, 2016, Acrylic on canvas, 17.8 x 12.7 cm, Image courtesy of the
Niall de Buitléar was born in 1983 in Dublin and graduated with a BA in Fine Art in 2006 from the Dublin Institute of Technology. Solo exhibitions of his work have been held at Pallas Projects, the Wexford Arts Centre, 126, Galway and twice at the Lab, Dublin. Recent group exhibitions include Jealous Wall, Luan Gallery, The Black and White Project at Transmitter, NYC, RHA 187th Annual Exhibition and Approaching the Landscape at RUA RED, Tallaght. Previous group exhibitions include Futures 10, RHA, Dublin, Dawning of an Aspect, Green on Red Gallery, Dublin 2009, Bookish: When Books Become Art, Lewis Glucksman Gallery, Cork.
He was the 2009-2010 winner of both the Red Stables Irish Residential Studio Award and the Wexford Arts Centre's Emerging Visual Artist's Award. He is currently based at Pallas Projects/Studios, Dublin. www.nialldebuitlear.com
Friday 19 January – Sunday 11 February 2018
15 Ely Place, Dublin 2
Telephone: +353 1 661 2558
Opening hours / start times:
Monday 11:00 - 17:00
Tuesday 11:00 - 17:00
Wednesday 11:00 - 19:00
Thursday 11:00 - 19:00
Friday 11:00 - 19:00
Saturday 11:00 - 19:00
Sunday 14:00 - 17:00
Admission / price: Free