New Era – Exploring Climate Change
Saturday 12 September – Friday 18 December 2020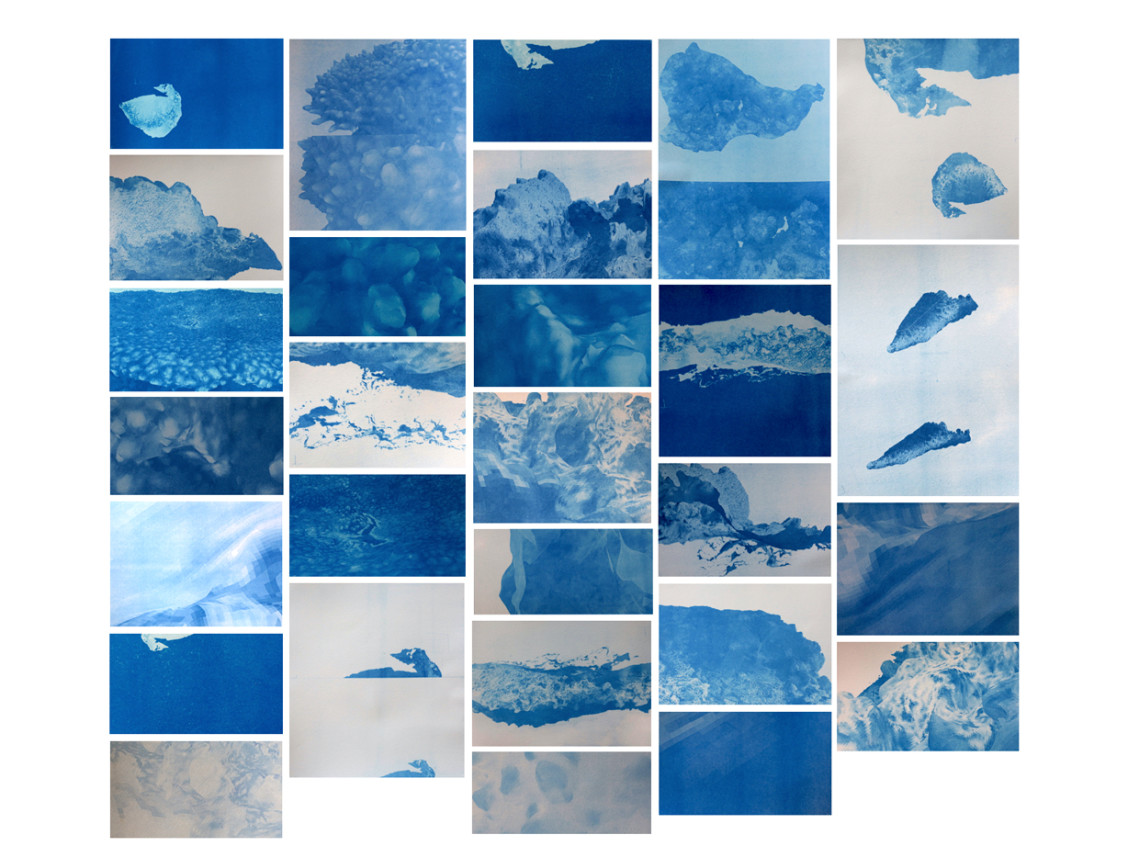 ――― Reopened ―――
Rachel Doolin, Siobhan McDonald, Martina O'Brien, Méadhbh O'Connor
New Era is an exhibition featuring four younger generation Irish visual artists, Rachel Doolin, Siobhan McDonald, Martina O'Brien and Méadhbh O'Connor whose work explores different aspects of climate change in the natural world.  The exhibition will include new and recent art works by these artist/activists and advocates for both local and global climate change.
The exhibiting artists are all involved in explorations of wide-ranging issues including biodiversity, ecology, weather forecasting, climate modelling, governance of natural disasters, and the Anthropocene (recent consequences of our treatment of nature and the environment).  The exhibition will feature a range of artworks including painting, drawing, photography, sculpture, installation, film, and video.
Doolin, McDonald, O'Brien and O'Connor have undertaken Artist's Residencies in Universities and Institutions such as UCD Parity Studios with UCD School of Sciences, Trinity College Dublin School of Natural Sciences and School of Botany, Maynooth University, The European Space Agency, Svalbard Global Seed Vault, Norway, Irish Seed Savers, and Crann -Trees for Ireland. The artists have also undertaken varied research expeditions to Iceland, Italy, Norway and Switzerland in collaborations with scientists and experts which have informed and expanded their art practices.  These collaborations of art and science are ongoing and future expeditions and research trips are planned for later in 2020 and 2021.
The exhibition will be accompanied by a live and online curated Participation and Engagement Programme comprising a Panel Discussion, Film Screenings, Artist's Talks and Biodiversity Themed Workshops facilitated by the exhibiting artists and facilitators involving schools and a range of age groups in the community of Co. Meath and surrounding area.
Rachel Doolin is a multi-disciplinary artist, educator (early years) and environmental activist based in Cork.  Doolin is currently working on a project entitled 'Seed Cloud' which explores the concept of seeds as archives of cultural memory. Doolin is embarking on a self-directed residency with Irish Seed Savers that will culminate in an exhibition entitled – 'Heirloom' the Visual Art Commission, Municipal Gallery, dlr Lexicon, Dun Laoghaire, Co. Dublin in June 2021.
Doolin has completed a research trip and residency to Svalbard Global Seed Vault, a secured storage facility carved into solid rock of Plateau Mountain permafrost on a Norwegian archipelago midway between Norway and the North Pole in the Arctic Ocean.  The vault houses the world's largest seed collection and is a key component of global efforts to safeguard agricultural diversity in the face of natural and man-made disasters.
The artist is currently developing a community project with children living in a Direct Provision Centre in Ireland.  She has also recently been shortlisted for stage two of a Percent for Art commission, which involves a community planting project in partnership with Crann – Trees for Ireland. Doolin's range of works includes sculpture, photography and film.
Siobhan McDonald is currently Artist in Residence in Trinity College Dublin in the Botany Department (2020-2023). McDonald completed an artist in residence programme in the School of Natural Sciences at Trinity College Dublin (2017-2019) working with world-leading research facilities such as The European Space Agency (ESA); The JRC European Commission and The European Research Council to explore ecology in light of current ecological concerns. Across these research labs, she pursued knowledge to ask questions about the structure and history of the earth. McDonald has made artworks inspired by expeditions to Vatnajokull, Iceland, Europe's largest glacier and Mount Etna, Italy as well as works focusing on Irish landscape such as Black Pig's Dyke, Co. Monaghan.
Her art practice calls on notions of what is still unknown to science, exploring the Anthropocene and the recent consequences of our treatment of nature. She is interested in the changeable nature of landmass, historical events and their interconnection to time. In her studio, she works with a diverse group including historians and scientists. Her works manifest in many forms including painting, drawing, installation, film and sound.
Siobhan McDonald holds a Masters in Visual Arts Practices from IADT. In 2018 she received the Trinity Creative Challenge Award from Trinity College Dublin. In 2017 she received a Bursary from The Arts Council of Ireland and was the recipient of a Creative Ireland Award and a Culture Ireland, GB18 2018 award.
Martina O'Brien is a visual artist whose interdisciplinary practice stems from an intrinsic interest in perceptions of time, the earth sciences, futurology and divination. Over the last number of years her work has frequently examined measurement technologies and data driven practices of quantification such as climate modelling and, as an extension of this, considered how ways of describing the world through computational structures affect the possibilities for our being, acting and thinking in the world.
These concerns are further evident in recent projects, where she explores the methodology of voluntary weather data collection and governance surrounding natural disasters. She is currently involved in the exploration and quantification of previously unmapped deep-ocean.  O'Brien has made video works following an expedition on the research vessel The Celtic Explorer in the North East Atlantic Ocean and another which focuses on Ireland's first Inexpensive Device Sea Level measurement (IDSL) recently installed off the island of Inishmore on Ireland's west coast in the North East Atlantic Ocean. Martina will embark on a marine expedition residency with the Irish Centre for Research in Applied Geoscience through Parity Studios UCD to monitor the Moira Mound Coral Reef off the Irish coast in winter 2020/2021. She is currently making a new film and associated drawings which focus on the impact of climate change on black coral (Antipatharia).
Selected exhibitions and residences include Quotidian, Illuminations Gallery, Maynooth University, 2019; Datami, European Commission Science Hub, Joint Research Centre, Italy, 2019 & BOZAR, Centre for Fine Arts, Brussels, 2019/2020; Tactical Magic, TULCA Festival of Visual Arts, 126 Artist-run Gallery, Galway, 2019; Artist in Residence, Monitoring Change in Submarine Coral Habitats Marine Expedition, North East Atlantic, in association with Parity Studios, UCD & The Irish Centre for Research in Applied Geosciences, Dublin, 2019; Artist in Residence, The European Centre for Medium-Range Forecasting, UK, 2019 and At Some Distance in the Direction Indicated, The Butler Gallery, Kilkenny, 2018. Awards include an Arts Council of Ireland Visual Arts Bursary Award 2019; an Arts Council of Ireland Travel & Training Awards 2019 & 2017; a Creative Ireland Bursary Award 2018; Kildare County Council Arts Award.
Méadhbh O'Connor, born 1984, is an Irish artist whose work consists of an extended exploration of natural phenomena and our attempts to understand these through the lens of both art and science.  Her projects oscillate between carefully designed projects to others that explore materials with changing, living or other less controllable qualities. These crange from large-scale sculptural installations with plants to ephemeral, biological or temporal works.
O'Connor is interested in exploring parallels between the creative arts and natural sciences whilst acknowledging the autonomy of and specialities unique to each discipline. She has worked alongside scientists for a number of years, with whom she shares mutual interests in the natural world and environmental topics. This led to her develop cross-disciplinary educational programmes which she taught to undergraduate science students from 2015–2019. She was Artist in Residence at the University College Dublin (UCD) College of Science and is, to date, the only artist to receive this award twice, in 2013 and by invitation in 2017.
Méadhbh has exhibited her work in many solo and group exhibitions. In a recent breakthrough, she was selected to exhibit at the supranational Antarctic Pavilion at the 57th Venice Biennale of Art (2017). She was selected by a jury of influential figures including the Commissioner of the Antarctic Biennale and artist Alexander Ponomarev (RU), curator Hans-Ulrich Obrist (CH/U.K.), architect Hani Rashid (U.S.A./CA), curator Sheikha Hoor al-Qasimi (UAE) and curator Nadim Samman (DE).
Following almost a decade of professional practice working from Ireland, Méadhbh has recently completed graduate study at The Ruskin School of Art, University of Oxford, UK (2019-20). O'Connor is working on an ongoing series of photographic landscapes of geological phenomena and is developing a new area of interest, the written and spoken word.
Image: Martina O'Brien
Saturday 12 September – Friday 18 December 2020
Navan, County Meath
Telephone: +353 46 9092300
Opening hours / start times:
Tuesday 11:00 - 16:00
Wednesday 11:00 - 16:00
Thursday 11:00 - 16:00
Friday 11:00 - 16:00
Saturday 11:00 - 16:00
Admission / price: Free