New Beginnings: Brigit 2022: Dublin City Celebrating Women
Tuesday 1 February – Saturday 12 February 2022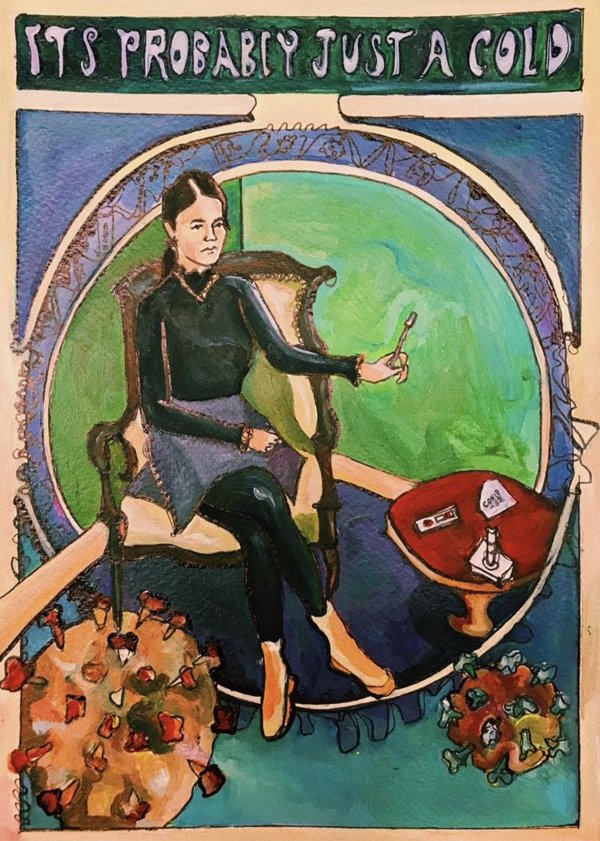 ――― In venue ―――
Brigit 2022: Dublin City Celebrating Women is a celebration of the achievements of Irish women, past and present, initiated by Lord Mayor of Dublin Alison Gilliland.
Drawing inspiration from the pre-Christian Celtic goddess Brigit, this exciting new programme of events is a city-wide opportunity to acknowledge the contributions of Irish women through the ages, highlight their remarkable stories, and welcome the beginning of Spring.
New Beginnings
As a platform for emerging artists in Ireland, The LAB Gallery is proud to present New Beginnings, an exhibition of seven recent female art graduates to mark this inaugural festival. All seven artists take a different approach to painting and come to their work at different ages and stages of their lives but share a potent potential energy as they emerge into their art careers.
This exhibition features work by Juliette Morrison, Karen Ebbs, Kym Tracey, Jessica Daly, Polly Maher, Sarah Beegan and Shannon O'Reilly curated by Sheena Barrett and Karen Ebbs The LAB Gallery, Foley Street, Dublin 1.
The beginning of February marks the Spring Equinox, when the earth begins to warm and prepare for new shoots. Imbolc, the Celtic festival on this day means the belly of the mother and the LAB has sought to be a site for nurture, to support artists to develop and grow their art practice. New Beginnings brings together work by Juliette Morrison, Karen Ebbs, Kym Tracey, Jessica Daly, Polly Maher, Sarah Beegan and Shannon O'Reilly, offering the viewer a chance to experience the energy, potential and promise of freshly made artwork as these artists launch their careers. Speaking about the exhibition, artist and co-curator Karen Ebbs described her response to the call "To emerge – at whatever stage in life – one needs to shed all perceptions of certainty, to embrace vulnerability and to take a risk. After a period of gestation or incubation, what is then required is courage and resilience. The young sapling takes this risk when it is time to birth itself, to push through the bedrock."
This exhibition acknowledges the power in the vulnerability of showcasing new work and bringing it to a public after a period of immersive challenges and growth in the studio. The artists' styles and themes vary, inspired by their life experiences and research but combined the experience feels like a celebration of paint, art and fresh starts.
Sarah Beegan is a Kildare based painter and is a recent graduate of NCAD. Her work explores the themes of resilience and power and the complex relationship between these opposing forces through the juxtaposition of various images and suggestive contrasts. More recently covid and the resulting lockdowns have prompted her to explore health and illness as manifestations of the same themes. It is informed through a mixture of personal experience, medical imagery and is rooted in Beegan's photographic interaction with the blooms in her immediate environment. Through experimentation with photographic images, she creates photomontages, which create a strange narrative of growth and sterility. A deliberately vibrant and often psychedelic colour palette coupled with a strange double negative effect in some of her work is used to pull the viewer in as both spectator and actor within the covid drama, seeking resonance within them to provoke an emotive response which alternates between fear and hope. Beegan works in both oil and acrylic on large canvases and walls but also enjoys experimenting with other surfaces eg. prosthetic limbs, paper and wood.
Her work has been purchased and is now a part of the public collections at Temple Bar Medical Centre and also at The National Treasury Management Agency, Dublin. Recent exhibitions include the 191st RHA Annual Exhibition and the 140th RUA Annual Exhibition. She is also the recipient of the NCAD Specialist Craft Award 2021.
Jessica Daly is an Irish artist living in Bulgaria. In 2021 she graduated from the National College of Art and Design with a BA in Painting. Her work is concerned with absence, loss, and the fragility of memory. Daly studied illustration and animation before transferring to painting in her third year of college. Her practice, as a result, is rooted in drawing. Using a restrictive palette and a highly methodical approach, she produces paintings that are withdrawn yet revealing, silent yet alluring. Her painting technique has been noted for its subtlety and delicacy. She was recently awarded a residency at Stiwdio Maelor in Wales and was shortlisted for the Ormond Art Studios Graduate Residency Award. Her work has featured in several group shows including Luan Gallery Art Fair and an online exhibition Positives: Painting in the Pandemic in partnership with NTMA Sports and Social Club. She also had a solo show at Mullingar Columb Barracks as part of Culture Night 2021. After graduating she worked as a volunteer at Pallas Projects/Studios for several months and is now interning at a cultural centre in Veliko Tarnovo.
Karen Ebbs is a Dublin-born visual artist, a painter who makes large-scale abstract painting and sculpture installations.
Karen's approach is processed-based and haptic involving an array of materials including oil paint, copper earth rods, basalt plaster, high-density foam, plexiglass and videography; alternating intuitively in a circular, conversational motion between drawing, painting and sculpture. The ambition of Karen's practice is to explore the nature of primed perception, consciousness and all the complexities involved in how we interpret and navigate the world around us and, to this end, a strong body of research underpins her work, drawing from science and philosophy of mind. In many ways her work imitates how perception occurs; abstract, winding, gestural forms and shapes appear, at one point offering an infinite number of possible interpretations, until finally, the brain makes a heuristic "best guess". The focus of Karen's practice is intimately linked with the experience of being present, being in the here and now; the actuality of engaging with the physical materials and the ensuing material processes, while simultaneously responding to a physical space.
Most recent exhibitions include Lucky No. 7 Collaboration, which she co-curated; Artnetdlr Metamorphosis, NTMA, Positives: Painting in the Pandemic. In August 2022 Karen will exhibit her work in Farmleigh Estate, Cowshed Gallery. Awards: Recent graduate from NCAD receiving a first class honours degree, highly commended; Clancy Quay Professional Development Programme, Hang Tough Contemporary, Art Folio Annual 2022 publication, John Richardson French Residency 2021 Shortlisted + catalogue, Tyrone Guthrie and Cill Rialaig. Previous adjudicated selections are: London Design Festival, Crafts Council of Ireland and the Pearse Museum.
Shannon O'Reilly is a painter based in Kildare and is a recent graduate of NCAD, Dublin.
Her work examines buildings and floor plans to create paintings that are an abstraction of modern architecture, using a mixture of visual reference with historical references. The large scale allows the expression of awe she feels when seeing this architecture. Her preferred medium is heavy body acrylic, but uses mixed media in her preparatory sketches. Her paint choice allows the display of strong opaque colour. The lines and flat plains of colour create a space that almost feels physical, drawing the viewer into the work. Influences of the Suprematist movement are evident in the work. Her most recent exhibition was NCAD.works in June 2021.
Polly Maher is a visual artist based in Wexford.
She makes paintings, takes photographs and collects artefacts that examine contemporary narratives of rural structures. The work extracts the softer qualities from the harsh surfaces, materials and objects found in rural sheds, yards and workshops. While her main focus is on objects; traces of human interaction are present in their arrangements. The interactions between the contents of these spaces and the owners are often understated but deliberate. Her work talks about the fine line between functionality, storage and emotional attachment associated with the items we house in sheds. Polly is a recent graduate of NCAD receiving a first class honour for her degree work in Fine Art Paint and Education. Following this, one of her pieces was purchased by the Office of Public Works to be part of the State Art Collection. Her work has been selected for shows including the RHA Annual Exhibition and Visions held at the National Treasury Management Agency, Dublin. In 2022 Polly will participate in the PeripheriesMEET correspondence programme.
Juliette Morrison graduated from the National College of Art and Design (NCAD) in 2021 studying Fine Art Paint and Education.
She has had her work displayed in galleries throughout Ireland including the Hugh Lane Gallery, the Ulster Museum, IMMA, and the High Lanes Gallery. In December 2021, Juliette was a finalist of the 2021 RDS Visual Art Awards and had her paintings exhibited in the Royal Hibernian Academy (RHA). Her exhibition acted as a timeline of quarantine, and was projected through paintings and sound. In June 2021, her signature painting 'Cans aux Canal' was purchased by the Office of Public Works (OPW), and in August her work was featured in The Irish Arts Review magazine as part of the New Generation Gallery. Juliette was a curator and had work displayed in the Dublin Modular- 'It's at Home' series held in 'The Complex Gallery' in November 2021. This event showcased the work of emerging artists, and included a live vinyl soundscape. She was also part of the exhibition 'Lucky No. 7' in November, which was held in 'Mend' industrial space in Harold's Cross. Juliette usually bases the composition of her paintings on old magazine covers, records, posters and classical paintings, but changes the subject matter to relate to an event that has happened in her life. Her work is a means of transforming these commercial images into a fine art. She paints on a range of surfaces including stretched paper, canvas and wood. Juliette is also a classical musician and has performed throughout Ireland and abroad. In summer 2021, she created public interventions on the Luas Green Line, Portobello and outside the Central Bank on Dame Street.
Kym Tracey is a Visual Artist and secondary school teacher based in Kildare and has recently graduated from the National College of Art and Design.
Her work is a homage to moments in the past which she explores through manipulating old found photographs. Kym works primarily in oils but also experiments with a variety of other mediums such as Lino print and charcoal work. Combining the funky patterns of 1970's wallpaper, the red or green 1990's carpet in every Irish home with my archived images, Kym creates nostalgic paintings that celebrate youth. Recent exhibitions include "Rising" a group exhibition hosted by Hangtough Contemporary and a solo exhibition in Kilcock Art Gallery. Kym's work has been published on platforms such as "Artists Talk Magazine", "The Irish Tatler" and "The Irish Arts Review".
Image: Juliette Morrison: It's probably just a cold
Tuesday 1 February – Saturday 12 February 2022
Foley Street, Dublin 1
Telephone: +353 1 222 7850
Opening hours / start times:
Monday to Friday 10:00am – 6:00pm. We are currently closed at the weekend. Bookings are not necessary.
Admission / price: Free