Neil Carroll: In Pursuit of the Brocken Spectre
Friday 14 February – Sunday 2 August 2020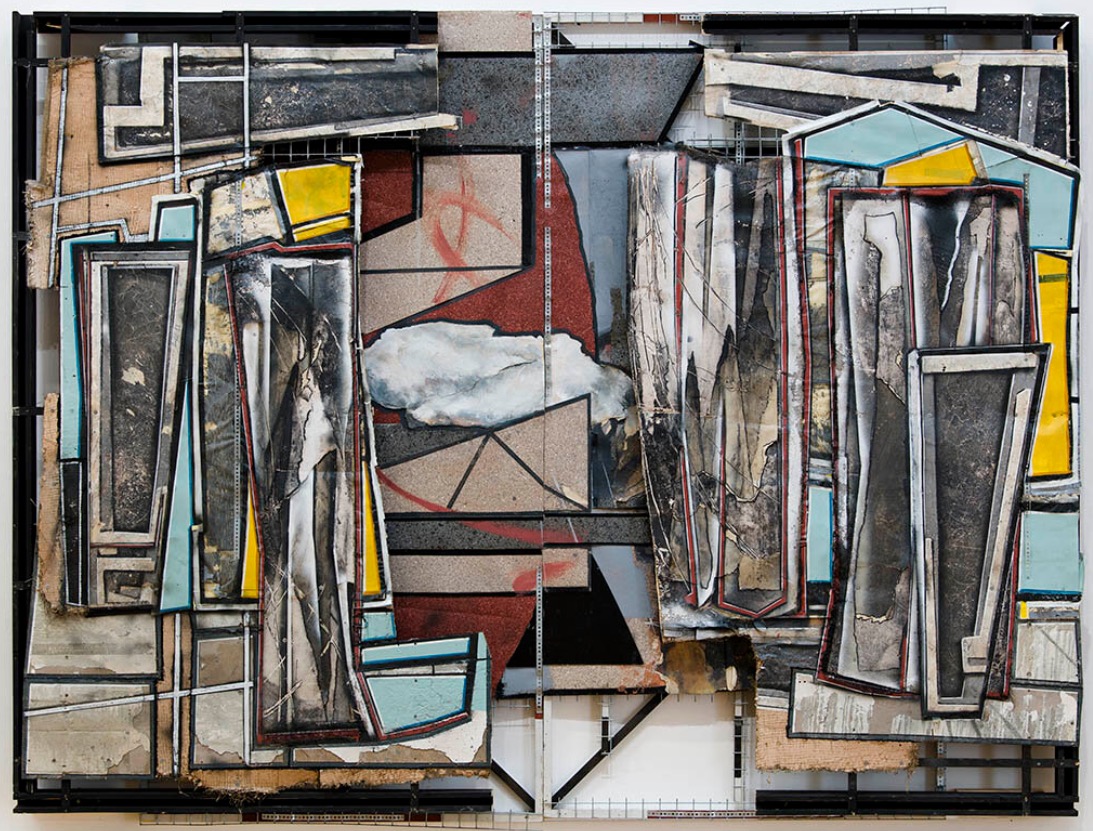 ――― Reopened ―――
Neil Carroll's solo exhibition, In Pursuit of the Brocken Spectre  might be best considered a transformative project rather than a definitional one; unlike the continual endgame of much of contemporary painting, the grounds of his practice are established along the lines of yearning thought. His is an abstract art, characterised by what art theorist Jason Gaiger terms the 'additive strategies' of collage, montage and construction. Taking the technical supports and limits of the fictive, painted space that we think of as 'pictorial' as both his material and content, he is minded completely to reconfigure the fundamental elements of figure and ground, depth and surface, frame and edge. These relationship sets are taken apart, disrupted, rendered unstable and contingent, open to possibility.
Speaking to the processes that propel his art, Carroll talks of how "the artist pulls at the skin of his known world". It is a phrase suggestive at once of his relationship with his immediate (urban) environment from which the fabric of what he describes as his 'built-paintings' (assemblages of standard household paints, wood, plaster and metal and other construction materials) are drawn. For an artist for whom there is such mutual consequence between conceptual concerns and material process, it might also equally refer to how 'skin', as substrate, is incised, peeled back, layered in on top of itself.
Formally, the pieces have an architectonic underpinning; sutured fragments abut and overlap, set against larger planes as if in accordance with an informal diagram whose bounding lines have been knotted and folded. The effect is to create an "experiential space-in-process […] a more abstract, transformable and provisional space."
There is also an affective dimension the artist seeks to inject into surface and ground; torn, abraded, gouged, there is a sense they have been placed under pressure, the layers of their making akin to geological strata. If Carroll's earlier works reflected the contingent spaces of the city, these latest paintings seem to belong to the mountains, to another sense of place, one muted by time. They hang like sheared planes marked with disjunctive cleavages of foliated rock. Even the few washered fixings that anchor the heavier fragments look for all the world like rock climbing bolts.
The Mountain and the Glacier have long been central sites in the Romantic imaginary and the latter holds for Carroll a specific allusion to an agent of transformation and the reality of the idea of metamorphism. But ours is an age when many glaciers will make their final retreat and become a locus of mourning rather than reverie or worship.
The Brocken Spectre is an ephemeral projection of oneself cast and reflected onto an ethereal and evaporating surface. From Coleridge onwards it has been poetic metaphor for unmet and impossible aspiration. In Carroll's allegorical reading, this image of a spectral ideal is a revelatory, almost epiphanic, glimpse of one's own alterity. The thought that optical illusion might call up existential illusion and only sharpen the felt absence of a unified self is what drives his pursuit, is grist to the mill, for this artist's imagination.
Introduction by Aodhán Rilke Floyd.
Neil Carroll is based in Dublin, Ireland. He received his MFA from the Ruskin School of Art, Oxford University, June 2016 and his BFA from the National College of Art in Dublin, 2010, achieving Distinction in both. Since 2010, Carroll has been continuously exhibiting in solo and group shows. He was selected to exhibit as part of New Contemporaries 2017, showcasing the best of emerging talent from UK art schools. In the summer of 2015 he was the recipient of a fellowship to the Skowhegan School of Painting and Sculpture, Maine, USA. He was awarded the Hennessey-Craig scholarship for painting at the RHA, Dublin in 2012. He has also received artist's bursaries from the Arts Council of Ireland, 2018, 2017, 2015.
Image: Neil Carroll: Icefall, 240cm x 300cm, emulsion paint, paper, plaster, wood, steel mesh, linoleum flooring, tape, cement, burlap, perspex, galva-band, 2019
Friday 14 February – Sunday 2 August 2020
15 Ely Place, Dublin 2
Telephone: +353 1 661 2558
Opening hours / start times:
Monday 11:00 - 17:00
Tuesday 11:00 - 17:00
Wednesday 11:00 - 19:00
Thursday 11:00 - 19:00
Friday 11:00 - 19:00
Saturday 11:00 - 19:00
Sunday 14:00 - 17:00
Admission / price: Free
Reopens Thursday 23 – Sunday 26 July and Thursday 30 July – Sunday 2 August