Nearshore
Saturday 9 May – Thursday 11 June 2015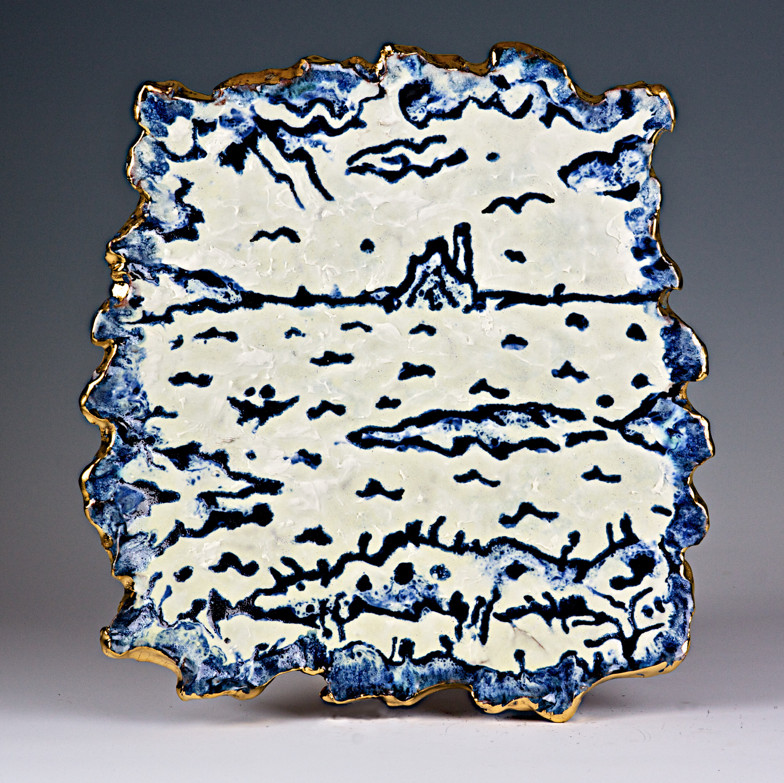 Opening Reception Friday 8 May at 7pm • the Vespertine Quintet will premier a new work by Justin Grounds at 7:30 pm
Cormac Boydell, Karen Hendy, John Kingerlee, Kathleen Standen
Nearshore is an exhibition of work inspired by the indented, west Cork and south Kerry coasts – a coastline of peninsulas, estuaries, harbours and islands, where sea and land meet at gravelly and sandy beaches, mudflats and cliffs as well as at piers, docks and slipways. The adjacency of water gives a number of distinctive characteristics to this region. The erosive power of the sea results in particular types of landforms, such as sand dunes, and estuaries. Biologically, the ready availability of water enables a greater variety of plant and animal life, and particularly the formation of extensive wetlands. In addition, the local humidity due to evaporation and the influence of the Gulf Stream creates a microclimate supporting unique types of organisms. These coastal regions are border-lands defined by the ever-changing weather.
The exhibition includes fired clay wall works by Cormac Boydell, paintings by Karen Hendy and John Kingerlee and three-dimensional ceramic forms by Kathleen Standen.
Cormac Boydell is one of Ireland's foremost artists working in clay. Born in Dublin, he was introduced to ceramics by Oisín Kelly, and then worked as a geologist in the Australian Bush for four years before settling in Allihies in 1972. His handling of clay is original and experimental, and his imagery is often born out of this rugged coastal environment and the history and myth of this land. For Nearshore, Cormac has made new wall works that represent local scenes such as Roaring Water Bay.
Karen Hendy's artistic concern is to innovate the genre of pastoral painting by confronting the viewer with an unconventional materiality, fusing traditional media with modern synthetic substances. The omnipresent polyethylene silage wrap of the contemporary agricultural landscape is introduced into the context of painting and transformed through a process of burning and eroding, even breaking through the surface. Together with traces of colour and gold, the resulting textures and cavities are not only indicative of ancient mining practices (copper has been mined in West Cork since prehistoric times) but also suggestions of portals leading into a parallel otherworld, evident in Irish folklife traditions. The extensive triptych arrangement of 'Liminal' introduces a visual narrative that further reinforces her occupation with the subject of time through the exploration of thresholds and flux of past, present and future.
John Kingerlee's paintings for Nearshore remind us of that enigmatic place where it is land no longer – but not yet sea, that indefinable edge where tide "rubs things out", concealing then revealing; where sea and sky can also merge. The textures and colours of these works recall the meeting of the shifting waters and spray of the sea with the rocks and sand of the shoreline fused with ever-changing light. This combination yields in John's work extraordinary surfaces and combinations of mark making that convey a sense of place.
Nearshore includes a group of innovative clayworks by prize winning, West Cork-based artist Kathleen Standen, which explore and challenge humankind's relationship with the coastal environment. The economic demands of the fishing industry, along with the recent surge in coastal house building, have impacted coastal ecosystems. Kathleen Standen's clayworks seek to explore these changing influences.  Researched by 'industrial beachcombing', whether in the fishing villages of West Cork or by the River Thames in London, her work takes inspiration from machinery and equipment such as buoys, winches and pulleys used in these locations.
Image:
Cormac Boydell: Roaring Water Bay, 2015, terracotta, 35 x 38cm
Saturday 9 May – Thursday 11 June 2015
Skibbereen, Co Cork
Telephone: +353 28 22090
Opening hours / start times:
Monday to Saturday, 10am to 4:30pm
Admission / price: Free