National Heritage Week at Olivier Cornet Gallery – Performance
Saturday 29 August 2015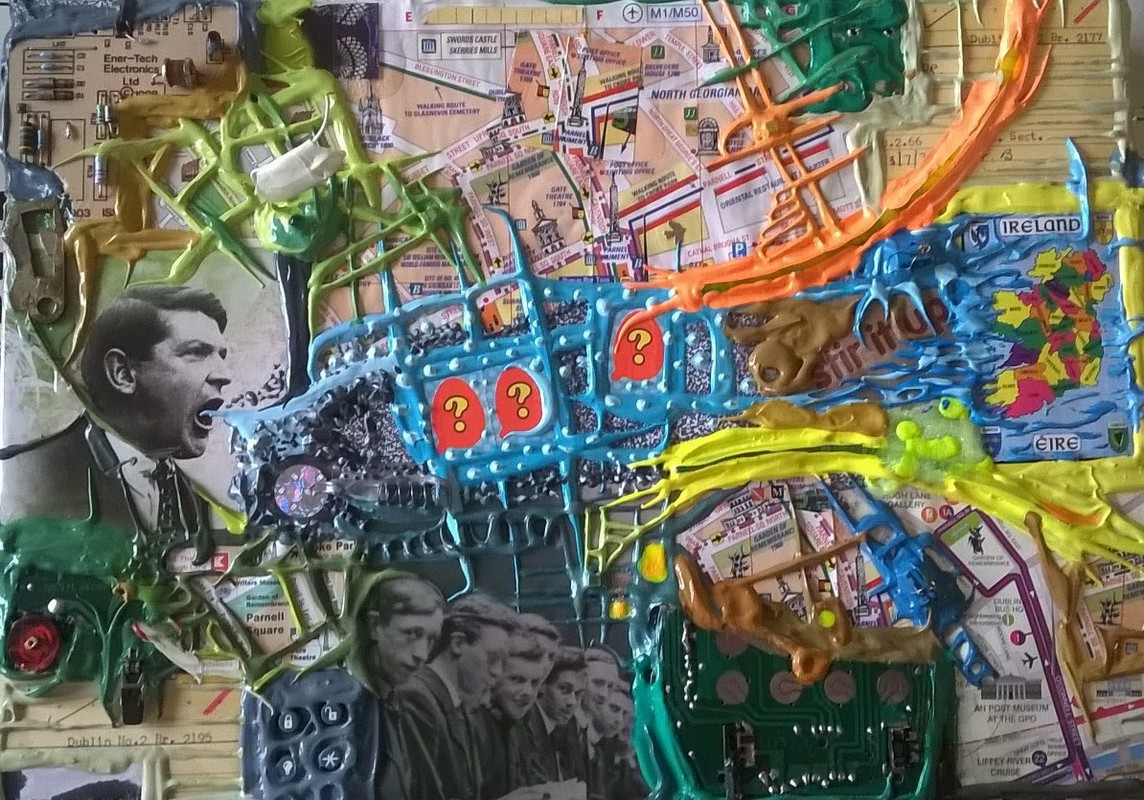 I  would love to see you in my new gallery (3 Great Denmark Street, beside Belvedere College) this coming Saturday.
We will be celebrating the end of our summer group show and as part of National Heritage Week, I will give a brief tour of the exhibition and the performance artist Aodán McCardle will respond to the show through a live art performance. There will be some refreshments (sangria) too to celebrate our move to this new space which I think you will be impressed by.
I am including all the details below. Feel free to come at any time.
National Heritage Week at Olivier Cornet Gallery:
Join us for the closing of our summer group show '5 Cavendish Row' at our new location at 3 Great Denmark Street (just beside Belvedere College). The exhibition is a visual response to the history of our previous building and the Parnell Square area. Learn about the presence of Michael Collins and of a secret tunnel… 
Visitors are invited to pause at 5 Cavendish Row (opposite the Gate Theatre) on their way to 3 Great Denmark Street. First look sideways to your left, then look up to the right and try to memorise what you see.
At 3:30 pm, gallery owner Olivier Cornet will give a tour of the exhibition and talk about its rich history that inspired it. This will be followed at 4 pm by a special live art event by performance artist Aodán McCardle. Through this live performance at the gallery Aodán McCardle will be responding to our current summer group show '5 Cavendish Row' and the new space it is in.
Aodán McCardle is a performance writer, a  painter, a poet, gardener, tattooist, designer, and maker. He is a co-editor at Veer Books. His PhD was on Action as Articulation of the Contemporary Poem (Birkbeck College, University of London 2013). His current practice is improvised performance/writing/drawing as a finding out.
Artist's statement:
"My practice considers improvisation as an investigative action. At the heart of it doubt is the vector which comes closest to a sense of measurement or decision making. I approach each performance with a set of potentials which I have gathered or which have gathered around a subject or theme or site. Each of these potentials, a word, an idea, a piece of information, an object or an action has a certain strength or force and as they congregate together they link to each other in different ways, having lesser or greater gravity. Once a performance begins the doubt implicit in the act of improvising weighs the importance or effectiveness or pleasure in the potentials as they are used or as they push their way into the gaze of the performance. A decision made even at the start may negate most of the potentials of a performance but then such a schism will initiate its own direction and form for the rest of the improvisation." 
Context of the exhibition '5 Cavendish'
'5 Cavendish Row' is a show orientated around the previous address of the Olivier Cornet Gallery. The show is co-curated by Art Historian and author Arran Henderson whose research into the area provided an inspirational platform from which the artists could work.
The exhibition features works by gallery artists Mark Doherty, Eoin Mac Lochlainn, Michelle Byrne, Adrienne Symes, Jordi Forniés, Hugh Cummins, Conrad Frankel, Kelly Ratchford and Jason Lowe. Also exhibited is work by invited artists Eve Parnell, Gerard Cox and Catherine Ryan 
Through selected pieces, the Olivier Cornet Gallery aims to depict the vivid history of 5 Cavendish Row and its surrounding area. The artworks have their roots in the very beginning of the street's history when Bartholomew Mosse built his famous Rotunda Hospital. They flit through the social graces of the Pleasure Gardens opposite and they liaise with political upheaval as Michael Collins takes up his residency in Number 5, utilising a secret tunnel under the doorsteps. From there, the artworks are swept up by the rebellious waves of a pirate radio station and they are thrown along through changes of hand until they settle contentedly into the new gallery space today.
Event included on the National Heritage's website:
http://www.heritageweek.ie/whats-on/event-details?EventID=612
Image: Catherine Ryan: Radio Michael
Saturday 29 August 2015
3 Great Denmark Street
(beside Belvedere College)
Dublin 1
Telephone: +353 87 2887261
Opening hours / start times:
Tues to Fri: 11am to 6pm (till 8pm on Thursdays) • Sat & Sun: 12 noon to 5pm • Closed on Mondays (or viewing by appointment only)
Admission / price: Free