Nathaniel Mellors: Ourhouse
Monday 15 July – Sunday 28 July 2013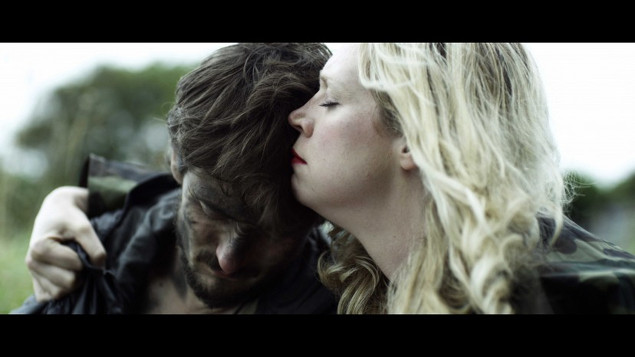 Mellors (born 1974, British) studied at the Ruskin School, Oxford University (1996-99) and the Royal College of Art, London (1999-2001). In 2007-09 he was resident at the Rijksakademie van beeldende kunsten, Amsterdam. He lives and works in Amsterdam & London.
The complex relationship between language and power is a recurring theme in Mellors' multi-faceted work, typically manifesting itself in absurdist, humorous narratives that reveal a penchant for satire and the grotesque.
Mellors writes his own texts and explores different approaches to the performance of these texts in a variety media. Parodying the formats and structures through which information is popularly conveyed – such as the television drama, political broadcast, critical analysis or avant-garde plays – Mellors sets up theatrical frameworks to test the line between meaningful content and incomprehensibility. At the core of his practice lies a fascination with the relationship between word and effect.
In addition to his absurdist scripts, psychedelic theatre, film, video, performance, collage and sculpture Mellors plays bass guitar in the group Advanced Sportswear and is a co-founder of Junior Aspirin Records.
Forthcoming exhibitions include: Galway Arts Centre and Baltimore Museum of Art. Recent exhibitions include solo shows at C Salen, Malmö Konsthall; Salle de Bains, Lyon; Matt's Gallery, London; Cobra Museum, Amstelveen, Netherlands; SMART Projects, Amsterdam; and Nathaniel Mellors: Ourhouse, ICA, London. Recent group shows include Media City Seoul; Performa 11, New York; La Biennale di Venezia – 54th International Art Exhibition – ILLUMinations curated by Bice Curiger; British Art Show 7 – In The Days of the Comet (UK touring); Un'Expressione Geografica, Fondazione Sandretto Re Rebaudengo, Turin; PQ2011 – Prague Quadrennial of Performance Design and Space, Prague; Contour 2009, 4th Biennial of Moving Image, Mechelen, Belgium; Altermodern, Tate Triennial 2009, Tate Britain; Art Now, Tate Britain; and & 00s THE HISTORY OF A DECADE THAT HAS NOT yet BEEN NAMED, Biennale de Lyon, 2007.
Nathaniel Mellors is represented by Matt's Gallery, London; Galerie Diana Stigter, Amsterdam; and MONITOR, Rome.
This exhibition is supported by Galway Arts Festival, Arts Council, Galway City Council, Galway County Council Cork Film Centre & Matt's Gallery.
Ourhouse Episodes 1, 2 and 4 was commissioned by British Art Show 7 and De Hallen Haarlem with the support of the Netherlands Film Fund and the Netherlands Fund for Visual Arts, Design and Architecture; Fondazione Sandretto Re Rebaudengo, Turin; Matt's Gallery, London; Galerie Diana Stigter, Amsterdam; MONITOR, Rome & The ICA, London.
Ourhouse Episode 3, The Cure of Folly was commissioned by SMART Project Space, Amsterdam with the generous support of The Mondriaan Foundation, Netherlands; Fonds BKVB; Nederlands Filmfonds; and Eastside Projects, Birmingham.
Image: Image Courtesy the artist; Matt's Gallery, London; MONITOR, Rome and Galerie Diana Stigter, Amsterdam.
Monday 15 July – Sunday 28 July 2013
47 Dominick Street
Galway
Telephone: + 353 91 565 886
Opening hours / start times:
Monday 10:00 - 17:30
Tuesday 10:00 - 17:30
Wednesday 10:00 - 17:30
Thursday 10:00 - 17:30
Friday 10:00 - 17:00
Saturday 10:00 - 14:00
Admission / price: Free