Nathalie Du Pasquier: Twice in Dublin
Friday 2 September – Saturday 8 October 2022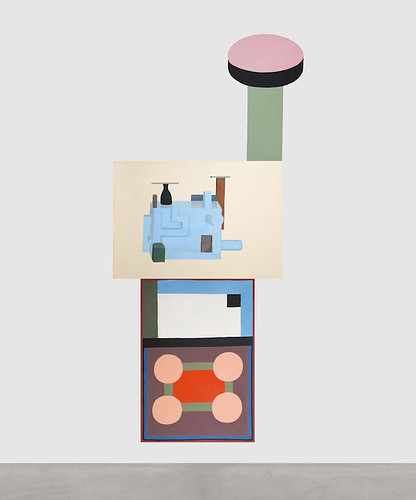 For Twice in Dublin, Nathalie Du Pasquier responds to and transforms the minimalist architecture of Kerlin Gallery's John Pawson-designed space. A site-specific installation houses a suite of new paintings and assemblages—configuring blocks of colour, line and shape into unexpected relationships.
Influenced by the language of classicism and informed by the history of Italian art, Du Pasquier's paintings splice together simplified still life compositions, architectural plans, industrial drawings, and playful fragments of text with boldly simplified blocks of colour. For Twice in Dublin, Du Pasquier also refers back to her own archive and accumulated experience—in particular, her time spent regularly visiting Ireland in the 2000s. Assembling elements of her work from that era alongside more recent imagery, the artist has produced a new body of work that "like everything in life, has roots and connections with previous times".
Exploring the links between objects, geometry, representation of space and psychic life, Du Pasquier's paintings often expand into clustered arrangements or onto the surrounding walls, taking a fluid and porous approach to traditional distinctions between 'fine' and 'decorative' arts. This porosity extends into the artist's publishing projects—a central component of her practice—and Du Pasquier will produce an artist booklet, limited to 50 copies, to accompany Twice in Dublin.
Born in Bordeaux, France, Nathalie Du Pasquier first discovered pattern and texture in West Africa in the 1970s, and has lived in Milan since 1979. A founding member of the Memphis design group, she designed textiles, carpets, plastic laminates, furniture and objects before dedicating herself to painting in 1987. Her work has been exhibited at MACRO, Rome; MRAC, Sérignan; Palais de Tokyo, Paris; Camden Arts Centre, London; Fruitmarket Gallery, Edinburgh; ICA, Philadelphia; Kunsthalle Wien, Vienna and, most recently, Le Corbusier's Villa Savoye in France.
Image: Nathalie Du Pasquier, Top, 2022, oil on paper, 3 modules, 240 x 100 cm / 94.5 x 39.4 in total
Friday 2 September – Saturday 8 October 2022
Anne's Lane
South Anne Street, Dublin 2
Telephone: +3531 670 9093
Opening hours / start times:
Monday 10:00 - 17:45
Tuesday 10:00 - 17:45
Wednesday 10:00 - 17:45
Thursday 10:00 - 17:45
Friday 10:00 - 17:45
Saturday 11:00 - 16:30
Admission / price: Free