Myra Jago: Now Islands
Friday 6 September – Sunday 6 October 2019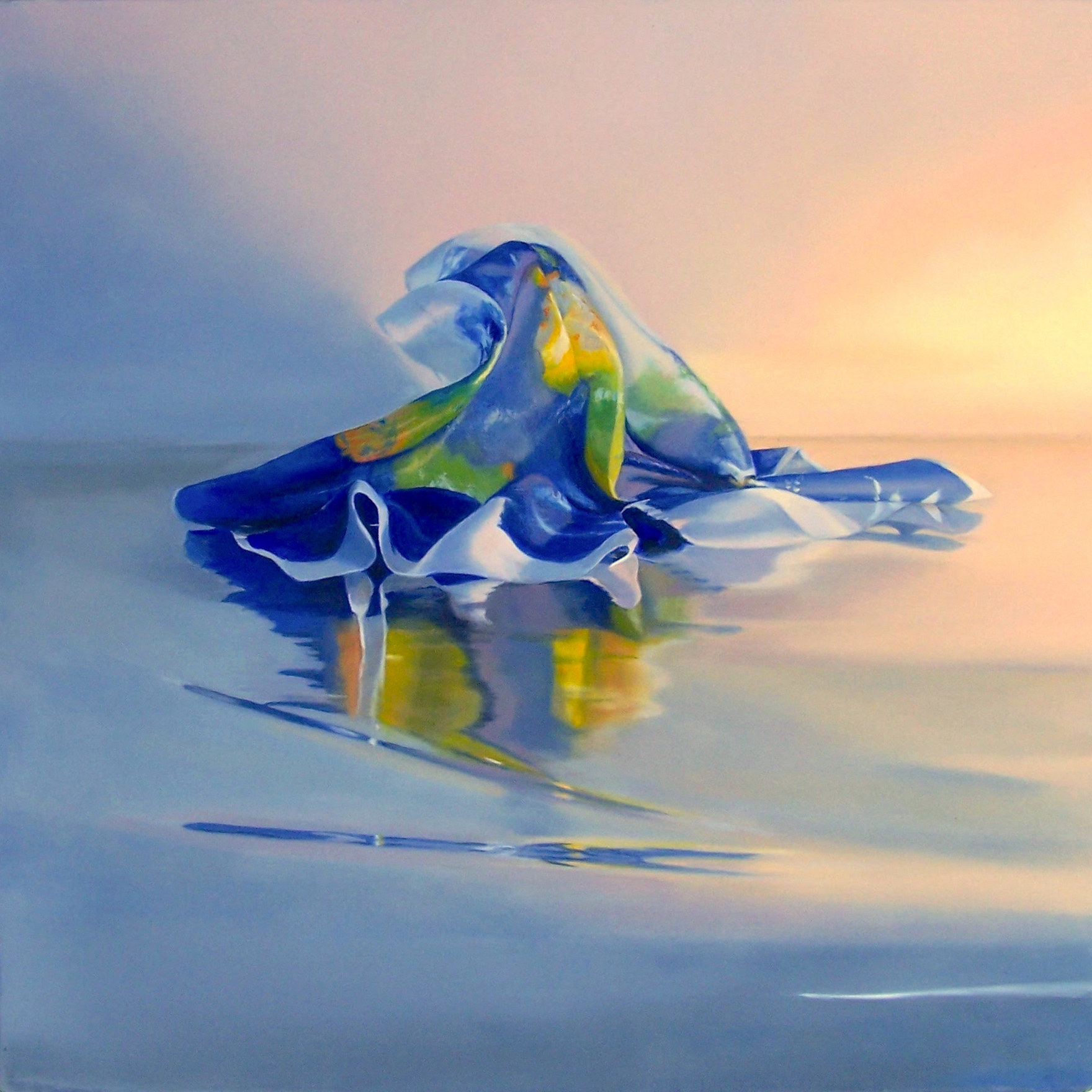 Myra Jago's work operates in the juncture between perception and reality. The reflective nature of the work is embodied within dream-like vistas of fine oil surfaces, where absolute realism melds into myth, gravity into weightlessness and earthly concerns
into ethereality.
Now Islands considers our social and political climate. Artworks delve into current issues, confining each to their island in order to get a
clearer picture of how things are – each island set adrift in a nothingness of calm, with only a reflection to confirm its existence.
Jago's new body of work grew out of visits to Thimble Islands in the harbour of Stoney Creek, Connecticut. Those tiny islands had a house and perhaps a tree, a staircase, a swing or a seat outside, each one autonomous and individual – the artist considering this as a somewhat metaphor for humanity. Jago wanted to bring that same mood to Now Islands, to put distance between our own personal island and the current zeitgeist.
Beauty is an important part of Jago's practice. It's a tenuous thing that beguiles alongside mirroring, drawing us into another headspace. Smooth canvas surfaces add to that seduction and are prepared with several smooth uninterrupted layers of ground. The combined approach of oil paint thinly veiling hard issues releases a tension as each work is explored.
Myra Jago is an artist living in Bray, County Wicklow working in still life and portraiture. She received her MFA from NCAD in 2011, won an ELIA residency and commission and was awarded a studio residency at the RHA in 2015.
Her paintings have exhibited internationally in Chicago, New York, Brussels, Tokyo, Hong Kong and the UK. On the island of Ireland, notably her work has shown at NGI, RHA, Dublin City Gallery The Hugh Lane Gallery, The Honourable Society of Kings Inns' Law Library, Áras Inis Gluaire, NUI Maynooth, RUA, The Ulster Hall, Eight Gallery, The Séamus Ennis Gallery and The Central Bank of Ireland.
Her work is represented in many public collections, including The State Art Collection, The Central Bank Collection, Deloitte, Kildare County Council, Hotel Bloom Brussels, Green 8 Express Japan along with those privately held both nationally and internationally.
Image: Myra Jago, A rock, a flower and a blade of grass, 2019, oil on canvas, 40 x 40 cm; image courtesy the artist
Friday 6 September – Sunday 6 October 2019
15 Ely Place, Dublin 2
Telephone: +353 1 661 2558
Opening hours / start times:
Monday 11:00 - 17:00
Tuesday 11:00 - 17:00
Wednesday 11:00 - 19:00
Thursday 11:00 - 19:00
Friday 11:00 - 19:00
Saturday 11:00 - 19:00
Sunday 14:00 - 17:00
Admission / price: Free