My Teeth Hurt, My Hands Hurt, My Feet Hurt
Saturday 3 June – Saturday 1 July 2023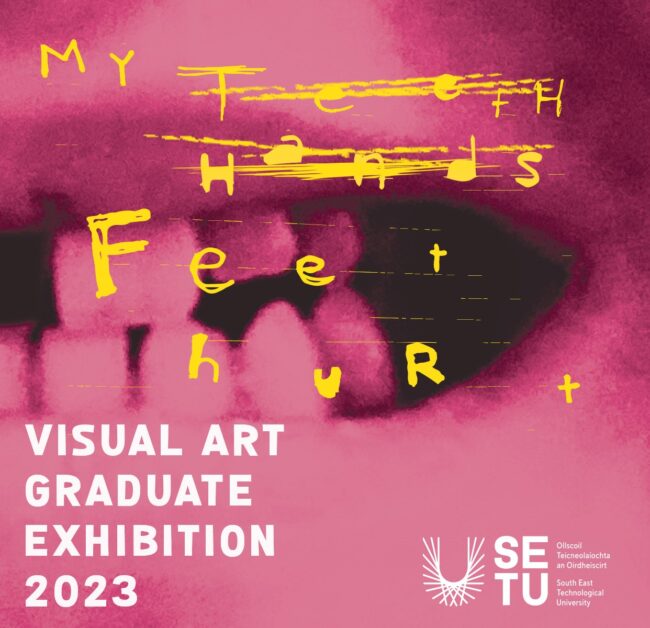 ――― Opening in venue ―――
SETU | Waterford and Garter Lane Arts Centre are delighted to announce this year's Visual Art Degree exhibition, My Teeth Hurt, My Hands Hurt, My Feet Hurt.
This year's exhibition brings together the work of the final year students to celebrate and share with the public the extraordinary artworks that has been produced by this diverse and talented group of emerging artists. My Teeth Hurt, My Hands Hurt, My Feet Hurt address themes as varied as identity within the digital age, time and our existence within it, climate change, trauma, loss, and dystopian worlds.
SETU|Waterford once again have the pleasure of collaborating with RDS Visual Art Award, GOMA, Cork Print Makers, The National Sculpture Factory, NOVAS and Garter Lane Arts Centre to be able to offer a number of prestigious industry awards. The announcement of the prizes will take place during the run of the exhibition on the College Street Campus (open from Wednesday 24 – Wednesday 31 May, 10am-4pm daily).
To find out more about each of the students and their work visit www.setudegreeshow.com or on the SETU Visual Art Instagram page, @setuvisualartdept
Saturday 3 June – Saturday 1 July 2023
O'Connell Street
Waterford
Telephone: +353 51 855038
Opening hours / start times:
Tuesday 11:00 - 17:30
Wednesday 11:00 - 17:30
Thursday 11:00 - 17:30
Friday 11:00 - 17:30
Saturday 11:00 - 17:30
Admission / price: Free