Moira Sweeney: Keepers of the Port
Thursday 18 January – Sunday 4 March 2018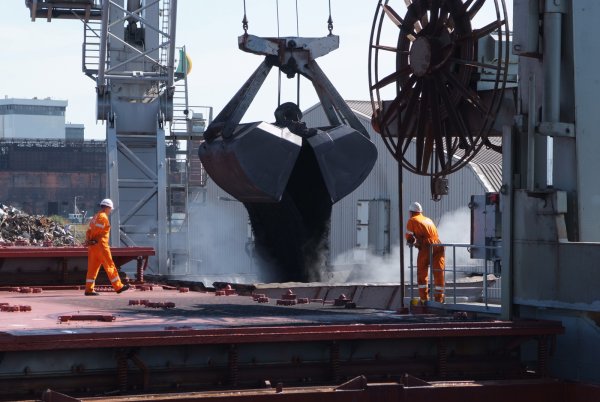 Keepers of the Port is a single screen documentary film which developed out of earlier site-specific multi-screen installations. Stevedoring Stories (2012) was commissioned for Tall Ships Dublin and  Rhythms of a Port.was exhibited during PhotoIreland 2014 in an old cargo warehouse on Sir John Rogerson's Quay. In the new expanded lyrical portrait, filmed and directed by Moira Sweeney on Dublin's docks, a tender pride in working life emerges within the stories and memories of the custodians of the port. As a group of former dockworkers set about preserving their legacy, daily life continues for the stevedores, boatmen, marine operatives and port managers who keep this gateway to the world open. Rarely seen archive footage and   arresting industry visuals are amplified by the rugged harmonies of forklift warnings, creaking wood and metal, squeaking ropes and pulleys, and seagulls. The local activity of loading and unloading cargo and containers persists as a busy, humming backdrop to the steady arrival and departure of transnational ships. As the film moves through each discrete yet interconnected hub of dock activity, the filmmaker narrates her reflections on the evolving picture of vibrant, transforming port life.  Recurring themes across the film include a nostalgia for lost communal tradition and solidarity, the precarity of seafarers' lives and the complexity of a global digitalised structure which controls ship movement into and out of ports.
 'The voices and surrounding sounds are the poetry of the everyday, the poetry of life. No drama here, but great beauty, a gentle pace allows you to soak it up. These custodians of the docks and surrounding sea are given the central voice, the "story" is told at a steady pace, steered by the camera and a keen listening ear. The rhythm of the piece, juxtaposed with the steel and industry of the port are beautifully realized.'
– Dr. Sally McDee
 '…a gentle revelation…a poem to a way of life that has changed utterly in a generation, but which hasn't entirely disappeared…doesn't attempt to challenge the sometimes conflicted histories of the Docklands, instead it presents a view into the world of a changing community, where globalisation and mechanisation are having a huge impact. As the ships arrive and depart, lorries being loaded, cargoes shifted, there's an unexpected sense of harmony and of beauty in this highly industrial space. Despite ships putting in from around the world, the film's view of the docks suggests a placeless, rather than a multi-cultural zone.'
– Gemma Tipton, Irish Times
Keepers of a Port premiered at the Irish Film Institute in September 2017 for port|river|city which was part of Port Perspectives, a Dublin Port commission allowing artists to  respond to the built environment, local areas, history and context of the city's port. The film is part of a Fiosraigh Scholarship doctoral research project at the Centre for Transcultural Research and Media Practice ar Dublin Institute of Technology.
With a background in experimental cinema, Moira Sweeney has honed her storytelling skills in the world of broadcast documentary. She therefore brings a distinctive creative approach to the worlds of music, art and social or personal history. Her experimental films have received numerous Arts Council of England awards and achieved recognition with international avant garde tours such as the Institute of Contemporary Art's Signs of the Times. They have been screened at key film festivals including London, Melbourne, Berlin, Dublin and Edinburgh as well as at avant garde events such as the Yokohamo, New York Super 8 and Toronto Experimental Film Forums. Moira's documentary, studio and feature work has been broadcast on RTÉ, BBCNI, TG4, Channel 4 and ZDF and has been nominated for best documentary at the Boston Irish Film Festival, the Irish Film and Televison.
Image: KEEPERS OF THE PORT, Filmed and Directed by Moira Sweeney (2017) 70 mins, Digital HD; Editor: Alan Devitt; Soundtrack: Seán Mac Erlaine; Audio Design: Keith Alexander
Thursday 18 January – Sunday 4 March 2018
Foley Street, Dublin 1
Telephone: +353 1 222 7850
Opening hours / start times:
Monday to Saturday 10am – 6pm. We are currently closed on Sundays.
Admission / price: Free