Miriam O'Connor: Tomorrow is Sunday
Monday 19 July – Sunday 29 August 2021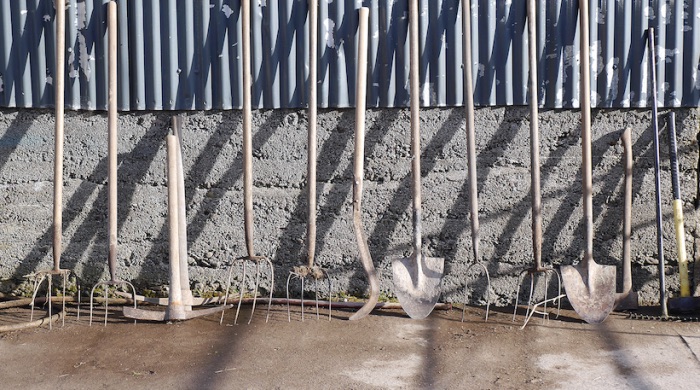 ――― In venue ―――
"Following the death of my brother Jerome, I returned home to be with my mother and sister and to help run the family farm. That was in 2013, and since then, against the backdrop of everyday farming life, photography, and my relationship to it has taken many twists and turns. In the beginning, I welcomed it for its ability to help me navigate the chaos of intense grief. Later, I resented it for making light of or romanticising such a tragic period in my life, in our lives. Sometime later, I surmised that if photography was going to make things better, or serve any function at all, then it had better be put to work.
Changing course, I began to use photography in conjunction with routine farm tasks. I embarked on a series of self-portraits over an entire farming year. I made lists. I wrote stories. I compiled inventories of animals, rocks, water troughs, stakes and gates. I assembled these photographs into small logbooks which acted like micro manuals for survival. I became obsessed with a tree which, over time, became a huge source of comfort, a place that I consistently returned to time and time again when I was trying to find my way.
Tomorrow is Sunday is the sum of all of these paths. This work represents an attempt to make sense of that time. It is my way of acknowledging the complexities of grief and the magnitude of navigating a way through this life-changing event."
– Miriam O'Connor, 2021
Miriam O'Connor is from Cork and was educated at Technological University, Dublin and later completed a Research Masters at Dun Laoghaire Institute of Art Design & Technology, Dublin. In her practice she draws inspiration from the sights, sounds and language of everyday life. She is curious about the multifaceted roles photography occupies in culture and the manner in which this persuasive medium permeates the way we engage with the world around us. Rather than providing answers, O'Connor positions photography as a tool for posing questions, a playful medium that commands its own attention and analysis. Using photographs, text and printed matter, her projects have explored themes around looking and seeing; the relationship between camera and subject and the complex nature of photographic representation. Following her relocation to the family farm in recent years, O'Connor now occupies a dual role of farmer and photographer, where she is interested in engaging with the elasticity of the medium throughout everyday agricultural life.
Her work is part of FUTURES, a photography platform that pools the resources and talent programmes of leading photography institutions across Europe and A Woman's Work, a project that uses photography and digital media to challenge the dominant view of gender and industry in Europe. She is supported by the Arts Council of Ireland, Cork County Council, Visual Artists Ireland and Culture Ireland.
www.miriamoconnor.com • Instagram: @miriam_o_connor • #tomorrowissunday
Image: Miriam O'Connor, Untitled from Tomorrow is Sunday, 2020, 40.8cm X 27.1cm, Digital photograph, archival pigment on Hahnemühle PhotoRag Baryta, Image courtesy of the artist.
Monday 19 July – Sunday 29 August 2021
15 Ely Place, Dublin 2
Telephone: +353 1 661 2558
Opening hours / start times:
Monday 11:00 - 17:00
Tuesday 11:00 - 17:00
Wednesday 11:00 - 19:00
Thursday 11:00 - 19:00
Friday 11:00 - 19:00
Saturday 11:00 - 19:00
Sunday 14:00 - 17:00
Admission / price: Free