Miriam McConnon: In Life's Pocket
Sunday 15 October – Sunday 5 November 2017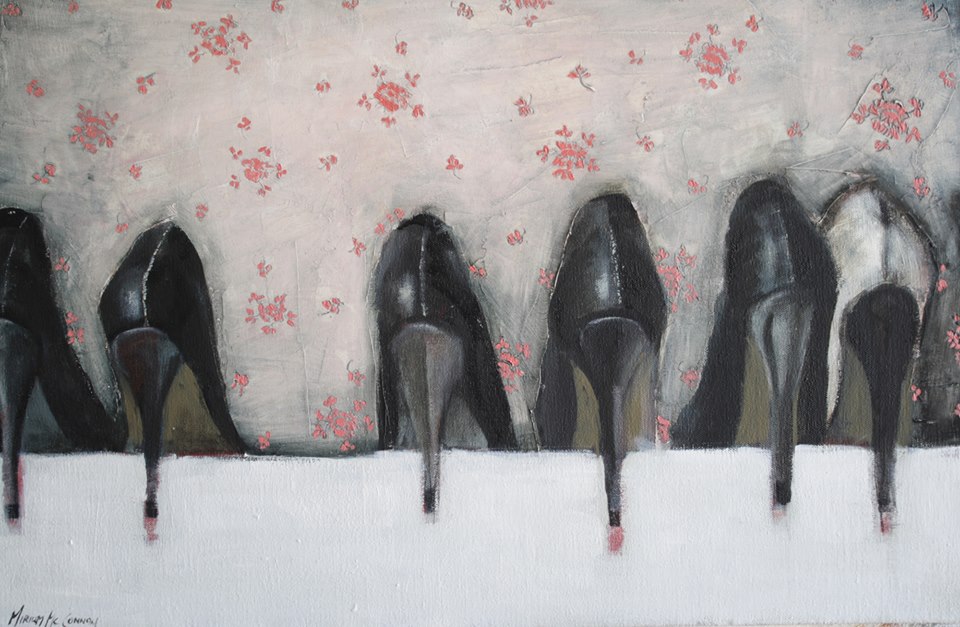 Miriam McConnon's recent work presents paintings and drawings of domestic objects.  She is preoccupied with the nature of these objects and their narratives.  The work is concerned with the human connection to the domestic object.
The artist re-presents these everyday objects in a new context in order to highlight an intimacy about them and to expose the power they have to reveal certain aspects of the rhythm of life. In McConnon's work the chosen objects are sometimes re-contextualized. The background becomes placeless and is shrouded in pattern. This pattern creates a sense of nostalgia around the object, its sense of security, seeking to preserve its memory through decoration.
The large-scale drawings in the show reflect the overwhelming effect of domesticity on our lives. McConnon multiplies the objects across the picture, creating partitions of plates, walls of cups and caverns of crockery.
In this show In Life's Pocket, McConnon's work aims to trigger a social and a personal association with the objects it presents, touching on the theme of how domestic objects are connected to gender association. We are presented with a line of suits on the march, a house coat that has been hung up and stilettos that are in a line ready for battle. This preoccupation with gender association and the domestic object is perhaps most evident in the large-scale drawing "Dolls".  In this work, a tailor's mannequins stand on display. They are torn at the chest. The measuring tapes around their necks weigh them down. In this more feminine pocket of life, strength meets vulnerability, reflecting the complexity of gender association in our domestic world.
Miriam McConnon's  recent projects include representing Ireland and Cyprus at The 8th Beijing Biennale at the Chinese Museum of contemporary Art (2012, 2015), International drawing Biennale and Symposium, Pilsen, Czech Republic, Biennale of Drawing, Wroclaw, Poland (2012, 2014), The outdoor  installation, "The Megalo Tama", in Paphos, Cyprus which was commissioned for Cyprus' Presidency of the EU in September  2012, "The Touring Tama", an outdoor installation in Dublin's Merrion Square to commemorate Ireland's presidency of the EU( 2013) and  'Common Ground', a bi-communal art project for Paphos 2017 with Turkish Cypriot and Greek Cypriot children. Miriam's Future projects include the public installation 'House of Letters' and The Myth of Arodafnousa, a public cementography artwork, Paphos town 2017. Both projects are events for Paphos 2017, European Capital of Culture. In the summer of 2017, McConnon also participated in the 'Concerning the Other' collaborative art project which was exhibited at the Olivier Cornet Gallery Dublin in September this year and which will be touring in various venues in Ireland and abroad in 2018-2019.
Miriam McConnon is represented by the Apocalypse Gallery in Nicosia and by the Olivier Cornet Gallery in Ireland.
Image: Miriam McConnon: Well healed, oil on canvas, 35 x 50cm
Sunday 15 October – Sunday 5 November 2017
3 Great Denmark Street
(beside Belvedere College)
Dublin 1
Telephone: +353 87 2887261
Opening hours / start times:
Tues to Fri: 11am to 6pm (till 8pm on Thursdays) • Sat & Sun: 12 noon to 5pm • Closed on Mondays (or viewing by appointment only)
Admission / price: Free