Mike Ballard: Community Thunder
Saturday 2 April – Saturday 21 May 2011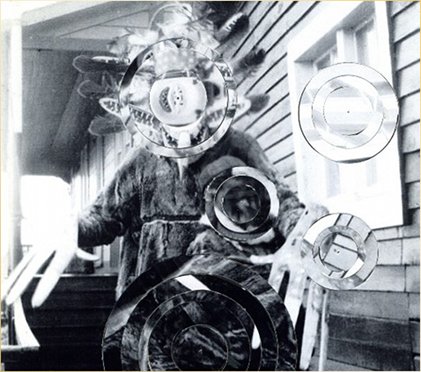 Presented by The Black Mariah
The Black Mariah and Triskel Arts Centre are pleased to present Community Thunder, a one person exhibition by British artist Mike Ballard on the occasion of the re-opening of The Black Mariah and Triskel Arts Centre, Tobin Street.
Mike Ballard works across numerous visual media – collage, painting, installation and sculpture along with film and music. He aims to challenge the viewer's perception of time and value.
Inspired by graffiti art and Hip-Hop music, both of which he has been producing since the mid-80's, Ballard explores connections between audio and visual forms. Sampling sounds and re-assembling discarded audio equipment in to sculptures in antique form.
He challenges the fragility of technology, creating bridges between old and new worlds. Within his work one medium becomes animated by another, creating appropriated hybrids. Found objects become electrified, painting films and films about painting, battle between function and aesthetic value, each gaining a new status that questions the value of everything.
Assembling imagery from art history books and popular culture, Ballard's paintings, prints and collages challenge structures of perception, presenting powerful visions close to a hallucinogenic experience. This experience questions whether the world we see when we are "straight" is, in fact, the real world; or is it somewhere outside, uncertain, mediated and not to be trusted?
Ballard graduated from Central Saint Martins MA Fine Art in 2007. He has recently exhibited at Maddox Arts and the Louise Blouin Institute.
Ballard's work appears in collections including the Richard Greer Collection, LesMes, Espace Uhoda, Belgium and University of the Arts London Art Collection.
Co-curated by Medeia Cohan – Petrolino
University Curator & Acting Head of Alumni Relations
University of the Arts London
Saturday 2 April – Saturday 21 May 2011
14A Tobin Street, Cork City
Telephone: +353 21 4272022
Opening hours / start times:
Monday–Thursday 4–9pm
Friday–Sunday 11am–6pm
Admission / price: Free