Mikala Dwyer: Panto Collapsar
Thursday 13 March – Monday 5 May 2014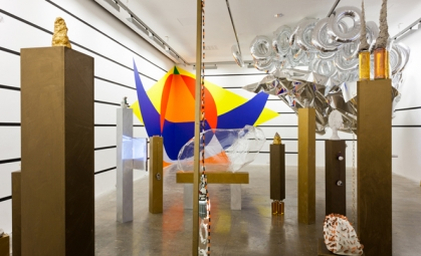 Panto Collapsar will fill the gallery with a mass of silver balloons to create a floating ceiling. With an array of theatrically staged sculptures, totem-like structures and a dramatic wall painting, the exhibition is a continuation of Dwyer's interests in the occult, the natural world, science and maths, as well as a response to Ireland, its heritage and culture.
Dwyer is an expert at harnessing the essential energy matter that surrounds objects. By bringing artefacts and materials together in a group formation, it is as though she's asking them to speak together of the future and of the unknown. She reveals a sense of togetherness and communication amongst the individual pieces, setting them up as though in conversation with each other, bringing the audience into the presence of something mystical.
Project Arts Centre on Tour. Originally commissioned by Project Arts Centre and curated by Tessa Giblin.
Thursday 13 March – Monday 5 May 2014
Main Street, Bray
Co. Wicklow
Telephone: +353 1 2724030
Opening hours / start times:
Monday – Saturday, 11am – 5pm
Admission / price: Free