Micky Donnelly: The Near and the Far
Friday 8 June – Saturday 30 June 2018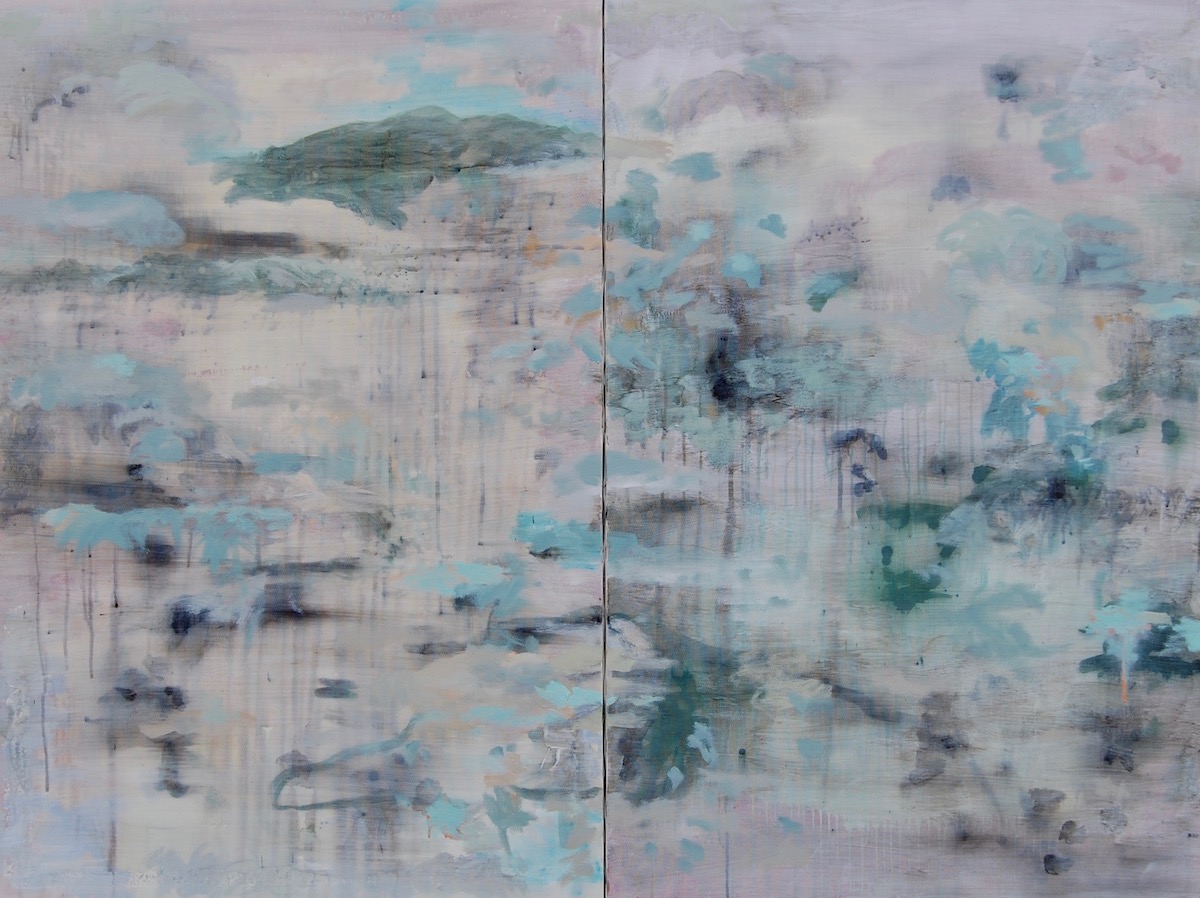 Micky Donnelly's new series of paintings, collectively entitled The Near and The Far, presents a further development in his ongoing engagement with the various aspects of nature and how we perceive it. The title of the series is intended to convey a range of ambiguities, as is usual with Donnelly's work, and also to imply an expanded set of influences. The images employ landscape references that move easily between the historical and the contemporary, between east and west, and between figurative elements and abstract gestures.
These are paintings with multiple suggestions of light and shadow, water and sky, distance and ground, pattern and reflection, but which remain very aware of their innate contingencies and fabrication as paintings. There is an overall sense of movement and change, and always the possibility of something surprising. Donnelly would obviously agree with Marcel Proust's much- quoted statement that "[t]he true voyage of discovery consists not in seeking new landscapes, but in possessing new eyes…".
Micky Donnelly was born in Belfast in 1952. He studied at the University of Ulster from 1976 to 1981 and received his BA and MA in Fine Art. Since then he has shown his paintings, drawings and installations in numerous solo and group exhibitions in Ireland, Britain, Europe, New Zealand, Japan, Mexico, Canada and America, and has been included in a number of high-profile international survey exhibitions of Irish art. He has received many awards and prizes, and has spent time working in Italy, the USA, and New Zealand. He was a founder member of CIRCA Art Magazine and has written about contemporary art for various publications. In 1996 he was elected a member of Aosdána.
His work is included in many private and public art collections in Ireland, Europe, and the USA, including the Irish Museum of Modern Art, the Ulster Museum, the Arts Council of Ireland, the Arts Council of Northern Ireland, the Arts Council of England, the British Council, and the European Parliament. He is represented by the Fenderesky Gallery, Belfast and Taylor Galleries, Dublin.
For more information, please see the artist's website: www.mickydonnelly.com
Image: Micky Donnelly, The Near and The Far No.1, 2018, acrylic + oil on canvas, 91 x 122 cm
Friday 8 June – Saturday 30 June 2018
16 Kildare Street, Dublin 2
Telephone: +353 1 676 6055
Opening hours / start times:
Monday 10:30 - 17:30
Tuesday 10:30 - 17:30
Wednesday 10:30 - 17:30
Thursday 10:30 - 17:30
Friday 10:30 - 17:30
Saturday 11:00 - 15:00
Admission / price: Free