Mick O'Dea: The Split
Friday 17 October – Saturday 15 November 2014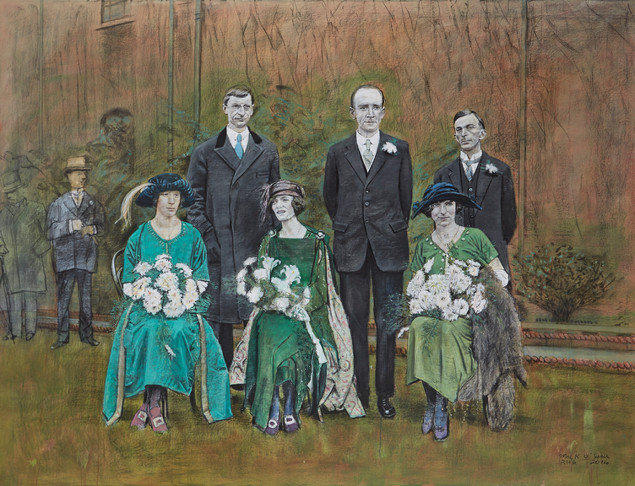 Opening Reception Thursday 16 October at 6pm
Kevin Kavanagh is pleased to present The Split by Mick O'Dea. Continuing the themes explored in Black and Tan (2010) and Trouble (2012), O'Dea has produced large-scale paintings that draw on a wide range of photographic sources.
'O'Dea shows us the gleam of the boots, the furl of a flag, the cut of a coat, the way the hair falls across a broad brow. These are carefully wrought paintings, worked for a long time to achieve a high degree of finish. In the many groups, each figure is carefully individuated and after we look at a series of these paintings, we feel that we know these men intimately, that we would recognise them across a crowded street by their stance, the way they wear their clothes, their smiles. And always there is the overt presence of violence. Guns and holsters are everywhere: Collins' bodyguard, Joe O'Reilly, has one gloved hand and one bare, the more quickly to reach for the gun in his pocket. The gleaming boots draw the eye, and a homoerotic charge passes through these knowing masculine companies. The artist observes all and reveals all, the quality of the painting opening these lives again, as we experience these men not as cardboard cut-outs, but as fully formed individuals, dense with a vivid particularity, released back from their frozen static photographs into the living stream of history. Their sheer quality forces the observer to engage with them not as abstract and remote figures, but as real people in a real time and place. The masterly attention to establishing the backdrops – leaves on the bushes, the rise and fall of a pavement, the angularity of a bench – situates these men in a fully realised material world, and we admire the classical quality of the painting in these bravura passages.
As we start on 'a decade of commemorations', as we as a country engage again with 1916 and the War of Independence, Michael O'Dea has placed us in his debt. This is an artist coming into the full expression of his considerable powers.'
Professor Kevin Whelan, Keough-Naughton Notre Dame Centre Dublin.
In conjunction with the exhibition, Kevin Kavanagh has produced a fully illustrated book on the artist, featuring work from The Split (2014), Trouble (2012) and Black and Tan (2010). Mick O'Dea is designed by Atelier David Smith and published by the Kevin Kavanagh Gallery.
Image: Mick O'Dea: The Wedding Party, acrylic on canvas, 250x190cm, 2014
Friday 17 October – Saturday 15 November 2014
Chancery Lane
Dublin 8
Telephone: +353 1 475 9514
Opening hours / start times:
Tuesday to Saturday 11am – 5pm
Admission / price: Free