Mick O'Dea: Kilkenny Festival Portraits 2015-17
Thursday 7 June – Saturday 30 June 2018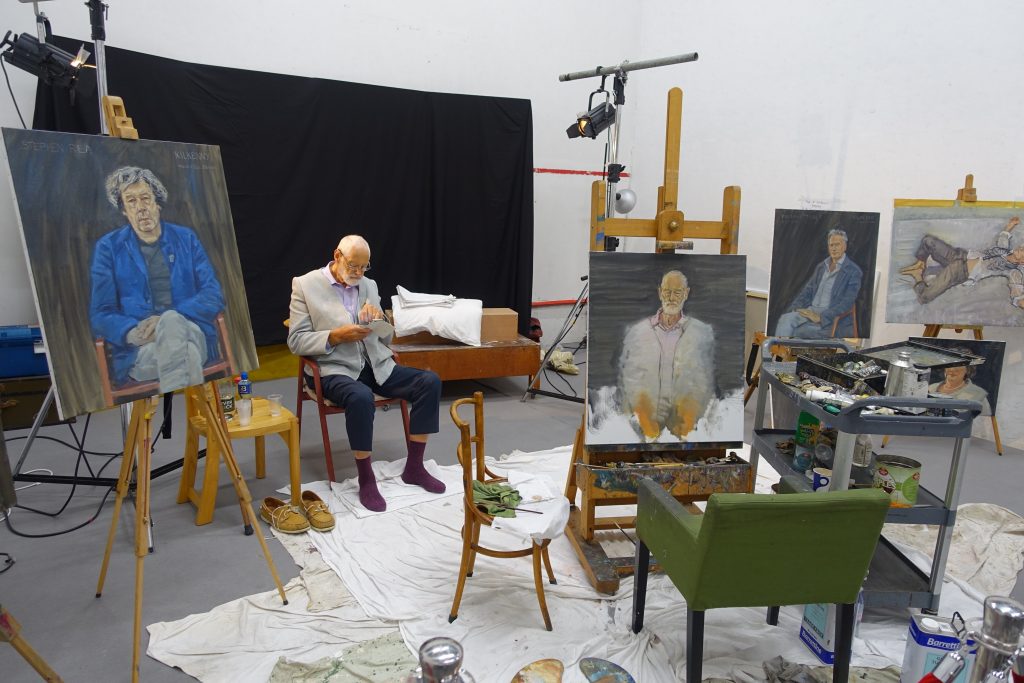 From 2015 -17 Mick O'Dea was visual artist-in-residence at Kilkenny Arts Festival.  For this unique three-year project he painted daily oil portraits of leading Irish and international artists, performers, actors, musicians and writers taking part in the Festival, while also documenting performances with action sketches. An audience joined Mick in the studio each day to observe and participate, discussing the work in progress with the artist and his sitters.
– Eugene Downes, Director of Kilkenny Arts Festival
This series of portraits began as part of a project with the Kilkenny Arts Festival and continued to grow as a series of collaborative events between the artist, the subject and the audience. Over the course of the festival Mick O'Dea painted the portraits of numerous public figures associated with the festival including poets Paula Meehan and Paul Muldoon, musicians Denis Cahill and Martin Hayes, seán nós dancer Colin Dunne and actors Simon Callow and Marie Mullen. The psychiatrist Ivor Browne also sat for O'Dea and can be seen in the above image taking a break from the intense sittings, which often lasted up to seven hours. Artist, Richard Gorman who attended as an audience member noted comically, that contradictory to the adage, it was most interesting to watch paint dry! Thus highlighting a curiosity about O'Dea's painting process as well as the dynamic between the artist, the sitter and those who have come to watch.
In the creation of a portrait painting, a durational dialogue that incorporates both conversation and body language arises between the artist and the sitter. The audience bears witness to the subtleties and nuances that occur in the process of capturing the details that make a convincing portrait – an intensity of eyes, the clasping of hands and the crossing of ankles. Each sitter's pose differing in myriad ways. O'Dea has long described the process of portrait painting as a reciprocal one that requires a mutual understanding and a certain level of trust where each sees eye to eye – very much in a literal sense, but this dynamic is broadened by the presence of an audience, many of whom are aware of the character of those being painted through their creative output. The process evolves organically as gestures and flourishes appear on the canvas and the audience glimpse aspects of the artist's methods.
During the first two years the sittings took place in the James Stephens Military Barracks and in the final year of the residency they took place in the only remaining Home Rule Club in the country. Throughout Kilkenny Festival Portraits, O'Dea makes reference to the history of portrait painting and its role as a social signifier to display wealth and prestige. Ireland is a country, which significantly does not have a history of patronage in the same way that other European countries do. O'Dea subtly alludes to this by celebrating the countries literary figures and poets, in a gesture that suggests that the traditions of literature, music and art in this country have a unique history and legacy that is upheld by those depicted in these vibrant portraits.
Thursday 7 June – Saturday 30 June 2018
Chancery Lane
Dublin 8
Telephone: +353 1 475 9514
Opening hours / start times:
Tuesday to Saturday 11am – 5pm
Admission / price: Free