Mick O'Dea: Black and Tan – suite of five new etchings
Tuesday 14 December 2010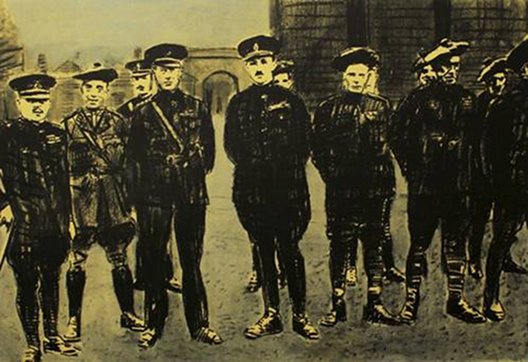 Tuesday 14 December 2010, 6 – 7 pm
Suite of five new etchings with an introduction by Roddy Doyle
Kevin Kavanagh in association with Stoney Road Press is pleased to present Black and Tan, a new suite of five etchings by Mick O'Dea.
On Tuesday 14 December at 6pm, Patrick Murphy, the Director of the RHA Gallery, will launch the set of prints. Black and Tan comes in a specially designed portfolio with an introduction by Roddy Doyle.
For more information please contact Stoney Road Press.
---
Black and Tan Mick O'Dea RHA
Kids play 'soldiers' on the street. Around the corner – I imagine it's just around the corner the real soldiers try not to look like soldiers. They wear civilian clothes, hats, caps. Suits blend in with the brides behind them. They need anonymity. But they're posing.
Mick O'Dea tells a great story. It's as clear and as complicated as the best stories should be.
The kids aren't actually playing 'soldiers', because the soldiers are actually Black and Tans, employed by the Royal Irish Constabulary as 'temporary constables' during the War of Independence. It's hard to imagine young boys playing 'Black and Tan' on a Dublin street in 1920. Yet there they are. It's funny and unsettling . And it's brilliant. Mick O'Dea gathered photographs for more than 30 years. He took the ones that grabbed him most, and reinvented them. He drew the faces, the uniforms, vehicles, walls. The boys' bare feet are real, pink, there, not just recorded. The famous Cairo Gang, undercover intelligence agents, are real men.
Two of them look thuggish: one of them wears glasses; the man in the middle, given a pink tie by Mick O'Dea, holds his cigarette like a man who'll see himself in the movies he'll go to years after the War is over. He has style. He's undercover but he wants to be seen. I've known the photograph for years. I look at it and see dead men. I look at Mick O'Dea's recreation – his creation, and I see living, much more interesting men. Mick won't let us consign these men and boys to history. The war of Independence is a ready story, as well-drilled as the Black and Tans and their young imitators. But in Mick O'Dea's hands it's a new story and these five prints invite us to make the story up ourselves.
Roddy Doyle December 2010
Tuesday 14 December 2010
Chancery Lane
Dublin 8
Telephone: +353 1 475 9514
Opening hours / start times:
Tuesday to Saturday 11am – 5pm
Admission / price: Free