Michelle Byrne: Via Magna
Sunday 9 November – Sunday 7 December 2014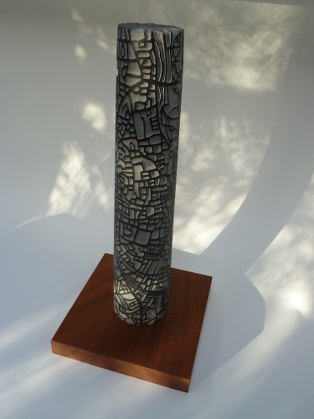 Opening Reception Sunday 9 November at 3pm • Guest Speaker: Michael Starrett, Chief Executive of the Heritage Council
The Olivier Cornet Gallery is delighted to present 'VIA MAGNA', an exhibition of new works by gallery artist Michelle Byrne.
Michelle Byrne is a sculptor living and working in the Blackstairs region of County Carlow. Since Graduating from GMIT, Galway in 1992 Michelle has exhibited in group shows in Ireland, the UK and France.
In addition to exhibiting, Michelle has worked on both private and public commissions. In 1997 Michelle was invited by The Arts Council to have a solo show at their premises in Merrion Square, Dublin. Michelle works mainly in Kilkenny Limestone and also in Bronze and steel.
Recent large scale public commissions include a 3 meter Limestone tower for the Carlow redevelopment group and a 1.2 Meter Limestone sphere for Ballygarvan National school, Co. Cork. One of Michelle's sculptures ('Sphere') was acquired in December 2013 by the OPW as part of a group show with the Olivier Cornet Gallery.
In May 2012 Michelle won the Conor/Moran Award for Outstanding Sculpture at the Annual RHA Exhibition. The piece entitled 'Journey' was a limestone model for a per cent for art commission for Thomastown National School, Co. Kilkenny. The full scale limestone sculpture was sited in October 2012 and was officially unveiled by President Michael D Higgins on the 29th of May 2013. Michelle documented the making of the sculpture 'Journey' in a book which will be available at her show 'Via Magna'.
'Via Magna'
In her recent work, Michelle has been interested in mapping and journeys, looking at the physical geography of a place, the journeys we take and the experience we gain.
"We tend to look at the countryside as a natural environment, whereas nearly every square inch of its surface has been transformed in some shape or form by centuries of man's interaction, from the patchwork of fields to the network of trails and roads.
What interests me as an artist are these layers of patterns and marks we have left on the landscape, what they tell us about the geology and topography and our relationship with it.
Of late I have been working with shaping stone which I draw patterns on. The patterns for these lines are taken from detailed studies of aerial view maps illustrating the network of fields, lanes, roads and rivers. The stone is then sandblasted leaving a raised polished line and a contrasting textured finish. Often I inlay the stone with stainless steel representing a chosen location. The inspiration for these sculptures comes from observing the physical geography of a place and its continual metamorphosis.
For my upcoming show at The Olivier Cornet gallery I have been looking at ancient tracks and roads of Ireland, in particular The Eiscir Riada, also known as the Via Magna and An Slighe Mhor meaning The Great Highway.
The Eiscir Riada is a system of ridges or eskers, gravel ridges which were formed after the ice age that stretched across Ireland between Dublin and Galway. These ridges created a natural high ground providing a route through the bogs of the Irish midlands. In Early Medieval times The Esker Riada also formed an ancient division of Ireland between Conn and Mogha. For this new body of work I am exploring our past and present relationship with the landscape, in particular looking at settlements, boundaries, land divisions and the connecting routes."
Michelle Byrne, August 2014
Sunday 9 November – Sunday 7 December 2014
3 Great Denmark Street
(beside Belvedere College)
Dublin 1
Telephone: +353 87 2887261
Opening hours / start times:
Tues to Fri: 11am to 6pm (till 8pm on Thursdays) • Sat & Sun: 12 noon to 5pm • Closed on Mondays (or viewing by appointment only)
Admission / price: Free